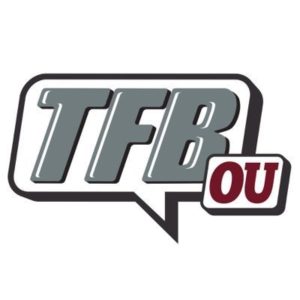 Open Post | Tuesday, March 12th
Posted on: March 12, 2019
Quick Hitters | 2020 DB Major Burns & 2020 WR Mookie Cooper
– Charlie S
Just a couple quick notes here…
*** Sunday evening the Sooners extended an offer to 2020 defensive back Major Burns out of Baton Rouge, LA (Madison Prep Academy).
I caught up with Major, who has been committed to Texas A&M since early February to gauge his interest in the Sooners.
Burns let me know that this offer was not out of the blue as he and both DC Alex Grinch and DB Coach Roy Manning have been in communication for a while now.
In regards to his commitment to A&M and the possibility of a visit to Norman, he said: "I'm scheduling my visits now, and OU will for sure be in consideration for one".
So there is another name for you to keep an eye on at defensive back in the 2020 class.
*** As for wide receiver Mookie Cooper out of Saint Louis, MO. (Trinity Catholic) he's a guy that OU offered way back in November of 2017. Absolutely electric kid with the ball in his hands and would be a great fit in Lincoln Riley's offense.
Cooper committed to Texas in February and last week he decommitted following a trip to Illinois. Now, most people connect those dots and think that Illinois is out front for him, but I have spoken to sources who let me know that he will be visiting Norman in April.
Based on the sources we have over at Trinity, they felt that the commitment he made to Texas came a little too soon as part of the reason for the decommitment was that he wanted to take some trips, including one to Oklahoma…more on this later.
---
'Fast Five' Sourced | Spring Practice Quick-Hitters
– Super K
***First off, this video is amazing…
I asked a source if that's just for the cameras or if it's really like that. "That's how it is through and through".
***Am told that in terms of the young wide receivers who are making noise right now it's Theo Wease and Jaquayln Crawford.
***Other names I'm hearing of guys standing out are Jordan Kelley, Patrick Fields, Turner-Yell and Interestingly, Laron Stokes (I'll try to dig more on him).
***Am told, not surprisingly, that you're seeing a lot of guys in the secondary make plays. I'm told the new defense (aggressive) is helping them a lot.
***Am told that the defense has dominated most days. The offense is still getting used to the new defense they are facing.
If you would like to read the rest of the sourced team notes from this post, please check the Donor Board.
---
Don't Call It A Comeback | Bookie
– James Hale
*** We got our first chance to talk with Bookie last Thursday. We didn't get a chance to talk to Bookie all last year which was an up and down year for the touted freshman. Bookie played in 13-games and started in 11 finishing with 39-tackles with one tackle for loss and five passes were broken up.
*** Last year Bookie started at safety and appeared to be out of position all year as he was not an instinctive safety. There were times he did not react well and was slow to react allowing receivers to run right by him at safety. For the final two games of the year, the Big 12 Championship game and the National Championship game Bookie was moved to the nickel and replaced by Norwood who moved over from corner to start at safety along with Robert Barnes.
*** For Bookie it was the first time in his life that he has struggled on the football field and he admitted that was shocking to him.
*** "Last year was s very humbling experience for me," said Bookie. "I had a great spring and thought everything was set and then got moved to safety in training camp because they said I was playing so well they didn't want me to come off the field, which the nickel did last year when they put in the SAM. I will do anything that the coaching staff or the team wants me to do, but I have to admit I never felt totally comfortable at safety and it took some of my aggressiveness on the field away from me. I didn't play well and that was very disappointing for me."
*** "Now with a new defensive coordinator and new coaches in the secondary in Coach Grinch and Coach Manning it has given me a new start and I'm back at playing nickel or corner and that's where I feel I can play best. I know the coaches have told me that we all have a clean slate and that was music to my ears to hear that and I've been fired up for spring ball and thought I did well today. I made some plays today (INT)."
*** Bookie came to OU as a celebrated recruit, a five-star cornerback that committed to OU at the Under Armour All-American game. It was a big day for the Sooners and the defensive staff at that time celebrated when he committed on national television because they knew they had won a big-time battle. That same staff had so much confidence in Bookie that they felt he would make the transition to safety without a hitch, but they were proven wrong, and it was one of the key reasons why the defense didn't fire all last year.
*** Bookie says he understands that, but he says his teammates always had his back, and that was the most important thing about last year. Since last season Bookie says what he's spent the most time doing is getting to know his teammates.
*** "When I got banged up after the Kansas State game I had some down time to watch our entire defense, and even what our offense was doing," said Bookie. "I realized as I watched film of us that I didn't know half our team. It wasn't that I was being cocky or rude and not trying to get to know people, but everything was happening so fast for me at OU that I just didn't take the time to get to know everybody. I got to know the immediate people around me and my roommates and that was really it."
*** "So I'm watching film, and just watching everybody and I would see guys making plays and ask myself who is that guy and wow that guy is pretty good, and man our offense is legit and wow that guy can really play. At times I had to laugh at myself and ask what did I come to college for? Sure it was to play football, but it was also to form friendships with a group of guys on my team that should be becoming my brothers, and they weren't because I didn't try to form those relationships. So towards the end of last season, and certainly during our bowl prep I just started to meet all the guys on our team and tried to get to know them."
*** "Then this off-season I really worked hard to hang out with all my teammates and not just a select few but to get out and to enjoy and to get to know a lot of them. I"m in a lot better place now mentally going into my sophomore year than I was last year and I'm having a lot more fun. I feel that is going to help me on the field but off of it as well."
This write up is a clip from James' Donor Board post "Raising Hale as Spring Football Begins | Sourced News, Notes, & Other Thoughts" from last week. If you would like to read all of James' posts, please check the Donor Board as he posts notebooks two times a week and covers everything from Football to Softball and all the other sports in between,
---
OU Pro Day | Wednesday, March 13th
– Charlie S
The Sooners will be holding their pro day on Wednesday, March 13th.
More than 100 media credentials have been issued and the NFL Network and ESPN will broadcast live from Norman. Will be quite the spectacle and great publicity for OU.
Players participating:
Rodney Anderson – RB
Amani Bledsoe – DL
Joel Blumenthal – QB (Southwestern Okla)
Curtis Bolton – LB
Marquise Brown – WR
Bobby Evans – OL
Cody Ford – OL
Carson Meier – TE/FB
Kyler Murray – QB
Ben Powers – OL
Dru Samia – OL
Austin Seibert – K/P
Marcelias Sutton – RB (Measurements only)
Myles Tease – WR