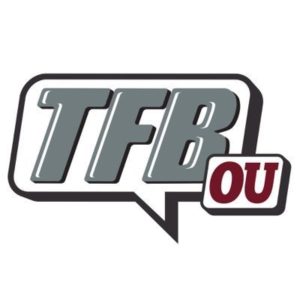 Open Post | Tuesday, June 7th
Posted on: June 7, 2022
Recruit Reaction to the Big Weekend
– Charlie S – Posted on: June 4, 2022
Ok, real quick, I mentioned I had been in touch with a bunch of recruits, just want to share a quick reaction from '23 RB Daylan Smothers and OL Logan Howland which pretty much sums up what I have been hearing from all the recruits I have touched base with:
I asked Smothers to rank the trip thus far on a scale of 1 to 10 and I followed up by asking what has stood out about the trip. Smothers said, "10! Coach V is the best part of the trip so far. He's just very intense and his energy is unmatched. It's crazy! And you feel his vision when he is talking!"
I asked Howland the same thing I asked Smothers and he replied by saying "10/10 so far! Getting to talk and hang out with the players is something I haven't experienced elsewhere yet"
This is before the BBQ really gets going. I don't think you could ask for more as a fan of the program.
---
Sunday Morning Notes | More ChampU BBQ Reaction
– Charlie S – Posted on: June 5, 2022
Yesterday I dropped some quick reactions for you from a couple of recruits who are at the ChampU BBQ HERE.
***I have been in communication with more than a dozen recruits in attendance and the reviews are quite repetitive at this point. Everyone is having/has had an 'incredible' or 'amazing' or 'unbelievable' time.
Every one of them.
***So far each recruit that I have asked to rate the visit on a scale of 1 – 10 has been quick to give the experience a 10. That is not typically the case…usually, some guys will hedge and rate visits in the 8.5 – 9.5 range…so consider the unanimous 10's a very positive sign.
***Most commonly discussed topics include: Brents energy, the family atmosphere, the genuine vibes, the former players being there, and…the food. Kudos to the caterer.
Here are a couple more quotes from a few more targets…
***'23 OL Brycen Sanders said the visit was 'definitely a 10!" He added, 'something that has stood out is the amount of talent that is here (recruits) and all the former players who are back this weekend'.
Sanders continued by saying "The coaching staff also stands out…I mean, they are one of the best" and he closed by telling me in a lighthearted tone "the food is also one of the best parts".
***The food was not lost on '23 LB Samuel Omosigho who also pointed towards 'all the food' being a big hit. Omisigho gave the visit a 10…as I mentioned everyone I asked to rate it did and the 'family feel' really stuck out to him.
***'23 WR JadenGreathouse was impressed with the trip. Greathouse said 'The visit was great and I had a lot of fun this weekend." He added "The best part of the trip was getting to spend so much time with the rest of the recruits". It was not all just fun and games as Greathouse told me that another highlight was his personal meetings with the coaching staff. Said the meeting had a big impact on him.
So that is just a taste from a handful of this weekend's visitors. There will be more to come over the next few days and weeks, but by all accounts, the Sooners pulled off a successful event that was attended by a massive amount of talent. It should benefit them as the cycle goes on as OU likely put themselves in a better position to gain some commitments from the group that was on hand.
With the way Venables views a commitment, there will be some guys coming out of the weekend who will have some decisions to make in regard to shutting things down or going through with their already scheduled additional visits.
---
Sunday Afternoon Notes | More ChampU BBQ Reaction and Quotes
– Charlie S – Posted on: June 5, 2022
Couple additional notes for y'all on this beautiful Sunday!
***Touched base with Sooners '23 QB commit Jackson Arnold who was on campus for his official visit for the ChampU BBQ.
Arnold served as the ambassador for the Sooners '23 class and was kept busy recruiting his peers and that was one of the highlights for him.
As you would expect, he gave the visit a 10 out of 10 and he was another guy who focused on the food, saying 'The food was absolutely amazing!" Mind you, I have yet to ask a recruit about the food…but it is absolutely a topic of discussion for them!
Arnold went on to say 'The ChampU BBQ itself stood out. It was great seeing the family-like environment with the coaches, recruits, and all the family. It made OU feel like home for all the recruits…it is already home for me".
***Also was in communication with '23 DB Makari Vickers.
Vickers said 'The visit was a 10/10'. He added, "The fan love on campus stood out. The fans have a genuine love for the program and the recruits"
The thing that stood out to him the most though? "Meeting the President (Harroz) was very cool".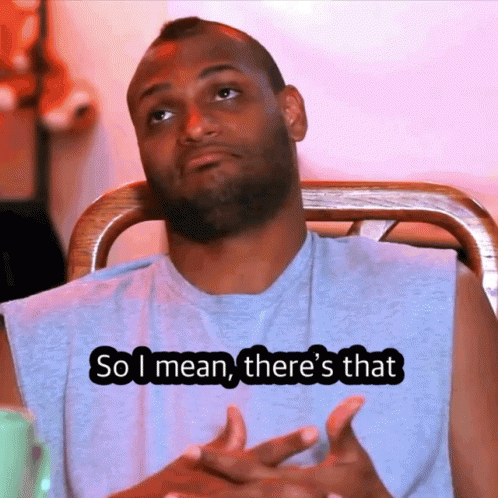 Again, more positive vibes and some different things stood out to the recruits.
---
Sourced | Momentum Out of the BBQ
– Charlie S – Posted on: June 5, 2022
One last post to close out your weekend.
I spoke with a source who was around the event in its entirety and they had some pretty positive notes they passed along.
As far as commitments go…source told me 'I think you will see multiple public commits here in the near future coming out of the weekend'.
Pretty general stuff, so I asked them to be more specific…source said 'I think you could see a case where Bedenbaugh has filled up his room before the season starts'
I pressed him a little, because I have a difficult time seeing that scenario play out personally, and source said 'I would be shocked if you don't see at least two more additions to the OL group before the end of July and I think there is a good chance you see a couple more moving heavily towards OU…that group was eating this weekend' (Not a food reference…I double checked)
So that sounds pretty solid, and while I, personally am going to reserve my own judgment until I do some additional digging before I name the names associated with the 'filling up', it does sound like Bedenbaugh put on a good show for the prospects and as you know, he relates to players and connects with them very well, but as I said, I will do some digging along with K, CJ and James to see how accurate we feel this note from my source was as the days pass.
Source went on to say 'I think you could see a DB go public here pretty soon, either Vickers or Kilgore, both seem to be leaning OU, and man Daylan Smothers was really, really engaged the entire visit. Seemed like OU made big strides there'.
Again, I pressed a little, particularly about Vickers with his connection to the Seminoles (being from Tallahasse…but that didn't stop Brown) and the sincere mutual interest between Bama and him and source said 'Vickers looked like he belongs in Norman, was very comfortable with the coaches and the players he was around.'
All good news. Again, I want to do some additional leg work, particularly in regard to the OL before I start the smoke machine, but my source was pretty adamant that this was a very good weekend for OU, and Bill Bedenbaugh in particular.
We will continue to get more info over the coming days, but I think you can confidently believe that the Sooners did a very good job this weekend with all the recruits and their families.
I will add that nobody was left without a uniform for the photoshoots like last year and nobody was left in their hotel room and not provided guidance to an event as was also the case last year.
---
How Good is Keyon Brown and is OU the Right fit?
– Super K – Posted on: June 6, 2022
I spoke with a friend of mine who is on staff at a D1 program down south. At the program he is at, said friend evaluated and recruited Sooners newest commit, 2023 WR Keyon Brown.
On film what you see from Keyon is a big WR that moves abnormally well for his size. He eats up a lot of space in a hurry and when a train that big gets going, it's hard to stop.
But my friend has seen Keyon up close and knows a lot about his background. He had some high praise…
"He's best wide receiver in the state of Florida. Sunday guy all day. He gets offered at any camp he goes to. High school kids can't guard him."
Friend tells me that Keyon is from a very rough area of Tallahassee and has dealt with a lot. But says, despite that the kid is a great kid.
It does sound like part of the appeal of OU for someone like Keyon is the new culture that Venables is establishing. I mentioned that because, the previous staff's culture was not equipped to handle young men who came from more challenging circumstances. In fact, we saw kids who came from great backgrounds who were great kids in high school start to have issues once they got to OU.
Anyway, between the film and the absolute rave review who came from this friend of mine, I'm very encouraged by this pick up.
---
Quick Hitter | '23 WR Cole Adams | Update: '23 RB Kalib Hicks
– Charlie S – Posted on: June 6, 2022
If you were along for the chat on Friday, I mentioned sources told me Cole Adams would be OV'ing to OU this weekend, but I had yet to fully confirm it…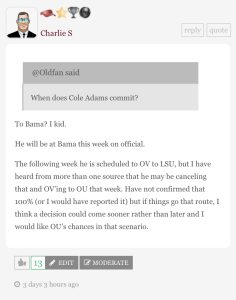 We have been able to confirm that the plan is for Adams to indeed be on campus this weekend in an official capacity with the other visitors we have mentioned (EDGE Colton Vasek and ATH Kade McIntyre).
***He has since tweeted out his OV graphic
As I mentioned in chat, Adams visited Bama last week and was scheduled to visit LSU but that got put on the shelf.
Will be interesting to see where this goes, but sources tell us this recruitment is not expected to drag out to long and OU can go a long way towards swaying him with a great visit this weekend.
Update: 4:45
Add '23 RB Kalib Hicks to the visitor list. Hicks just let me know he is locked in for an official visit to Norman this weekend and he is very excited to get to town.