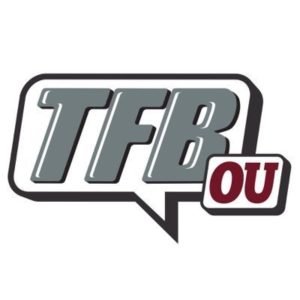 Open Post | Tuesday, June 4th
Posted on: June 4, 2019
Recruiting Notebook | Burns, Hatchett & More
– Super K
***Despite the LSU offer, sources on the OU side feel good about Dontae Manning. It sounds like they spoke with him about the offer. They don't seem too worried.
***Also, 2020 DB Major Burns is set to announce later this week. There was some talk that Florida could be a real threat. Major took an official visit there last week and his teammate committed to the Gators.
My sources have recently said that despite that, it doesn't appear that Florida is really much of a threat for Major Burns.
Burns is originally from Mississippi so I don't have a good sense yet just how big of a threat Miss. State or Ole Miss are. And, I know LSU seems like the easy pick because he lives in Baton Rouge. But it seems OU still feels fairly good about this one.
I'll reserve my own final judgment till I dig a little further but until I hear something definitive in another direction, I'm going to ever so gently and cautiously give OU the nod for the moment.
***As you know, 2020 OL, Geirean Hatchett took an OV to Oklahoma, recently. Following that visit it seemed he had narrowed things down to OU and Washington (his in-state school).
After the visit it started to look like OU would end up with him. I'm told OU is not as confident, anymore. And, with what they've got in the boat and what is almost certainly on the way, it really doesn't have much of an impact.
If OU keeps up what they're doing they may have turn people away.
---
Lincoln Riley Elite Camp Notes | June 1st
– James Hale
*** OU held the first of two Elite Camps today and while there were a few players there that OU wanted to look at the word is that they will have much more talent on campus next Saturday for their second camp.
*** Out of the best players that I saw two were from the state of Oklahoma. 2021 inside linebacker Collin Oliver (6'3, 215) of Edmon, Santa Fe), Oklahoma was outstanding at the camp running a 4.21 short shuttle and moving well in all drills. He also plays tight end, but I can promise you his future is on defense. Coaches Alex Grinch and Brian Odom spent a lot of time talking to him at the camp and I thought he might get an offer. He told me that Coach Grinch told him that they are close and it could happen soon. Oliver has offers from Iowa State, Oklahoma State, SMU, Texas Tech, and North Texas and the North Texas coaches who worked the event spent a lot of time with him.
*** Another Oklahoman that looked very athletic and like a definite D-1 talent was 2020 OLB Krishawn Brown (6'3, 205) of Tulsa (Booker T. Washington), Oklahoma who also came to camp looking for an offer. He was very fluid and looked athletic and currently has offers from Oklahoma State, SMU, Kansas and Texas State. At this point, I don't think OU will offer him but Brown is definitely a D-1 talent.
*** The best player in the camp was 2020 3-star defensive end Jalen Logan-Redding (6'4, 235) of Columbia (Rock Bridges), Missouri. He stood out from the get-go and looked good in drills. I really think Logan-Redding will grow into a defensive tackle but he moved around well around that he could be an edge rusher, but I really feel his skill set is better suited for defensive tackle.
No matter how coaches look at him they like him as he has 14 offers and came to camp looking for one from OU. After the camp, I think OU will offer soon as he has offers from Notre Dame, Texas Kansas State, Kansas, Iowa State, Missouri, Oklahoma State, and Iowa. I don't see why OU would not offer him and we will wait to see what they will do after seeing him in person.
*** Quarterback Brennan Storer (5'10, 165) of Dallas, Texas was in camp and is a novel story that is for sure. I mean he is a 2023 recruit but is already a celebrated quarterback recruit as he recently was ranked fifth in the recently released Elite101 rankings. It is hard for this reporter to evaluate an eighth grader, but he threw the ball with some zip. Coach Riley worked with him quite a bit and while he's a distant future Coach Riley really starts watching guys during their freshman year and Storer is a guy on his list to check out in the future.
*** The best quarterback in the camp was former Durant 2022 QB Caleb Heaver (6'2, 184). Heaver has good size and has good zip on his passes and told me some interesting news that he and his family are moving to Dennison, Texas. His father got a new job there so Dennison is picking up a good young quarterback in their program and that is bad news for Durant.
*** I had a chance to catch up with former Sooner quarterback Eric Moore who has his oldest son E.J in the camp who is an athletic freshman outside linebacker. Moore is preacher down in Austin, Texas and has been coaching his three sons in youth football and he has coached elite teams down in Austin. It's not going to be surprising to see his son's become D-1 talents. EJ is a linebacker and he has one son who is a quarterback and one who is a receiver.
*** 2021 cornerback Antonius Hambfric Jr. (5'10, 175) of Forney (North Forney), Texas was impressive in drills. He currently has an Illinois State offer, but by the time he gets through the summer, he will have several more.
*** It was great to see the OU coaches actually coaching in the camp. I'm not sure what happens with other programs at their elite camp, but at OU even Lincoln Riley is coaching the quarterbacks and all the coaches are coaching and running drills in their respective positions that they coach. They're very active and really get into coaching the players, many who are not good enough to go to OU, but they are good enough to play for someone in either D-1 or D-11 and the coaches coach them all like they are bluechip prospects.
*** There is some quarterback news as OU is very excited to be hosting 2021 quarterback five-star Brock Vandagriff (6'3, 198) of Bogart (Prince Avenue Christian), Georgia next weekend. Vandagriff is at Florida this weekend spending three days there before he comes to Norman next week spending three days and throwing in the camp.
*** He is looking forward to working with the quarterback whisperer Lincoln Riley and the feeling from OU is that they feel good about Vandagriff.
*** OU will entertain 2021 quarterback Caleb Williams (6'1, 197) of Washington DC, Gonzaga High School. Williams is a talented QB and a four-star athlete that has offers from Alabama, Florida, Florida State, Georgia, Michigan, Ohio State, Texas A&M, USC, and Virginia Tech to name a few. OU has not offered him at this time, but they will get an up close and personal look at him tomorrow and it will be interesting to see what the two sides think of each other.
*** Defensive end Noah Arinze (6'5 1/2, 240) of St. Louis (Webster Groves), Missouri did not make it to Norman as planned. I tried to find him at camp only to learn that he had a change of plans and I was told that they are working to reschedule his unofficial visit. He went to the Lindenwood Camp in St. Louis, Missouri. That camp is attended by coaches all over the nation, but not by OU, and Arinza was there for both days.
*** CB Kitan Crawford (5'11, 200) of Tyler (John Tyler), Texas I'm told is on campus, but I did not see him personally.
---
Updates | Kitan Crawford & Noah Arinze
– Super K
***2020 DE, Noah Arinze (St. Louis) was expected to make a return trip to Norman this weekend.
Arinze says he did not make it in this past weekend but said, "I am trying to come down this week".
***2020 CB, Kitan Crawford (Tyler, TX) did make it in. I was able to catch up with him briefly.
It sounds like Crawford spent much of his time Chip Viney. I asked about the highlights of his trip to which he said…
"Everything was great. Coach Chip kept it real. Everyone kept everything one hundred. Plus, the education…coach Chip told me I could have my masters degree in four to five years. That's very big for me. Really wasn't any lows on the trip".
In terms of a return visit, Crawford said he plans to make it back in the fall but added he wasn't sure just yet.
I asked him if Oklahoma was able to put themselves in the mix with schools like Texas, Tennessee, Baylor and others who have been recruiting for quite some time and he said they absolutely did.
He added that he doesn't have any other visits currently scheduled but did say that he wants to make his decision by the end of the summer.
Depending on how things go with Oklahoma and their defensive back recruiting, I think OU will try to get him up for the BBQ (assuming they still have a spot).
---
Notebook | Sooners OL/DL Big Man's Camp | June 3rd
– James Hale
OU held there first ever Big Man's camp today that featured only players that play in the offensive and defensive line.
*** It was the first time that I have had a chance to see DE/TE Ethan Downs (6'4, 230) of Weatherford, Oklahoma. A four-star athlete Downs was outstanding at the camp showing great speed, quickness off the ball, strength and overall athletic ability that stood out among all the other campers.
OU D-line Coach Calvin Thibodeaux worked with Downs most of the day and Defensive Coordinator Alex Grinch watched him for 2/3 of the camp along with linebacker Coach Brian Odom. Downs dominated the pass rushing drills and was very coachable throughout the day.
Towards the end of the day Head Coach Lincoln Riley and inside receiver and Recruiting Coordinator Cale Gundy came out as all the coaches were getting ready to go to Houston for another satellite camp. Coach Riley said at the end of the day that he was going to offer Downs and all the other coaches agreed.
Sure enough, a short time after the camp, Downs announced via Twitter that the offer had indeed been extended by the Sooners.
*** Almost as impressive was 2021 DE/OG Aden Kelly (6'1, 260) of Thomas, Oklahoma. Kelly and Downs are great friends and both attended the Adrian Peterson camp as well where Downs earned camp MVP honors. I am not sure where Kelly would play at the next level. Coach Bedenbaugh looked at him as a possible offensive lineman, but he is a little small for that and he worked mostly with Coach Thibodeaux at defensive end most of the day. He could end up being an offensive guard in college.
*** 2023 offensive lineman Jonathan Ashford (6'5, 315) of Edmond Santa Fe, Oklahoma was very good. He is so far down the road in the 2023 class, but he already has the size of a college offensive lineman. He had good feels and don't be surprised if he is not only the varsity this year at Santa Fe. He is a very good future talent.
*** The best offensive lineman in the camp was three-star 2021 offensive tackle Trey Zuhn (6'5, 260) of Fort Collins (Fossil Ridge), Colorado. Zuhn and Downs hooked up a lot as that is what happens as these camps the coaches will find the best players and have them go one-on-one so they can better evaluate them, and the players get more of it that way as well. Downs probably won more of the battles, but he is a handful for any offensive lineman.
Zuhn already had offers from Notre Dame, Nebraska, Michigan, Oklahoma State, Kansas State, and Colorado and it would following the camp, he too picked up an OU offer.
---
For multiple daily posts, Insider Notes, More Sourced Practice Notes, member chats with TFB staff, James Hale's Notebooks, TFB Sessions (5-minute audio talks) and much more, please check the Donor Board!