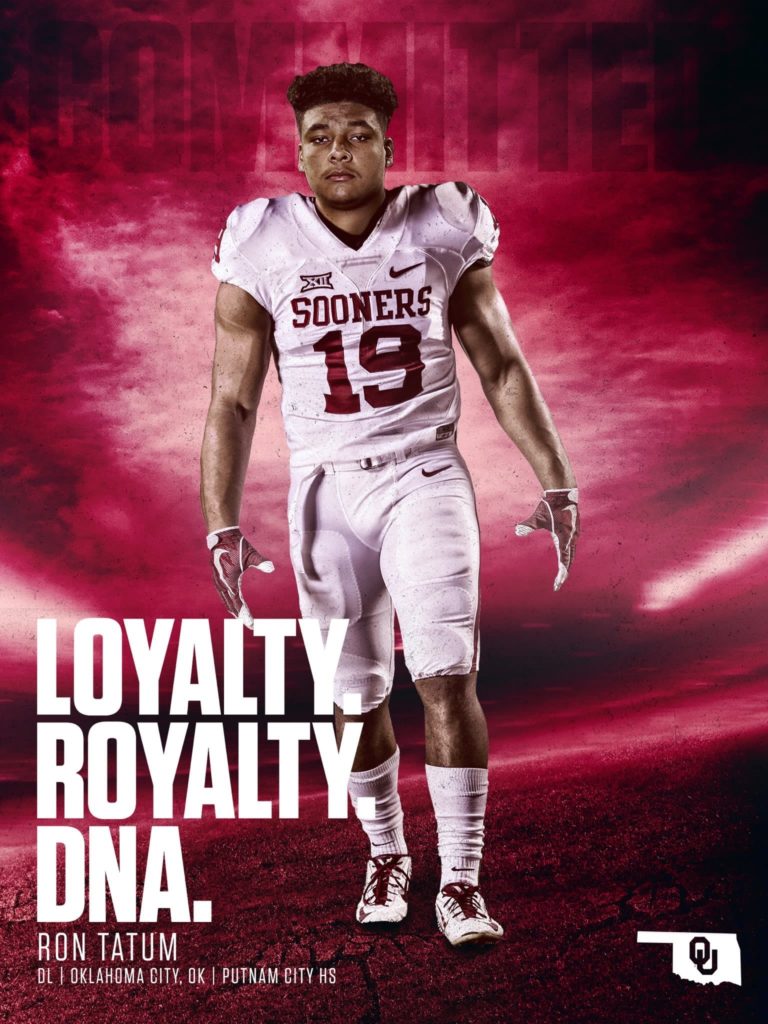 Open Post | Tuesday, June 13
Posted on: June 13, 2017
Image of Ron Tatum via Twitter
– Ron Tatum: In case you live under a rock, I'd like to let you know that 2018 PCO defensive lineman, Ron Tatum, flipped and committed to Oklahoma yesterday after being committed to Texas for the last month or so. This is huge for more than just recruiting rankings (Oklahoma has jumped into the top 10 according to 247), as it gives Riley his first commitment since being named head coach of the Sooners this past week. Check out TFB's post on that here:
#BOOM! #Sooners flip star DL @rontatum3_ from Texas – first commit of the Lincoln Riley era (via @TFB_Sooners) https://t.co/5WRpBYxujg

— Ryan Lewis (@RyanLewis_TFB) June 12, 2017
There is a lot to this flip. One big thing is the persistence of OU defensive line coach Calvin Thibodeaux. Another is some personal issues that really helped Oklahoma. All in all, this commitment might be what Riley needs to start something special for 2018. One thing is for sure, this commitment should help with 2018 Midwest City OLB/DE Jalen Redmond, as those two are very close. – (Brandon)
– Jalen Redmond: Speaking of Redmond… it's no coincidence that the star OLB/DE is visiting Oklahoma the day after Ron Tatum committed. Are we predicting a commitment from Redmond? No. He has long said that he wants to take some official visits. That, however, was when Tatum was headed to Texas and Riley wasn't the head coach. This will be one to follow over the coming months. We plan on catching up with Redmond after his visit to OU today. – (Brandon)
– Jaylon Robinson: Another WR set to visit Oklahoma this week is 2018 Paschal HS (Ft. Worth, TX) explosive receiver Jaylon Robinson. Robinson was offered last week, at OU satellite camp, and shortly after decommitted from Texas Tech.
Please respect my decision…. pic.twitter.com/r03kGSxYQJ

— JayFla⚡️h™ (@Jaylon_D1) June 10, 2017
I spoke with Robinson yesterday and he called OU, "my dream school." Robinson also said that the OU offer was the reason he opened up his commitment. I can't say much here, but Oklahoma is in a really, really good spot with Robinson. If the visit goes well, OU might add another to the 2018 class. We will be following this one very closely over the next few days. – (Brandon)
– Tommy Bush: During the day that Tatum stole the show, 2018 Clemens WR, Tommy Bush, visited OU. Bush spoke with TFB after the visit and said, "The visit went very well. We (his parents and he) enjoyed our time with the coaches and seeing what OU had to offer. They definitely didn't disappoint." Bush added that he will be sitting down with his family and narrowing down his list of schools soon, and Oklahoma has a really good shot at being on that list of final schools.
2018 elite Clemens HS ( Schertz, TX) WR Tommie Bush ( @TheTommyBush11) on unofficial to #OU today. Bush says visit went great. #Sooners pic.twitter.com/FzidHdAhGm

— Brandon Drumm (@BrandonTFB) June 12, 2017
Although Riley is the new HC at OU, Bush said that didn't change much, as he already has a great relationship with Riley. He added, "He is a great coach and I believe he will keep OU on top. He's just so easy to talk with and he explains things very well." This type of talk from recruits seems to be the resounding sentiment when it comes to Riley.
Oklahoma was one of the final school visits for Bush, as he and his parents made stops at Georgia, Auburn, FSU, Tennesse, and Alabama over the past week. Oklahoma feels good about their chances with Bush. A source said that the staff really worked on getting mom on board with them, as she is a crucial piece in Bush's recruitment. Oklahoma feels like they did just that and that they have a really good shot with Bush going forward. It will be interesting to see if Bush makes it up for the BBQ in late July. We will start to gather a list as that event draws closer. – (Brandon)