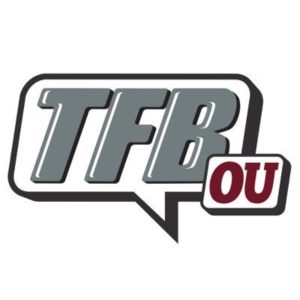 Open Post | Tuesday, June 11th
Posted on: June 11, 2019
Update | Linebacker Visits | Walker, Groce & Cooper
– Charlie S
*** As you know we noted that 2020 Oklahoma State commit and Sooners linebacker target Brynden Walker (Oklahoma City, OK) out of Bishop McGuiness was visiting Norman last week and we have more on him below..
*** Earlier this week we also noted that 2020 Linebacker Rodney Groce Jr out of Pleasant Grove, AL, let me know he is planning on visiting Norman on June 15.
*** Also 2020 Linebacker Edgerrin Cooper out of Covington, LA, let me know that he plans on unofficially visiting Oklahoma in the next two weeks.
Cooper told me "I'm going to try to get up there sometime during the week. One of those days before the 21st".
*** As I said previously, it is my belief that the Groce and Cooper visits could be contingent on the Walker situation and how quickly or slowly that plays out.
---
Lincoln Riley Football Camp – Updates
– Ryan Lewis
James and I were at the Lincoln Riley football camp Saturday. We got to see several top talent recruits interacting with the staff. While it was mostly drills and such, there were opportunities to see the recruits in action. I'll highlight a few below.
Brock Vandagriff
Charlie has brought several great updates on the 2021 QB from Georgia, including this one.Vandagriff got to spend time with the staff and current players, including Jalen Hurts, while in Norman.
Vandagriff is a top recruit who will have his choice of school when it comes time. While I wouldn't expect a decision to come particularly soon, OU seems to have cemented themselves as a solid contender.
Vandagriff looks confident in the pocket and seems to have a good patience to his game. He showed a strong release as well today.
Raleek Brown
I must confess, Raleek Brown wasn't on my radar entering today; that changed within ten minutes. A source told me early in the day that he is someone the staff is extremely excited about.
Brown is an elite athlete and has already run a sub 4.3 40, according to the source. While he could play just about any position, he told me the Sooners are looking at him at the slot receiver position.
There were several current OU players watching from the sideline. Every time he was up to run a route, they were all hyped to see him in action. He was the guy everyone wanted to see more of.
Ty Simpson
The 2022 QB from Tennessee received his OU offer today.
While young, he looked good throwing the ball. If the Sooners land Brock Vandagriff, they may find it tough to snag another top QB the next year; that's an ok problem to have.
Avyonne Jones
This is a new name for me. The 2022 DB out of Southlake Carroll High School (same school as Robert Barnes) looked good in one on ones today.
He went up against Raleek Brown a couple of times and played him pretty well. As a 2022 recruit, he is still growing and has a frame that looks like it could be huge in the right weight room. Jones is one to watch for in the future.
---
Notebook | Sooners Elite Camp Coverage
– James Hale
OU had close to 100 athletes today for their Elite Prospect Camp II and even though I wouldn't say there were a great number of OU type athletes working out were a few that stood out and really put on a show in front off all the Sooner coaches a good number of player that worked the camp.
*** All eyes were on four-star 2021 primetime quarterback Brock Vandagriff (6'2 1/2, 199) of Bogart (Prince Avenue Christian School), Georgia. Vandagriff and his family which includes one sister Audrey who is an eighth-grader and is a promising softball player and another sister Anna who is a sophomore and a promising volleyball player. The wife Kelly holds all the family together and the family was at Florida last weekend and made their way to Norman on Friday and stayed through Monday.
Vandagriff went through the quarterback drills and throwing drills and was outstanding showing off a great arm, easy delivery, accurate arm, and easy disposition when getting coached up by OU Coach Lincoln Riley.
There is always a great buzz in the air when a great quarterback prospect is on campus. That was the case with Vandagriff and just about every coach and recruiting analyst on the Sooner staff made sure they went up to say hello and introduce themselves to Vandagriff and his family. He got personal attention from Coach Riley all through the day and OU senior quarterback Jalen Hurts also spend a great deal of time with Vandagriff.
His father Greg is his coach and their high school has an enrollment of 225 students and they play against Class A competition in Georgia, but play such a high level of football that they beat a Class 5A team in Tennessee last season and beat them handily.
All the attention is nice and the Vandagriff's enjoyed their time in Norman.
"We are having a great time and there's not much not to like about Norman or the University of Oklahoma football program," said Coach Vandagriff. "I mean everywhere we go is great and every program is showing us a good time, but Coach Riley is a great guy and is showing Brock and us a great deal of attention and he is such an impressive guy that fact in itself is appealing to us."
"Who knows if this is the fit that Brock feels is the best for him, but I can tell you after a day and a half that it sure feels like it. He is always smiling and the team already acts like he is part of their team and part of their group. The offense is perfect for Brock's skill set and we know how talented Coach Riley is as a quarterback coach."
"We are going to leave here then go up to Hall of Fame Stadium in Oklahoma City as Aubrey is in a big AAU Softball Tournament and then we will come back tonight to have dinner with Coach Riley and his family. Then we're going to stay through Monday and just learn and see all we can about OU. I can tell you right now that we love everything about OU and we will see how he feels when we start back home on Monday or see how he feels early next week."
*** Vandagriff spent most of the camp throwing to electric sophomore receiver Raleek Brown (5'7, 165) of Stockton (Edison), California who was so good that the varsity players working the camp were already recruiting him to OU and acting as if he was part of the team. Brown runs a legit 4.3 forty and he showed out at the camp as no defensive back could hold him. He runs and cuts with great balance and he was so good on every effort that you would have to give him the gold star of the camp.
Brown is already a big name around his hometown of Stockton and that was after his freshman season and he has camped at Tennessee, Oklahoma State and now Norman, and he is going to Michigan this weekend. Brown told this reporter he is loving him some Oklahoma.
"Right now Oklahoma is at the top of my list," said Brown. "I love it in Norman and I have had a blast at this camp. I love Coach Riley's offense and how that I could go to work in it. I really like it here and I talk to Coach (Chip) Viney a lot and he's from California. Bookie was telling me how great it is here for California guys and so was Caleb (Kelly). I mean I have a long way to go in the recruiting process but I'm going to keep coming to Oklahoma, keep talking to Coach Viney and stay in touch with Coach Riley."
*** Another quarterback that got an offer at the OU camp was 2022 signal caller Ty Simpson (6'1 1/2, 181) of Martin (Westview), Tennessee.
Simpson already has 22 offers and he went to Tennessee's spring game. He also has unofficially visited Miami and he has attended camp at Tennessee and South Carolina and he has been to games at Mississippi State and South Carolina.
Simpson already has offers from Auburn, LSU, Michigan, Mississippi State, Penn State, Texas A&M, and USC to name a few.
*** Oklahoma commit and rising four-star offensive tackle Nate Anderson (6'5, 262) of Reedy (Frisco), Texas was on an unofficial today and hanging with his future teammates.
If you would like to read more of James' visitor notes and his team injury updates, please check the Donor Board.
---
Updates | Tyler Baron, Perrion Winfrey & Ryan Watts
– Super K
***As I've said, the father of 2020 DT, Tyler Baron (Knoxville, TN) is on the Tennessee football staff. So, I've continued to have my doubts about OU's chances in this one.
But I spoke to a source yesterday who tells me that the visit went exceedingly well. I would describe this person as a bit skeptical themselves. As such, I was a bit surprised to hear how optimistic they were.
I'm going to have to dig around more after this visit but perhaps Baron making OU his first official visit was an indication of real interest.
Again, I'll be doing some more digging but whatever the case may be, the staff put on a show.
***As you know, Ryan Watts was on his official visit to Michigan this weekend. I haven't checked in with Watts yet but I did come across some information yesterday that was worth passing on.
I'm told that Watts has already let the OU staff know that the Michigan trip isn't the only OV he plans on taking. It appears he has now decided to add a couple of additional trips (I believe to Notre Dame and Penn State).
This will be something to watch…
*** Continue to hear very good things about 2020 JUCO DT Perrion Winfrey as it sounds as if OU made the impression that he was looking for during his official visit and they put themselves in prime position for him. Keep an eye on him.
---
Brynden Walker | Post Visit Update + My Take
– Super K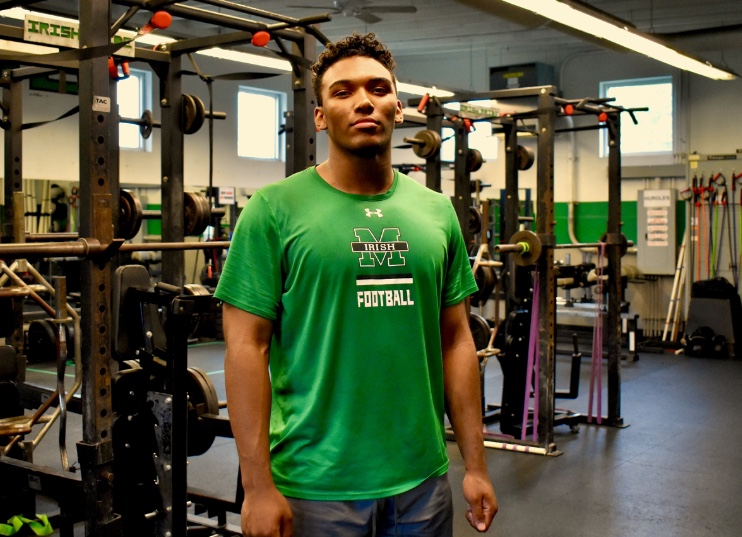 As you know, the Sooners hosted 2020 LB, Brynden Walker (Bishop McGuinness), this past weekend.
Walker and his mother have been invited to and have attended a number of games at Oklahoma but this was the first chance they've had to really go through a detailed visit process.
***In terms of what he and his mother learned about OU this weekend went beyond football.
"A lot of it was about what OU has to offer me, not just as a player, but how well OU will develop me as a person, as well. I got to take a look at the academics and see the curriculum. I was really impressed with that. And then I got to see the athletic academic advisors and got to meet them and they showed me kind of a typical day".
Walker is a fantastic athlete with aspirations of playing in the NFL as his father did. But he gives meaning to the word "student" in "student-athlete" and OU made, what appears to be a compelling case for themselves.
"The biomedical engineering school and overall curriculum of OU really surprised me. As a student, I'd have tons of resources available to me in the forms of guest speakers, a surplus of job fairs, and tons of personal development opportunities to help me with life after college".
***With respect to football, while Oklahoma State (who he is currently committed to) is looking at Walker as a OLB/DE, the Sooners are recruiting him as an inside linebacker. So, does Walker have a preference?
"Not really. I like pass rushing but I also like making tackles too". Walker is also aware of the fact that Grinch is a pressure guy. So, interior guys should have plenty of opportunities to get after the quarterback.
***Where I can hear some struggle in Walker's voice is in talking about what it would mean if he did ultimately decide to go to OU. He's built a strong relationship with the Oklahoma State staff and he has a comfort in Stillwater that he admits he hasn't gotten just yet at OU, "It's definitely the home feeling, the feeling I get on campus. It has a big family feel over there. If a flip were to come it would be hard at first rupturing that relationship just because I have built a really good relationship with the people at Oklahoma State"
But the draw of Oklahoma is hard to ignore…
"I'd go play my butt off regardless of wherever I went but at OU you know you're always playing on prime time television and then in a couple of years they're playing Georgia. They always play really quality opponents. That's one of the things that sticks out".
Walker says that his goal with OU right now is to continue to gain that comfort and build the relationship with the staff. His mother's voice in this decision is important and it sounds like OU was able to put her at ease quite quickly.
"She definitely feels way more comfortable about OU (than before the visit). It definitely wasn't like that before just because my mom felt pretty left out that no one had really contacted her and that didn't go so well with me either. But now my mom really likes OU. She had a little preconceived notion about OU but I think that's out the window now. She sees OU for what it is. She's way more comfortable. She really likes the coaching staff. Overall, it was a really good experience for not just me but her, as well".
I'll try and get back there but I'll also do the same thing with Oklahoma State. After my visit to OU, there's definitely things about Oklahoma State that I have questions about. I'll continue to build a relationship with both schools.
***Moving forward…
Walker says he will visit Oklahoma State this upcoming Friday. He says that after the OU visit, he now has some questions that he'd like to get answered by the OSU staff.
"I'll continue to build a relationship with both schools. I'm visiting Oklahoma State Friday but I'll be back to OU just to talk straight football before too long".
Walker didn't give a return visit date but said it could happen at any time.
In terms of his decision date, he said, "I just don't know. Whenever it comes, it comes. That's kind of where it's at". Walker plans to have a decision done by the end of the summer at the latest but he said in terms of an exact date, it could be tomorrow or it could be next month. Again, as he said, "whenever it comes, it comes".
"I'm just going to keep in communication with my mom about how she's feeling because she plays a huge part in all this. And, I'd say a lot of prayers".
If you would like to read Super K's 'My Take' which accompanies this article, please check the Donor Board.
---
For multiple daily posts, Insider Notes, More Sourced Practice Notes, member chats with TFB staff, James Hale's Notebooks, TFB Sessions (5-minute audio talks) and much more, please check the Donor Board!