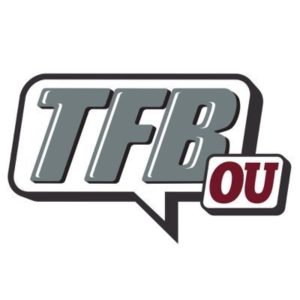 Open Post | Tuesday, July 9th
Posted on: July 9, 2019
The Latest | Nate Anderson
– CJ Vogel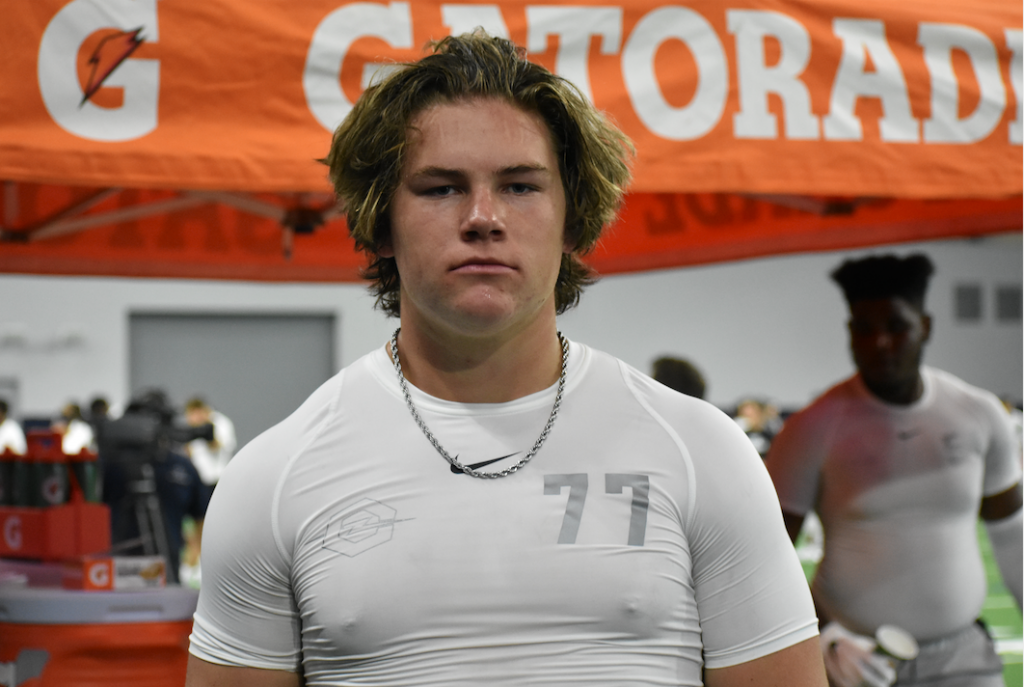 It's been a while since I've ventured over here, but I have some news and reports I think y'all will find favorable in regards to Oklahoma OL commit Nate Anderson.
I met up Anderson following the first day of The Opening in Frisco, Texas, a short drive for him considering the camp was held at The Star, his home field. And so far the weekend has been treating Anderson very well.
"These are the best guys in the country, so there's no better way to find out if you're real unless you come here," said the Frisco native. "I feel like I have been doing well, I've been learning a lot from these coaches, and these coaches are great."
"I feel like these next two days I'll continue to progress and I'll be better than the last day."
Anderson impressed during the OL-DL one-on-one drills.
Anderson was one of the smallest bodies out there for the offensive linemen, however, as you can see in the clip above, he more than holds his own.
I actually sat right in front of a father of one of the other offensive line participants in The Opening who raved at his technique following a dominant rep in the drill above.
As for what's happening in his recruitment, there isn't anything new, which is great news for the Sooners. Anderson said, "I'm 100%, no 1000% committed to OU, I love it there and I try to go up there every weekend."
Anderson also hinted at doing some recruiting for Sooners during his time at The Opening, though is keeping a lid on who exactly he is targeting. "I'm not going to tell you who, but I have definitely been onto some people about it."
One of the current Oklahoma commits that Anderson has grown a bond with is RB Seth McGowan who joined the Sooners' class in early June.
"He's a really good dude. First time I really met him was this week. I went up (to Norman) on my unofficial on the day I got my offer when he was taking his official visit. Sunday was really my first time to meet him and he's a really good guy."
Anderson continued, "Seth is 1000% bought into the program, I was talking to him about it and he's super excited about it. We're just trying to win that National Championship."
---
The Opening Testing Results
– James Hale
Prospects from Texas (HT/WT, 40, Shuttle, Vert, SPARQ)
-CB Jalen Kimber: 6-0/165, 4.44, 4.02, 42.1, 140.01
-WR Demond Demas: 6-2.5/182, 4.44, 4.09, 41.1, 137.82
-RB Jase McClellan: 5-10.5/202, 4.59, 4.04, 39.6, 126.69
-WR Jaxon Smith-Njigba: 6-1/199, 4.59, 4.08, 36.4, 121.71
-WR Parker Washington: 5-10/201, 4.57, 4.13, 37.0, 119.43
-QB Haynes King: 6-2.5/189, 4.52, 4.02, 36.9, 119.13
-CB Ryan Watts: 6-2.5/192, 4.64, 4.07, 37.6, 117.72
-CB Jaylon Jones: 6-1.5/187, 4.53, 4.25, 38.5, 116.13
-RB Seth McGowan: 5-11.5/209, 4.73, 4.28, 38.6, 115.32
-CB Jahari Rogers: 6-0/168, 4.58, 3.89, 32.9, 115.23
-QB Hudson Card: 6-2.5/176, 4.77, 4.06, 37.7, 106.50
-CB Lorando Johnson: 5-11/181, 4.54, 36.6, 103.83
-2021 OT Donovan Jackson: 6-4/305, 5.27, 4.63, 32.2, 103.44
-DE Princely Umanmielen: 6-4/249, 5.07, 4.37, 32.4, 97.56
-OL Nate Anderson: 6-5/262, 5.15, 4.28, 26.8, 96.06
-OG Logan Parr: 6-3.5/287, 5.56, 4.64, 24.1, 73.29
-QB Chandler Morris: 5-10/177, 4.34 shuttle
-OL Jake Majors: 6-3.5/294, 21.6″ vert
-S Xavion Alford: 6-0/178
-DL Vernon Broughton: 6-5
-OG Akinola Ogunbiyi: 6-3.5/348
-WR Troy Omeire: 6-3.5/220
-RB EJ Smith: 5-11/199
-S Chris Thompson Jr.: 6-2/19940
1. CB Chris Tyree 4.37
T2. WR Demond Demas 4.44
T2. CB Jalen Kimber 4.44
4. WR Julian Fleming 4.45
5. RB Jaylan Knighton 4.49
Shuttle
1. WR Keandre Lambert 3.83
2. CB Jahari Rogers 3.89
3. WR Jace Andregg 3.90
4. WR Jermain Burton 3.95
5. WR Marcus Rosemy 3.97
Vertical
1. WR Isaac Jernigan 44.8
2. 2021 WR Dekel Crowdus Jr. 44.3
3. CB/S Lejond Cavazos 43.0
4. CB Jalen Kimber 42.0
5. S Keshawn Lawrence 41.2
Power Ball 
1. TE Darnell Washington 51′
2. 2021 DT Maason Smith 48.5′
3. TE Arik Gilbert 48′
4. LB Noah Sewell 47.5′
5. WR Johnny Wilson 47′
---
Monday Updates | Raym, Conyers, & Monheim
– Charlie S
First things first, I hope you all had a fantastic, safe, and healthy holiday weekend!
With that said let's get a few quick notes up to start the week. The ChampU BBQ is less than three weeks away and the Sooners may go on a little recruiting run leading up to it.
*** As James reported a while back, Sooners 2020 OL target and former commit Andrew Raym (Broken Arrow, OK) is set to make his announcement this week on the 9th or 10th.
As we have maintained from the beginning, sources around the Sooners say they have been given no indication that anything has changed in where they stand with Raym as his decision approaches even following trips last month to Georgia and Michigan.
Raym has been pretty quiet leading up to his decision, and stranger things have happened as you can never count a program like Georgia out as they have been lighting it up on the recruiting trail, but this feels like things will go the Sooners way.
*** Offensive lineman Jonah Monheim (Moorpark, CA) visited the Sooners back in May on the same weekend that Nate Anderson and Noah Nelson (Now Sooner commits) visited.
Monheim and his family came away from the visit very impressed with OU and the Sooners went right to the top of his list. Since that visit, he has taken an official to USC, who could make things interesting with sincere interest, but it still may not be enough to bump the Sooners from the top spot.
Monheim told K he planned on announcing a decision in July. We are now in the July window and we will be checking in with Jonah to see where things stand in regards to a more precise timeline.
*** As K has reported Sooners 2020 Tight End target Jalin Conyers (Gruver, TX) has talked about making a July commitment.
Conyers visited the Sooners back in April and has taken both unofficial and official visits to Ohio State and Georgia since that time.
On June 4th, Conyers dropped a top three of OU, Ohio State, and Georgia.
With the Sooners still having an official visit still left to offer to Conyers and his family and his affinity for the OU offense along with distance, OU is in a prime spot to land the talented tight end.
He is another name to keep an eye on leading up to the BBQ.
---
Hale Yes | Preseason Projections | All-Big 12 Honors & Order of Finish
– James Hale
This is my preseason All Big-12 team.
Yes will see more OU players on this list than some will have, but my philosophy in filling out these things is that I'm a beat reporter that covers OU and if I don't give OU players the benefit of the doubt who will?
I have projected a couple of players onto the list and gone against the grain of some of the preseason magazines, but this is my team.
What is your's and what do you think? What would you change?
I do have OU winning their fifth straight Big 12 Championship and most, but not all agree with that.
Love to see what you think and your teams.
DL:
Neville Gallimore (OU)
JaQuan Bailey (ISU)
Ray Lima (ISU)
James Lynch (BU)
Ronnie Perkins (OU)
LB:
Kenneth Murray (OU)
Clay Johnston (BU)
Marcel Spears (ISU)
DB:
Tre Brown (OU)
Jeff Gladney (TCU)
Caden Sterns (TX)
Greg Eisworth (ISU)
QB:
Jalen Hurts (OU)
RB:
Trey Sermon (OU)
Pooka Williams (KU if he gets cleared)
FB:
Jeremiah Hall (OU)
WR:
CeeDee Lamb (OU)
Tylan Wallace (OSU)
Colin Johnson (UT)
OL:
Creed Humphrey (OU)
Jack Anderson (TTU)
Zach Shackleford (UT)
Parker Braun (UT)
Marcus Keys (OSU)
Kicker:
Evan Staley (WVU)
Returner:
CeeDee Lamb (OU)
Offensive Player of the Year: Jalen Hurts (OU)
Defensive Player of the Year: JaQuan Bailey (ISU)
Newcomer of the Year: Jalen Hurts (OU)
Big 12 Team Order of Finish:
1. OU
2. UT
3. ISU
4. BU
5. OSU
6. TCU
7. KSU
8. WVU
9. TTU
10. KU
---
Gary Bryant | Quick Update
– Super K
I've somewhat prepared you all for this. Word I'm hearing is that things are essentially dead between OU and Gary Bryant.
At one point, OU was the leader for Bryant.
The issues seem to be stemming from family not wanting him to leave the west.
I don't foresee this changing but until the season gets here I never say never.
---
Fast Five | Summer Days | Sourced Team Quick-Hitters
– Super K
***As many of you may have seen, OU Insider has reported that OU running back, Kennedy Brooks has not been going through summer workouts.
This is the case and is a result of an issue that was brought to my attention a while back. The reason Brooks isn't going through workouts has nothing to do with any team disciplinary matters nor is it an issue with Brooks being disgruntled.
As it's been my understanding, and the reason we've avoided the discussion, is it is a university-related issue – unrelated to football.
***Regarding the culture change, it has been significant. Grinch doesn't pull punches.
I'll give you a teaser example. Kenneth Murray called out a player for not performing at the level expected (player leadership emerging). I'm told that the player didn't take kindly to it and things got pretty heated.
Later on Grinch spoke with the defense and basically said, if anyone in here thinks they are the reason Oklahoma is ranked so high or has been so successful then we can go turn on the tape. He continued by saying, if the tape doesn't look good, then you can walk around wearing a Kyler Murray or Baker Mayfield jersey all summer.
***Heard a bit more on Spencer Rattler. You'll recall I had a few relatively detailed notes on him. But just continue to hear that he's an absolute gun slinger, "he's not scared of any of these guys". The team seems impressed with him. Again, don't think he can start but one source said, he might surpass these other guys by mid-season.
***Having said that, I spoke to one source who was very optimistic about how Hurts will continue to develop his ability to make quicker decisions and accurate throws in this system. I have some concerns especially because everyone keeps saying "he's a gamer" – a phrase that I am uncomfortable with because it's so hard to quantify. But the person I spoke to last week actually felt strongly about his quantifiable development as a thrower in this system. Also, noted that the team is doing a lot more player led 7v7. I didn't take notes from the conversation but if I recall correctly, the team is doing three 7v7 sessions per week.
***Last thing I wanted to mention is that the team is very confident. The defense feels like they finally have the leader in Grinch that they've wanted and needed. Also, Hurts brings an advanced level of leadership to the team overall (offense obviously has had that from the top down anyway). I was told that the team feels they are going to see Bama in the playoffs this year (both teams going undefeated along with Clemson would indeed likely pair them up).
If you would like to read the rest of Super K's sourced team notes, please check the Donor Board.
---
For multiple daily posts, Insider Notes, More Sourced Practice Notes, member chats with TFB staff, James Hale's Notebooks, TFB Sessions (5-minute audio talks) and much more, please check the Donor Board!