Open Post | Tuesday, January 5th
Posted on: January 5, 2021
Position Group Progress Report | Cotton Bowl
– Charlie S
Checking out how the position groups performed in the Sooners Cotton Bowl demolition of Florida.
The Sooners were a slight favorite at kickoff but on the field they were the dominant team throughout the game which left Dan Mullen in a pool of tears and sad excuses in his post game presser.
I will be including the previous weeks rankings so we can all see how the units are shaking out on a week by week basis!
Let's see how things shook out against the Gators!
---
QB: High 4* (Last week High 4*)
Spencer Rattler deserved so much more.
That sentence could have been repeated following the majority of the games this season thanks in large part to a bad case of the drops by the OU wide receiving corps.
However, Rattler did not let that phase him as he put up a really efficient stat line which read 14/23 for 247 yards and 3 touchdowns.
He also added 7 runs for 40 yards and another touchdown.
Really good night for the maturing signal caller and in my opinion the lone blemish was when he failed to protect the ball as a Florida defender came from behind and stripped him for a fumble.
He looked a bit more comfortable in the pocket (still flushed a bit quickly on occasion) but took what Florida gave him for the most part and delivered back to back dimes which were dropped by Rambo (in the endzone) and Wease.
My biggest hope for Rattler in 2021 is that someone other than Marvin Mims steps up and becomes a consistent weapon.
In my opinion, he will the the Heisman favorite entering the 2021 season…and rightfully so.
---
RB: 5* (Last week High 3*)
A couple weeks ago, everyone in Sooner Nation was down in the dumps regarding the running back room for missing out on Camar Wheaton who chose to commit to Alabama.
Surprise!
Following last nights game, suddenly the past (Rhamondre likely), Present (Seth McGowan, Marcus Major), and Future (potentially Mikey Henderson) looks a lot better.
The Sooners had two backs go over 100 yards on the night and a third back who averaged 73 yards per carry (see what I did there?)
If this was in fact Rhamondre's last game (as I believe it should be) he went out on a high note…18 carries for 186 yards which was good for a 10.3 yard per carry average and 1 touchdown. He was patient, explosive, and dynamic. A dude that big should not have feet that can move the way they do. He coughed one up on a fumble, but the good far outweighed the bad.
Seth McGowan had one carry. It went for 73 yards. That's going to help his YPC average for certain. But McGowan also added 3 catches for another 70 yards. Dual threat weapon…that's a bonus!
The most interesting back on the night to me was Marcus Major. The dude hadn't smelled the field for most of the season and all he does is serve as the main backup for Stevenson and carries the ball 9 times for 110 yards and a touchdown. Major looked different than he did early in the season as he flashed really good power, speed and vision. Coming into the game, during the 2020 season, Major had 26 carries…for 77 yards…on the SEASON.
Heading into 2021, OU still will need to add a body or two if they don't move Mikey or Brian Darby to the backfield full time, but you have to feel a lot better after watching the growth both McGowan and Major displayed against the Gators.
Oh yeah…OU is also getting back Kennedy Brooks…the dude who has 2 thousand yard rushing seasons in his 2 years of playing. Things are looking much better this morning, don't ya think?
---
WR/TE: 3* (Last week 3*)
Was glad to see Rambo get a score. The touchdown he brought in was his first since…get this…the first game of the season against Missouri State when he had 2 touchdowns.
But, he also dropped another touchdown while the game was still close.
Was good to see Theo take a quick pass and turn it into a score.
But, he also had a huge drop on a deep ball which happened to come on the snap following Rambo's drop.
Marvin Mims had one catch…surprise…it was a touchdown. One catch (only one target that I recall right now) is not enough opportunity for the kid. He, like Rattler, deserved more all year.
Trejan Bridges had a couple receptions and he displayed strong hands on his second one.
Was good to see Stogner back out there as well, but man, this is a year those receivers are going to want to forget and start 2021 with a clean slate and some new blood and renewed focus.
The talent is not a question for the 2021 season. Using it to the best of their abilities is the question.
---
OL: High 4* (Last week 2*)
While the personnel decision to start Swenson seemed curious at best, the offensive line played really, really well for the most part last night.
Swenson had his rough moments, but was not as bad as I wanted to paint him in real time. He had a couple bad misses, but he was not terrible by any stretch. TRob had a couple penalties against him, but again, he played pretty well and was a big factor in the counter run game. He was moving very well.
Creed likely played his best game of the season in his last game as a Sooner. I would have expected nothing less from that man. If this was in fact his last game, he gave you everything he had (often times he tried to give you more than he should have to his own detriment).
Ealy was solid and looked a lot more fluid and Marquis Hayes really flashed some of that nasty that we have all been looking for.
Anton Harrison and Andrew Raym both got some run, which will be great for them going forward and for the line as a whole in 2021.
As for 2021…the pieces are there. You have a ton of elite young talent who will push the veterans that come back. The question here once again is…will they get a fair shake at getting on the field with any consistency? I hope so.
---
DL: 4* (Last week 4*)
Leading up to the game, if you have been following along, I was very interested in seeing how the Sooners front (led by the DL) would perform against a solid out of conference offensive line. The Florida line was not an elite group by any means, but they were an athletic and talented group.
The Sooners defensive line was not able to provide the consistent pressure that they had pretty much all season against the Big 12 foes. You can say Florida used quick passes and timing to offset that. That's fine and it is accurate. However, when Big 12 teams did that to OU, the Sooners were still getting home.
Before anyone jumps on me and says I am being too harsh…look at the rating I gave them. I gave them a 4*. They deserved it. They played well, but they did not play at an elite level. That is not a bad thing at all.
In fact, for my money, Ronnie Perkins and Nik Bonitto deserved the defensive MVP award every bit as much as Tre Norwood did…perhaps even more.
The way the Gators ran the ball is what concerned me the most if anything. Florida's running game was pretty much non-existent throughout the year and rush defense was a strength of the OU front throughout the year. Felt like the bigger OL was able to move the OU DL off their fits a bit more than we had seen over the course of the year.
Isaiah Thomas was strong and Perrion Winfrey flashed, but man that dude needs to learn how to finish. Thankfully, I expect him to take that step as he will return to Norman next year.
Kori Roberson was the other guy I noticed a couple times on the interior and you have to like his potential in '21 with another year of maturation under his belt!
As for '21…I think the trajectory for this group is pointing up even if Ronnie Perkins declares to go early (I think he would benefit by staying one more year) along with the addition of the 2020 class where I think Gilliam could be a guy who sees early playing time.
Best and most consistent unit throughout the 2020 season…by far! Well done Cain and Thibbs. Well done.
---
LB: High 4* (Last week 3*)
After watching the game live, and doing a quick rewatch this morning…I still feel like the linebacker unit was the best group on the defensive side of the ball for OU against Florida.
David Ugwoegbu should start the year on the Butkus Award watch list in my opinion (he likely will not) but the growth he has showed from the time fall camp started (remember, that is when he made the move with the loss of the spring) till the Cotton Bowl is nothing short of astounding.
He dominated at times last night and looked smooth while doing so.
Brian Asamoah is a guy who had a really up and down year and last night it was the 'up' part that won out. I mentioned on Twitter during the game that his 2020 season reminded me a lot of Kenneth Murrays 2018 season…playing on the edge of control at full speed and sometimes crashing. The pick he had last night was a nice 'good job' present for him. The crashes are becoming less frequent and I think he is set up for a big year in 21.
Shane Whitter got a lot of run last night and you were able to see that the game is slowing down for him. He finished with more tackles than DaShaun White did last night.
As for White, he was fine. Didn't flash too much, but I also didn't notice him get lost, so sometimes not being seen is not a bad thing.
Feels like this unit in '21 could be something special with the addition of Stutsman and the major contributors from this year growing and maturing. There is also the possibility that Caleb Kelly will be in this room, although I believe he should be out at rush. Still, you have to like the direction of Odom's group!
---
DB: 4* (Last week 4*)
Add two more picks to the crew on the backend as Tre Norwood got his team leading 5th interception, which he returned for a touchdown. That play proved to be a huge momentum builder for the Sooners and Norwood has been the right guy in the fight spot quite frequently this season.
Woodi Washington pulled in the other interception and almost secured another one with a really athletic play.
Safety is still a concern for me, and will likely be the biggest question mark entering the 21 season but you have guys like Bryson Washington and Justin Harrington who could make an impact.
Pat was ok, his angles still baffle me and DTY had a quiet night, which again is not always a bad thing.
Jaden Davis and DJ Graham had solid nights on the corners as well and you have to be a fan of the upside that Graham presents.
'21 will see a bunch of new faces out there competing along with guys like Kendall Dennis and Josh Eaton. I think McCutchin will push for a starting corner spot, or push to be the 3rd corner at the very least.
Safety will be the biggest question mark heading into spring and then fall camp.
---
Special Teams: 4* (Last week High 4*)
Rambo had a nice kick return in place of Tre Brown and that was nice to see.
Brkic is steady Eddie and did his thing.
Mundschau was fine.
No blocks, no long return, well done.
---
I Might Have Some Good News for you
– Super K
Despite the Sooners great ending off the field, I know some of you have been a little disappointed in some of the early departures and recent recruiting misses (although you can't say we didn't warn you on most of them).
But you might have some good news coming your way.
There is a very talented P5 offensive tackle who I've been told is a) likely to enter the transfer portal and b) likely to end up at Oklahoma, should he leave.
Since he has yet to enter the portal, I'll hold the name for now. But once he hits the portal we will discuss more.
I spoke with someone close to the player earlier this weekend and was told that the chances were "very good" that this will happen. Still, "very good" isn't a done deal so while there is a reason to be optimistic, let's manage that optimism a bit.
I can tell you that this was a player OU recruited out of high school and would likely be an upgrade over Ealy. He's young but he's played a lot of big time ball, already.
---
Quick Hitter | Turnover heading into 2021
-Ryan Lewis
The Sooners have been in a whirlpool of who's playing next year and who's moving on for the past couple of weeks. With all of the recent news, now seems like a nice time to review who has made their decision and what that decision is.
---
Transfer Portal:
Tanner Mordecai – Committed to SMU
QB | OU 2018-2020 | 12 GP | 50/70 passing, 639 pass yards, 4 TD
RB | OU 2018-2020 | 30 GP | 135 carries, 695 yards, 6 TD | 11 rec, 89 yards
Chandler Morris – Committed to TCU
QB | OU 2020 | 5 GP | 3/5 passing, 39 yards | 5 carries, 44 yards, 2 TD
WR | OU 2019-2020 | 1 GP | 2 rec, 31 yards, 1 TD
Jalin Conyers – Committed to Arizona State
TE | OU 2020
LB | OU 2016-2020 | 42 GP, 8 GS | 51 tackles, 5.5 TFL, 1.5 Sack, 1 PBU, 1 FR
LB/DB | OU 2017-2020 | 34 GP, 10 GS | 77 tackles, 1 TFL, 2 INT, 4 PBU, 1 FF
Stephenson Johnson
K | OU 2019-2020 | 6 GP | 2/2 FG, 8 PAT
TE/HB | OU 2018-2020 | 2 GP
WR | OU 2017-2020 | 36 GP, 24 GS | 76 Rec, 1,180 yards, 9 TD | 4 car, 37 yards
---
NFL Early Departure:
DB |OU 2017-2020 | 51 GP, 33 GS | 141 tackles, 8.5 TFL, 2 Sacks, 4 INT
C | OU 2017-2020 | 39 GP, 37 GS
DB | OU 2017-2020 | 39 GP, 24 GS | 111 tackles, 2 TFL, 1 Sack, 6 INT, 1 TD
OL | OU 2017-2020 | 28 GP, 23 GS
---
Announced Return / Sourced to be Returning:
*** COULD CHANGE PRIOR TO DECLARATION DAY (Jan 18) ***
OU 2017-2020 | 31 GP, 11 GS | 42 tackles, 14.5 TFL, 10 Sacks, 3 PBU, 1 FF, 2 FR
OU 2016-2020 | 41 GP, 24 GS | 160 tackles, 11 TFL, 5 Sacks, 1 INT, 4 PBU, 4 FF, 3 FR | 2 TD Return
OU 2018-2020 | 27 GP, 18 GS | 78 tackles, 17.5 TFL, 12 Sacks, 1 INT, 7 PBU
OU 2020 | 11 GP, 8 GS | 18 tackles, 6 TFL, 0.5 Sacks, 3 PBU
OU 2017-2020* (*2020 Opt Out) | 24 GP | 274 carries, 2,067 yards, 18 TD | 20 Rec, 136 yards
OU 2018-2020* (*2020 Opt Out) | 12 GP | 28 tackles, 13.5 TFL, 6.5 Sacks, 2 PBU, 1 FF
Erik Swenson
OU 2016-2020 | 31 GP, 19 GS
OU 2017-2020 | 27 GP, 24 GS
---
No Decision Announced:
Rhamondre Stevenson
OU 2019-2020 | 19 GP, 5 GS | 165 carries, 1,180 yards, 13 TD | 28 Rec, 298 yards
Ronnie Perkins
OU 2018-2020 | 33 GP, 25 GS | 99 tackles, 32 TFL, 16.5 Sacks, 1 PBU, 1 FF
---
Elite 2022 RB Jaydon Blue Hearing From OU "The Most"
– CJ Vogel
Haven't posted in a while but I have an update for you guys that y'all will like.
I was down in Houston yesterday for the Fast 7v7 tryouts coached by Ro Simon Jr. where a number of the best prospects in Houston gathered to put on a show. Among them was Klein Cain running back Jaydon Blue.
Blue was spectacular yesterday. The top five nationally ranked running back certainly looked the part. I was amazed at Blue's receiving skills. He was often in the slot throughout the afternoon and Moss'ed a number of defensive backs despite being just 5-foot-10-inches tall. Not to mention when he has the ball in his hands, good luck. He told me afterwards he was timed at 10.4 in the 100m dash and has a laser verified 4.4 time in the 40-yard dash.
But onto his recruitment. Blue mentioned hearing the most from head coach Lincoln Riley and RB coach DeMarco Murray of any school he is currently in communications with.
"Oklahoma is probably the school I talk to the most," Blue said. "Coach Lincoln Riley and Coach (DeMarco) Murray, I just have a good relationship with them."
Blue added he talks every day with the Sooners' staff and it was very important to have a strong relationship with the coaching staff for him.
Along with Oklahoma, Blue is hearing the most from Texas, Alabama, Georgia and LSU. He told me he had picked Alabama to win the National title prior to the season, Ohio State opened his eyes in the CFP game against Clemson and he was somewhat surprised by LSU's disappointing season in 2020.
"(Oklahoma) runs my type of offense," Blue said. "They are one of the schools I want to go visit once everything opens back up."
When it comes down to it, Blue will have his choice of any school in the country off of his talent on the field and his work in the class room. He told me he wants to study mechanical engineering in college and will be doing his research in which universities line up with his aspirations on the field and in the mechanical engineering field.
"I want to be an engineer after football. So I'll be looking at that, along with the coaches I can trust. Everything else will fall into place, I just want to make sure I pick the right school."
---
TFB Talking Point | Early 2021 Heisman Odds
– Charlie S
The early Heisman Trophy odds for the 2021 season have been posted…and in no surprise, in my opinion, Spencer Rattler leads the field.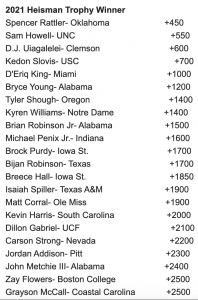 Another interesting inclusion on the list…two Iowa State players in Brock Purdy and Breece Hall, that has to be a first.
A couple guys not included on the list that I thought would be on it in front of several of these guys…no JT Daniels from Georgia and no Spencer Sanders from Oklahoma State.
---
Evening Quick-Hitters | Transfers
– Super K
***Sooners are actively monitoring the transfer portal and I'm told there is ongoing discussion about the possibility of bringing guys in.
***However, outside of the OT I mentioned (they will definitely pursue him if he does indeed enter the portal), they are still trying to figure out who is staying and what needs they will have.
***I know Rivals over on the Texas side, for example, has reported that Darion Dunn (McNeese State transfer CB who signed a financial aid agreement with Texas) is considering OU. However, we are told OU hasn't made any final decisions about bringing in a transfer DB.
***There are multiple guys at multiple positions that are under consideration including possibilities at DE, RB, DB and WR but nothing is final yet. There is some initial communication going on but offers haven't been made.
***So again, outside of OT, this is changing day by day. We are checking on it everyday so we will keep you updated.
***Sooners are trying to find the right balance between taking their time and not missing the boat. They absolutely want to make sure they have the roster they need to make a run at the NC next year. There is particularly strong desire to finally win number eight next year.
---