Open Post | Tuesday, January 11th
Posted on: January 11, 2022
Sunday Brunch | The New Staff – Let's Compare!
– Charlie S – Posted on: January 9, 2022
Now that the Sooners coaching staff is almost fully official, I figured it was a good time to offer my thoughts on how they compare with their predecessors in Norman, in my opinion.
Some of my thoughts were eye opening for me as I wrote them but I was aiming to provide you with my honest thoughts as OU heads into the Brent Venables era.
Looking forward to reading your thoughts in the comment section!
---
Head Coach : Brent Venables – Unknown over Lincoln Riley – Look, Riley had his warts both on and off the field, but he won a ton of games as the Sooners head coach and had recruiting rolling along at a good clip. Venables is unknown as a head coach, so this comparison, while it says 'downgrade' is not fair and for all we know Venables could bring the Sooners to the next level. Right now, his canvas is blank as a head coach and Riley is still regarded by many as one of the top head coaches in college football…right or wrong.
Offensive Coordinator: Jeff Lebby – Upgrade over Lincoln Riley – Bold take? I don't know, but I do know Riley's performance in this capacity suffered over the last three years of his tenure as the offense got worse, markedly so, each successive year. Meanwhile, Lebby's offenses have improved over the last several years. Riley, once upon a time was the hottest offensive coordinator in the game…right now, he lives off his reputation. Bold take right> Choosing Lebby as an upgrade over Lincoln Riley as an OC would surely be laughed at by many non-Sooner fans, but I just cannot get past the offenses we saw in Norman over the last 3 years.
Offensive Line Coach: Bill Bedenbaugh – Upgrade over Bill Bedenbaugh with Benny Wylie as his strength and conditioning coach. When Schmidty was in town with Bedenbaugh the first go-round, he was putting out award-winning offensive lines…with Wylie in town, they got less dominant and worse each year. Bedenbaugh has lost some of his shine with some of the Sooner faithful. With Schmidty back in town, we will see if it was the coach or the S&C program.
Wide Receiver: Cale Gundy: Call me crazy but I'm gonna say this is a Slight Upgrade/Unknown based on Cale's track record of development and Dennis Simmons's lack of development (specifically in regard to high school prospects). Simmons has WR skins on the wall…but, in MY OPINION, those skins are tainted aside from CeeDee Lamb as Hollywood and DeDe were inherited players who were JUCO's. Cale has no experience in running a true wide receiver room, but I will go in believing he has a chance to be an upgrade over Simmons who got a lot of praise for little actual production.
Tight Ends: Joe Jon Finley: Push to an Upgrade as he is familiar with Lebby's system and his room will have a chance to have a larger role in the offense.
Running Back: DeMarco Murray: Push to an Upgrade as well as his room will also have a chance to be a focal point under Lebby's play-calling and system. One thing I get from going over Lebby while at Ole Miss is he does not seem to forget that running the ball is something you need to focus on throughout the entire game and not forget about it for series at a time.
Co-DC Defensive Tackles: Todd Bates: Massive upgrade over Thibbs. Plain and simple, Todd Bates is one of the best DT coaches at any level of football. At least that's what he is perceived to be. He also brings in a proven track record of development and recruiting chops that Thibbs just could not match. Do not forget, recruiting to Clemson is quite similar to recruiting to Oklahoma, it is a destination, not located in an area (locally) loaded with blue-chip talent. Yes…it is close to Georgia and there is some very good talent in the Carolina's…but that is very similar to OU's situation with Texas being their base and Oklahoma producing some quality talent.
Defensive End Outside Linebackers – Miguel Chavis: Downgrade/Unknown over Jamar Cain. Cain was the only, and I mean ONLY defensive coach last season who improved his room on the field and off the field. Cain was a very good influence on the Sooners defense and the proof is in the pudding with Isaiah Thomas and Nik Bonitto singing his praises abut how they jumped in development under him and he brought in a lot of promising talent like Reggie Grimes, Clayton Smith and Ethan Downs. Chavis is in his first gig as a position coach. He shows promise on the recruiting front, but there is no tangible evidence of his ability to develop his players. Exciting possibility with Chavis, and as I said yesterday, at this point you have to have faith in the guy that put his neck on the line for him, and that would be Venables.
Co-DC Linebackers – Ted Roof: Goat talk here 🙂 : I will start this one as a slight upgrade over Brian Odom based solely on his experience as a defensive coordinator and history. Odom came to Norman with one year of on field experience, now OU has a guy who has been a DC at multiple stops. As you all know, I am a big fan of Odom, do not get me wrong and I think he has a bright future, but Roof's job is pretty simple here…hold the keys to Venables strong suit and run his room through Venables. Odom had some nice wins on the recruiting trail and in his 3 seasons as the coach, his room was wildly erratic as you saw tangible development in one year with Kenneth Murray, and the second year with Ugwoegbu and Asamoah flashing. Both Ugwoegbu and Asamoah took steps backward last year. Odom did well on the recruiting trail, particularly with Kobie McKinzie but I do not think Ted Roof will have any issues recruiting linebackers because, well, Brent Venables is the best LB coach in the country and any heavy lifting that needs to be done will get a massive assist.
Safety – Brandon Hall: Looking at this as an upgrade as Alex Grinch did not develop one safety that is a sure-fire draft pick in his 3 years in charge of the room and his recruiting was 'puzzling' at best. Grinch apparently didn't have faith in his coaching and development abilities as not one kid he recruited started at safety for him and only one kid he recruited started at NB for a limited number of games (Bowman). Hall brings a background that specializes in the secondary and the experience of being a defensive coordinator at Troy. I think this is a sneaky good hire for OU and I expect Hall will be a guy who is groomed to be a defensive coordinator at Oklahoma or a head coach elsewhere down the line.
Corners – Jay Valai* (not official yet, still technically at Bama): Big upgrade over Roy Manning. Anyone reading this who has coached cornerbacks at any level would likely be an upgrade over Roy Manning as the corners coach. Half kidding. Manning was a disaster that was on full display over the course of the 2021 season as his room regressed each year and culminated with him having zero allies in the room by the time he left. Manning brought energy to the program, not necessarily his own room though as most of those guys were just tuning him out. Valai is a guy that Nick Saban stole from the Philadelphia Eagles (who stole him from Houston…all within a months span after the Texas staff was fired). Valai has roots from Georgia as a DQC guy and stops in Kansas City (NFL), Rutgers, and Texas along the way. Valai is a very good recruiter despite the noise from Bama right now because he did not deliver Denver Harris and Evan Stewart as Aggie went full Aggie and bought them. I think you will see an immediate upgrade in the play of the corners with him coming in.
Venables as a head coach is the great unknown. I, personally, think he will excel, but there will be bumps and bruises along the way as he learns and grows into the position.
Aside from that, overall, in my opinion, the Sooners won, rather decisively, in the composition of the coaching staff.
---
Johnson & Harrington
– Charlie S – Posted on: January 8, 2022
Couple notes I picked up over the weekend…
***Touched base with Tulane DT Tackle Jeffery Johnson (6'3 295) who is in the NCAA Transfer Portal.
Johnson let me know that Oklahoma is 'on his list' and he 'would love the opportunity to play at OU'.
He also mentioned that he has been in touch with multiple members of the defensive coaching staff and is currently working out his visit schedule.
My take away from the communication with him is that if OU offers, he would likely visit.
***Also touched base with Sooners DB Justin Harrington who is also in the transfer portal to see if anything was up with the Perrion Winfrey tweet from this afternoon that many of you inquired about…
Cutting to the chase here…I asked him if that was something that could happen (returning to OU) and he said 'for sure'.
I also asked him if he and the new staff have made any progress towards that becoming more of a realistic possibility and he said 'A little progress, I'm just being patient' and he let me know that he believes that people in the building know he is open to hearing more from the new staff.
Bottom line, as of right now, there isn't much to talk about in regard to Harrington and OU, but the door, on his end, is not closed.
---
Quick Hitter | '22 DB Jamarrien Burt
– Charlie S – Posted on: January 10, 2022
The other day, many of you took notice of a tweet that '22 DB Jamarrien Burt (6'1 175) put out which listed OU in his Top 5.
It was a bit surprising because let's face it, nobody had ever heard from him before in regard to Oklahoma.
Following his tweet, I was able to catch up with him briefly.
Burt let me know that he is planning on visiting Norman for the January 21st weekend. He also let me know that OU is recruiting him as a safety/nickel and that he has been speaking with OU Safety Coach Brandon Hall for some time now. So there is a familiarity there.
As James noted this morning, OU will be down to see him once the dead period is lifted and with the planned visit, if OU decides to push here, I feel like they would have a very good chance to pick up his commitment.
I plan on speaking with him in the near future and we will dig deeper on the OU side of the equation as well.
---
2022 Sooners RB Signee Gavin Sawchuk Sees the Vision
– CJ Vogel – Posted on: January 10, 2022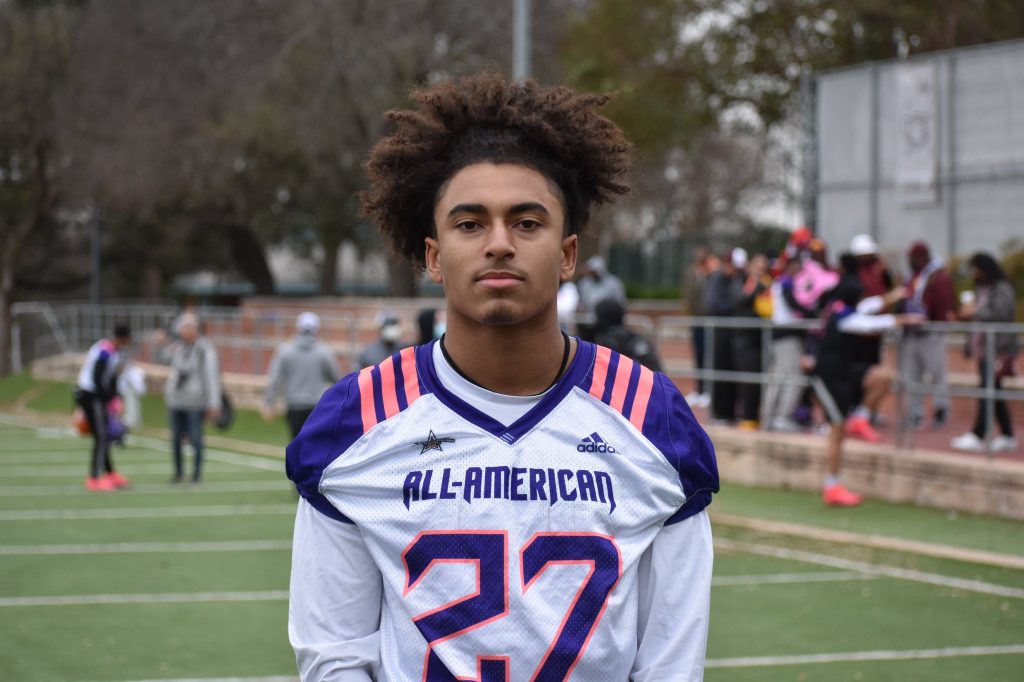 One of the clear standouts at the All American Bowl week of practice was 2022 Oklahoma running back signee Gavin Sawchuk.
The Colorado native was one of the most natural pass catchers out of the backfield and displayed great change of direction and burst out of cuts inside the tackles.
With everything that has transpired in Norman over the last month or so, Sawchuk remains very confident in the Sooners' future and is excited to get to Norman and assist in bringing in the new era of Sooner Football.
"For me, I just trusted OU and the process of hiring a new coach," Sawchuk said. "I did not want to make an rash decisions. It kind of just blew up in front of us with Coach Riley going to USC… I just wanted to let the dust settle. Everyone was panicking and decommitting because they did not know what was going to happen."
A key component of keeping Sawchuk in the fold was the work of RB Coach DeMarco Murray who stayed in contact with Sawchuk throughout the entire decision process and was as transparent as possible throughout the entire process.
As for the new man in charge, Sawchuk has already struck a relationship with Brent Venables and according to the elite running back, it is one he is lucky to have.
"I like Coach Venables," Sawchuk said. "I was able to meet him, he is a really cool dude. He came out to my school and he is really passionate and energetic. I love that about him. He said he coaches hard, but he coaches with passion and he is personable with his players, I love that."
As for new offensive coordinator Jeff Lebby, Sawchuk said he is still looking forward to meeting the new play-caller. He did not have a previous relationship with Lebby during his time at Ole Miss, though did mention being aware of the explosive offense Lebby led and how excited he was to join it at the next level.
With NSD2 right around the corner, Sawchuk said he is on the trail trying to add to the Sooners' class, specifically on the offensive line.
Five star offensive lineman Devon Campbell is at the top of Sawchuk's priority list and is a guy he is working hard on behind the scenes.
Sawchuk was able to leave a lasting message for Sooners fans regarding the state of the program moving forward, one that he sees as very promising.
"You can see Oklahoma's record and their history at that school – it is so strong. They always seem to get it done and hire someone to lead the program to excellence and keep that tradition going. I trust it. Oklahoma is not one person or one coach. It is everybody that makes it up and I know we will be good moving forward."