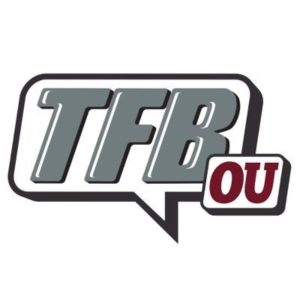 Open Post | Tuesday, February 4th
Posted on: February 4, 2020
Sooners Junior Day Note | The Odom Effect
– Charlie S
Just wanted to drop a quick note on a pretty big takeaway from the Junior Day and that is…Sooners Linebacker Coach Brian Odom is really making some big impressions with these kids.
I've been in touch with a number of the visitors already and I've been getting the usual things like 'Visit was great', 'People are great', 'Facilities are great'…and all the normal stuff you would expect.
But after touching base with 2021 linebacker Kendrick Blackshire and 2022 linebacker Jordan Crook, Odom's impact resonated with me.
Now, as one would expect, Odom spent a lot of time with the pair. You would obviously know that would be the case with Blackshire coming in, but it was what Crook had to say that really caught my eye.
Crook is a 2022 kid who came to Norman today without an offer and without much fanfare. K only found out he was coming along with Blackshire this morning, so you wouldn't think he would be a focal point for the staff.
With that being said, when I was messaging Crook about his visit, and what stood out, he said "Man Coach Odom is just a good dude. He spent a lot of time with me and Kendrick and I really appreciated that. Coach Riley mentioned he would be down to see me in the spring and an offer could come then, but Coach Odom was real."
I asked him what it was about Odom that stood out and he said "I can tell he is a hard nosed coach who keeps it real at all times. He was just telling me how specific he wants things and that is how he is going to run the linebackers. I wanna be under a coach like that".
Coach Odom took Shane Whitter and Brynden Walker in 2020. He already has a verbal commit from one of the top linebackers in the country in 2022 with Kobie McKinzie. He is in on several top kids in 2021 like Blackshire and Trenilyas Tatum who visited recently and gave him rave reviews.
Things are looking pretty good at linebacker for OU. All you have to do is listen to Kenneth Murray.
---
Junior Day Notes | Bryce Foster & J.Michael Sturdivant
– Charlie S
*** Touched base with Sooners 2020 offensive line offer and priority target Bryce Foster (6'4.5″ 318) out of Katy, TX (Taylor) who made his way to Norman for the Junior Day.
Foster has been to Norman on a number of occasions and has always enjoyed his time. This trip was no different in that regard.
Foster said "It was so much fun. My family and I really enjoyed it".
I asked him if anything about this trip really stood out and he said "I was able to speak with both the track and football strength and conditioning coaches and they put together an entire schedule of how to balance the spring football and track schedule. That really wowed me!" He added "It was crazy man. I was really amazed on this visit".
Later in the conversation, I asked if Riley and staff had mentioned taking an OV, possibly for the Spring Game and he said "Yes sir, they got one. The date is not set, but I am taking one there".
*** Also touched base with 2021 wide receiver J.Michael Sturdivant (6'2″ 183) out of Flower Mound, TX (Marcus).
As you know, coming into the visit, we mentioned the likelihood of Sturdivant getting an offer was high, and OU did, in fact, offer him while on the visit.
Sturdivant was clearly impressed with his visit and very excited to have received the offer. The offer came from Coach Riley himself and that was certainly a highlight on the visit. J.Michael said, "I went into Coach Riley's office and my family and I spoke with him for a while, and then he offered me!".
I asked him what else stood out to him on the visit and he told me "All the coaches were great to me and my family. The facilities were also really nice".
I feel like the Sooners are in a very good spot here and after speaking with him, I would expect OU to get an official and that would (and likely will) put OU way out front.
I will be in touch with J.Michael in the coming days to get a full interview with him, but OU seems to have really impressed the talented receiver.
---
Sooners Add Grad Transfer WR | Obi Obialo
– Charlie S
The Sooners added another grad transfer wide receiver tonight in Obi Obialo who is transferring out of Marshall.
We have confirmed through sources that Obi (6'3″ 215) will be a scholarship transfer for the Sooners and he has one year of eligibility remaining. Obialo visited Norman this weekend and saw enough to make the call.
Obialo began his career at Oklahoma State before transferring to Marshall. He is originally from Coppell, TX.
Last year his stat line read: 18 receptions for 244yards which is a 13.6 yard per catch average.
In 2018, his best year, his stat line read: 42 receptions for 505 yards which is a 12.0 yard per catch average  and 4 touchdowns.
---
Monday Notebook| Junior Day
– James Hale
*** As we discussed prior to the weekend, OU did offer three-star wide receiver J. Michael Sturdivant (6'2, 183) of Flower Mound (Marcus), Texas during the Junior Day. OU loved his film and just wanted to eyeball him and once they got him on campus and sat down and watched his film it didn't take OU long to offer him. Sturdivant had a big junior year catching 87 passes for 1,125-yards and ten touchdowns.
*** Sturdivant is getting a ton of offers from OU, Florida State, Oklahoma State, Wisconsin, Cal, and Iowa to name a few but from all indications, he likes the Sooners as much as they like him and it wouldn't be a shock to see something come together there in the near future..
*** 2022 safety prospect Bryan Allen (5'11, 180) of Aledo, Texas also received an offer this psst weekend.
*** This was expected as well, as Allen had a 'hello here I am' type sophomore year finishing with 122-tackles one tackle for loss, two forced fumbles, three fumble recoveries and two touchdowns on those returns. OU, Oklahoma State and Baylor lead for Allen early.
*** The big surprise for me is that OU offered 2022 quarterback Quinn Ewers (6'3, 195) of Southlake (Carroll), Texas. Not that Ewers is not talented, because he is, but Coach Lincoln Riley doesn't just throw quarterback offers around and when Ewers earned one this weekend that caught my attention because that means he is primetime and a very good quarterback target for the Sooners.
*** Ewers proved his sophomore year that he has a great arm in throwing for 3,998 yards while completing 291 of 402 passes for an incredible 45 touchdown passes against only three interceptions. Ewers already has offers from OU, Alabama, Auburn, Baylor, Texas, Ohio State, Oklahoma State and Texas A&M, Florida, Miami, and Michigan to name a few.
*** "I had a great time and my experience was awesome," said Ewers. "They spent a lot of time with my father and it was awesome getting a chance to talk with Coach (Lincoln) Riley. We also got a chance to talk to some of the players and listen to them talk about the university. OU is also very close to my home and that appeals to me."
*** OU had already offered 2022 quarterback Alex Orji (6'3, 210) out of Dallas (Bishop Dunne) Texas and assured him this weekend that if he wants to start his career as a quarterback at OU that is fine with them. His two brothers are defensive players and are both at Vanderbilt so the Commodores will be a factor in Orji's decision. Orji is a great athlete and OU knows if they can finally get an Orji in their program (they offered his two brothers as well) that he could also be a great rush end or defensive end if things don't work out at quarterback.
*** "I spent a lot of one-on-one time with Coach Riley, Coach (Ty) Darlington and Coach (Cale) Gundy," said Orji. "They had a lot of players there and it was cool getting a chance to hear from them and to talk to them about what they like and feel about the program. OU has a great family atmosphere and that's important to me. OU has shown they can be very flexible at the quarterback position."
*** Sturdivant was not the only 2022 wide receiver to get an offer as Jordan Hudson (6'1, 180) of Garland, Texas also got an offer.
*** Hudson also had a monster sophomore year catching 79 passes for 1,270 yards and 20 touchdowns earning district player of the year. Recruiting is just getting started for Hudson as he now has offers from OU, Oklahoma State, SMU and Kansas. Hudson loves the fact that OU is not far from home.
*** The big disappointment about the weekend was that five-star offensive lineman Savion Byrd (6'5, 265) of Duncanville, Texas did not make it in. I didn't have a good feeling about it heading into the weekend as he was always indicating that he had to much to do. We will see if he finally gets up to Norman in the spring.
*** OU did get four-star Bryce Foster (6'4 1/2, 318) of Katy (Taylor), Texas on campus and he was blown away with the visit.
*** "It's been my best visit so far," said Foster. "I got to spend so much time with Coach (Bill) Bedenbaugh and the strength and conditioning coaches as well. If I had any questions about anything about the university they had somebody there to answer it for me. They had a lot of players there that answered questions as well. All of them seem to love being at OU. I was impressed by how much they really seemed to want me to be part of their program.."
*** Foster is an outstanding shot and discus thrower in track and he would like to do both in college and Annie Hanson was on the ball had coaches from both sports there to talk to Foster. He would be an incredible asset in both sports.
*** OU is going to get an official visit from Foster and he has narrowed his choices down to the Sooners, Nebraska, Oregon, Stanford, Arkansas, LSU, Texas A&M, TCU, Oklahoma State, and Texas.
---
For multiple daily posts, Insider Notes, Our TFB 'Pick Em' Contest, More Sourced Practice Notes, member chats with TFB staff, James Hale's Notebooks, TFB Sessions (5-minute audio talks) and much more, please check the Donor Board!