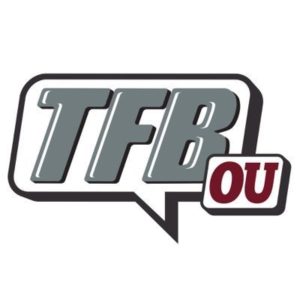 Open Post | Tuesday, February 21st
Posted on: February 21, 2023
Possible Good News From BV for This Season's Offense
– Super K – Posted on: February 15, 2023
You'll recall that Charlie had a source who mentioned that Michigan WR transfer, Andrel Anthony had tested near the top of the group of wide receivers.
That was welcomed news given the Sooners absolutely need to take a step forward at the outside WR position. Lebby wants to throw bombs and to do so he needs guys who can make plays on the outside.
Interesting note this week from James that in my opinion is pretty exciting. James had Brent on his radio show and BV said, "We have added wide receiver Andrel Anthony from Michigan to our team, who might be the fastest guy on our football team."
I gotta say, that should be music to y'all's ears.
If OU is going to win the Big 12 this year, they absolutely have to have to take a big step forward at the WR position.
---
Primary NIL Land Mines | A Little Look Behind the Curtain
– Super K – Posted on: February 15, 2023
Wanted to pass on some interesting sourced NIL insider information in context of 2024 recruiting.
Was chatting with an OU source recently discussing the importance of navigating around Texas and Texas A&M recruiting.
Why?
Those two schools in particular are, perhaps as expected, the two main land mines when it comes to NIL. Depending on the situation, against most other schools, it's a traditional battle.
But over the past few weeks I've been gathering some NIL info regarding Texas and TAMU and the sheer amount of money their collectives are doling out make it very difficult in some cases to go head to head with them. Add to it proximity – in other words we aren't talking about a school like Oregon that might be paying the bucks but is located so far from most recruiting centers.
So a few notes I've gathered…
***As you can imagine, there was quite a bit of tampering during this last transfer period (NCAA is working on something to help with that). And TAMU was actually the victim of a lot of tampering – schools wanting their kids. But given the state of their program they could've lost a lot more to other schools. I was told of a case where one of TAMU's current players was considering leaving – a player TAMU wanted – and within very little time he was offered a deal of around half a million dollars.
***In the case of Texas, the numbers their collective is shelling out for current players is massive. For transfers, it's in the 400K range. And these aren't All Americans. To put that in perspective, talking to folks in the SEC, for a sure fire NFL guy (not a QB) the top numbers are around 200 to 250K.
***There was an example of a recruitment in the 2023 class where a particular player was a long time commit to a really good program and one of the big Texas schools swooped in at the last minute and flipped the player and didn't even bother sending the position coach into the in-home visit.
***Texas has multiple players with deals of half a million dollars and up. These are one year deals.
***To put the numbers in perspective, the numbers I'm hearing for OU's NIL deals for their current starters are in some cases 25K and in some cases 50 and 75. Solid numbers but not getting anywhere near what TAMU and Texas are doing.
***The good thing is that's ok. You can very much navigate around it given they are outliers but again, it's something that the OU staff is now much more aware of especially given how some of the recruitments went in 2023 – recruitments in normal years they would have won. Additionally, the Sooners are building their collective base.
***So, again, I pass this information along just to give you glimpse behind the scenes. It isn't something that should cause Sooner fans any concern.
---
Venables is Excited About the Defense | Singles Out Potential All American
– Charlie S – Posted on: February 15, 2023
As we have talked about previously, the OU defense is linebacker centric. Brent Venables views the linebackers as they key to having a stong defense.
When James interviewed Brent late last week, you could tell Brent was excited about the group of backers he has.
He mentioned that he loved the group he has coming back and spoke about Jaren Kanak, Kobie McKinzie, Kip Lews and even gave a shout to Justin Harrington at Cheetah.
He saved some lofty praise for Danny Stutsman. Venables told James I think Danny Stutsman has a chance to be an All-American linebacker. He has a great nose for the football and plays with toughness, and nobody cares more than Danny. He is developing into an excellent leader." That's some pretty high praise.
He also spoke to James about newcomer Dasan McCullough who transferred in from Indiana. Venables called McCulloughs skillset 'unique' and said he is very excited to work with him and find out what is best for him and the team.
---
Sourced Note | Freshman Treated As Freshman
– Charlie S – Posted on: February 16, 2023
Just got off the phone with a source who passed along a note I found very intriguing.
As I was asking about their thoughts on how the winter training was progressing, source talked about some specific guys and such but it was another sentence that jumped out to me.
Source said 'The biggest difference from years past is that the freshman are being treated as freshman".
I asked the source if that meant they were the guys who were doing all the crap work of cleaning up and carrying stuff and such and they said "Well, yeah to a degree, but that's not what I'm talking about. The young guys are allowed to just be the young guys and they haven't been forced into fake leadership roles".
'Fake Leadership Roles' triggered me, as I am sure it does all of you with what we all saw under the previous regime.
I take this note as a major positive as it indicates, at least on the surface that there are plenty of older guys stepping up in leadership roles.
So I asked for an example of what the source meant and they said "Look, Jackson (Arnold) doesn't have to come in and be an anointed leader. He can be a freshman QB and let his leadership skills emerge. PJ (Adebawore) doesn't have to lead his group simply because he was a 5* kid and same for (Peyton) Bowen. They all have guys in front of them who are leading those rooms. They're allowed to grow."
I asked the source if they felt that the guys he mentioned were not going to develop into leaders and they said 'No, not at all, they just don't have to be right now."
I think we all can point to multiple examples of fake or manufactured leadership from past years (past regimes) where things didn't go as planned. In my opinion, leadership within a team should happen organically. That sounds like what is happening in Norman under Venables.
This was a welcomed discussion for me and I will check back on this topic down the line to see how things are playing out.
---
'24 Wide Receiver Kelly Daniels | Visit
– Charlie S – Posted on: February 17, 2023
Last night the Sooners extended an offer to '24 wide receiver Kelly Daniels out of Franklinton, LA.
Caught up with him following the offer and I can tell you he was very excited to get the OU offer.
Daniels told me he has been in contact with Coach Emmett Jones for a bit now and he is planning on getting up to Norman on March 4th. If that plan does not come together, he said "Either way, I will definitely be visiting OU in March".
Kelly (5'10 150) is a guy that projects as a slot receiver in the OU offense and he is another '3 clip guy' when you watch his film.
He is 'Fast, Fast'. Watch the third clip and make sure you have some leg room cause you're gonna want to stand up.
Film:
---
Sourced | Sunday Morning Offensive Line Note
– Charlie S – Posted on: February 19, 2023
Spoke to a source last night about the offensive line group and they shared some additional thoughts on a point I had previously touched on.
Prior to last season, I mentioned that the offensive line groups during the Riley/Wylie era seemed to drift further away each year from the deep sense of camaraderie shown by the Stoops/Schmidt era offensive lines.
You remember the lines of Brown/Powers/Wren/Creed/Samia/Ford/Evans and others. Those guys were brothers in every sense of the word. They lived together they worked together they moved like a herd of elephants around campus. They were family.
Recently, and I am not saying it was by design, the units did not appear to be quite as close. When Schmidt left, the cohesion/camaraderie seemed to dissipate a bit and I noted it was sounding like the guys all got along but after Creed left, it was more of five guys (or however many guys) going five different ways. The play on the field took a noticeable dip even though the one constant, Bill Bedenbaugh remained at the head of the room.
Last year, the play of the offensive line picked up and the Sooners put their best and deepest unit on the field in three or four years.
Source tells me that last year, the guys started to move more like the herd again. They said the herd mentality was not quite as engrained as it was back in 2017-2018…but it was much more closely resembling that than it had been in recent years. Source went on to say there were still a few guys who weren't all about the herd mentality last year. While not everyone was 'all in' in this regard, they were not distractions or anti-herding, so I'm not taking a shot at them, but the majority of the group really started to spend a lot more of their off time together and Chris Murray and McKade Mettauer had a lot to do with that. So did Dillon Gabriel actually according to source.
Source Tells me that while OU is losing 3.5 (I count Wanya as .5) starters from last years team, the herd mentality appears to be very strong early on in winter workouts and they pointed to Stanford transfer Walter Rouse, Miami Ohio transfer Caleb Shaffer, Mettauer, Raym, Jake Taylor, Sexton and Nate Anderson as guys who are all about the unit and fostering a deeper sense of that 'herd mentality'.
Source said 'This is great for guys like Cayden Green, Josh Bates and even Savion Byrd. Even the guys who don't figure to be part of the two deep this season. It shows them the way. This offensive line group knows they have a lot to prove and there are a lot of questions and it is being instilled in them that they can really only depend on each other." They went on to say 'Of course, Schmidty has a lot to do with helping them with their mentality, but right now, it looks like every one of them is happy to be an active part of the group." Sounds like a herd that is forming pretty well to me.
Bedenbaugh can only preach so much as in the winter/spring/summer he has limited face to face time with these guys. Schmidty see's them year round and gets a lot of face to face time with them so that is an obvious difference from the past regime. But the biggest thing is the guys themselves setting their own expectations and measures of accountability for each other and the entire group.
There are a lot of unknowns in the herd and sometimes that, in itself, is a rallying point. Sounds like things are off to a good start with the new herd of offensive linemen. Feels like the culture of the offensive line room is beginning to resemble the culture of the Joe Moore Award winning/finalists groups. Thats a very good thing.
I'm not saying I expect a Joe Moore award in 2023, but I am saying, from what the source tells me, that same mentality started to emerge more last year and it appears to be continuing to trend that way despite the turnover.
---
Initial Jersey Numbers | New Guys – Winter/Spring
– Charlie S – Posted on: February 20, 2023
Cleaned some house for you all and put together a list of jersey numbers for the new guys in the program ahead of spring ball.
I expect some of the jerseys to change by the time summer/fall camp opens up.
So for those keeping score at home…this is for you.
Offense:
0 – Kalib Hicks – RB
5 – Andrel Anthony – WR
7 – Daylan Smothers – RB
10 – Jackson Arnold – QB
16 – Blake Smith – TE
22 – Chapman McKown – RB
43 – Redi Mustafaraj – K
48 – Luke Elzinga – P
53 – Caleb Shaffer – OL
64 – Josh Bates – OL
70 – Cayden Green – OL
80 – Joshua Fanuiel -TE
81 – Austin Stogner – TE
86 – Cody Johnson – WR
Defense:
0 – Derrick Leblanc – DL
1 – Dasan McCullough – EDGE
6 – Makari Vickers – DB
15 – Kendel Dolby – DB
18 – Erik McCarty – S
21 – Reggie Pearson Jr – S
22 – Peyton Bowen – S
23 – Jasiah Wagoner – DB
30 – Trace Ford – EDGE
50 – Phil Picciotti – LB
52 – Avery Burow – LB
54 – Jacob Lacey – DL
55 – Ashton Sanders – DL
80 – Rondell Bothroyd – DL
89 – PJ Adebawore – EDGE
96 – Davon Sears Jr – DL
Unaccounted for at this time:
Walter Rouse – OL – Wore 75 for his commitment, but as far as I know, Cullen Montgomery is still in the Sooners 75.
---
Priority 2024 LB Ty'Anthony Smith Speaks on Oklahoma
– CJ Vogel – Posted on: February 20, 2023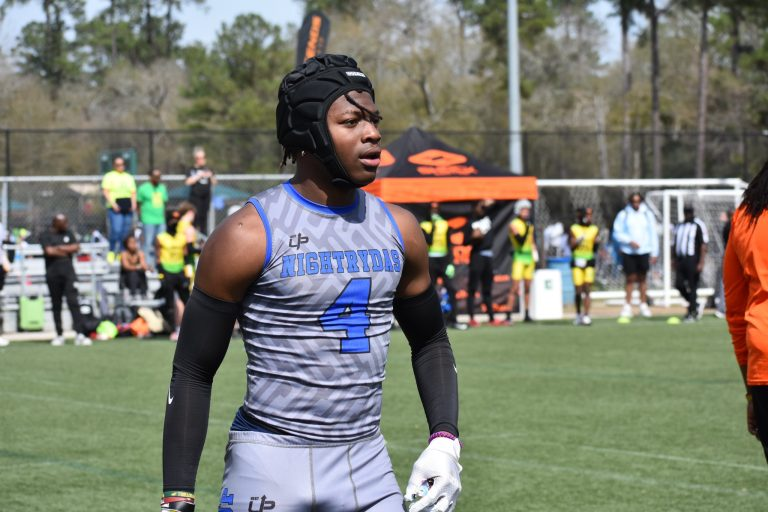 I was in The Woodlands this weekend for the ShockDoctor 7v7 Tournament where a top performer was 2024 Jasper linebacker Ty'Anthony Smith.
Sources have indicated to me that Smith has been atop of the Oklahoma linebacking board for quite some time and the Sooners will likely be waiting to see what happens with him before moving at the position for this cycle. Already one of the top 2024 linebackers in the state, Smith's recruitment has blossomed recently and the upcoming months will really help shape the future trajectory.
"The schools I am hearing from now are mostly like Oklahoma, Texas, Baylor, Alabama, USC, Nebraska and Texas A&M," Smith said.
With Oklahoma, the idea of playing for the defensive minded Brent Venables was something that has caught Smith's attention from the beginning of his recruitment.
"They tell me I can play any part of the linebacking (corps) and the little special spot they got," Smith said in reference to the Cheetah position. "I trust Venables and what he does. I know he coached Isaiah Simmons and guys I grew up watching."
Smith said the idea of playing linebacker under Venables is something that is certainly at the top of his mind when considering his collegiate options.
"For me personally, he is a big defensive minded guy," Smith said regarding Venables. "I know that if I go to Oklahoma, I am good. I know he is going to recruit good."
Smith said he hopes to get back to Norman this spring, but is unsure of a specific date. My guess is the Sooner staff will be doing whatever they can to get him on campus March 25 for the big junior day.
Smith mentioned wanting to cut things down towards the end of the summer and finding his home soon thereafter. Another note is he will be an early enrollee when the time comes.
Oklahoma is among the schools in the top group for Smith and when a cut comes, the Sooners will most certainly make the cut. The biggest contenders in my eyes are Alabama, Texas and USC. Texas A&M is in the mix, but the Aggies are sitting a little bit behind for the time being.
Should the Sooners get Smith back on campus in March, I would begin to feel pretty comfortable about their position in the long run.