Open Post | Tuesday, February 16th
Posted on: February 16, 2021
Quick Hitter | New Tight End Offer
– Charlie S
Last week, the Sooners extended an offer to 2022 tight end Jason Llewellyn (6'5″ 240) out of Aledo, Tx.
I caught up with Jason via message and he was very excited about the offer from Oklahoma.
He mentioned that the offer came on a phone call with Sooners head coach Lincoln Riley and they are in the process of setting up a virtual visit.
According to Llewellyn, the Sooners interest and communication is relatively new. He said "I haven't been talking with them much before, but I will be talking with them a lot now!"
I asked him about Joe Jon Finley. Llewellyn said, "I've spoken with coach Finley. He has a good coaching background and played tight end in college. I'm excited to build the relationship more."
I then asked him if the OU offense is something that appeals to him and if OU happened to bring Mark Andrews' name into the conversation and he said, "Yessir, it is highly appealing! And they have already mentioned him, that's a big name."
So again, he seems very excited about the OU offer. We will be out to see him in the near future.
Llewellyn currently holds around 20 offers and in the last two weeks, he has picked up offers from Michigan, Minnesota, Texas and Colorado among others.
---
Sooners Standing Out Early to 2023 Longview WR Jalen Hale
– CJ Vogel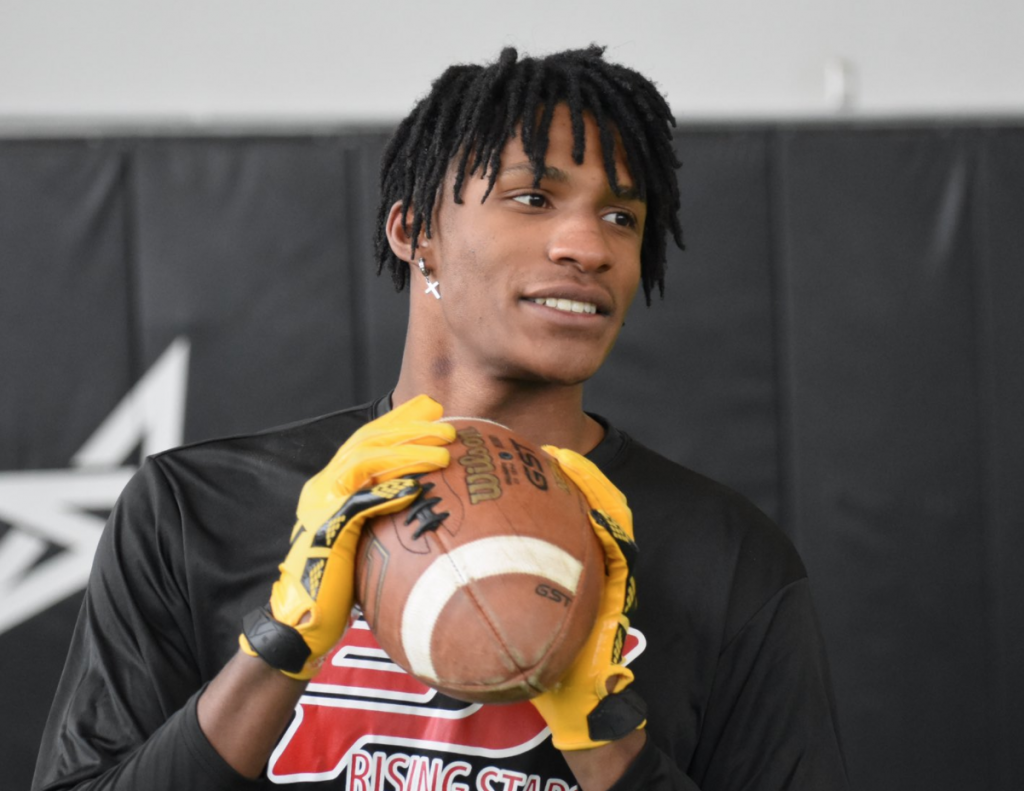 This weekend I was able to hit up the Sky's The Limit WR workout at Sports Academy at the Star in Frisco. There were some studs in attendance, including 2023 Longview WR Jalen Hale who I was able to catchup with after the workout to get an update on his recruitment.
Hale is coming off a sophomore campaign where he hauled in 37 receptions for 652 yards and 9 touchdowns according to MaxPreps. While he is currently in basketball right now, his recruitment on the gridiron has really popped recently.
"It's a blessing," Hale said. "Things are going well and I am enjoying it."
Hale has 16 reported offers according to his Twitter. Oklahoma got in the mix just over a month ago on January 13, but has quickly ascended to the top of his interest list due to constant communication.
Hale mentioned that there are three schools he is hearing from the most right now – OU, Texas and TCU.
"I have a good relationship (with the OU staff)," Hale said. "I talk with them once a week, twice a week. We got on a Zoom call with them and did a virtual visit recently."
He added that he was able to see the weight rooms and locker room on the virtual visit and hopes to have another soon.
Hale told me he talks most with WR coaches Cale Gundy and Dennis Simmons the most and described his relationship with them as "real close." As for head coach Lincoln Riley, the relationship is still in the early stages. Hale said he has talked with the head man only a few times but likes what he is hearing.
"I like their receivers – Marvin Mims, Trejan Bridges. I like how their receivers play. They have a good receiving corps."
As y'all are very much aware of, Oklahoma gets their playmakers involved and involved often. That has caught the attention of Hale early on, who is very high on the idea of being a big part of the offense in college. "I'm trying to make plays too. That's why I am going to commit to a school where I feel like it's the best fit for me."
While it is still early for Hale in his recruitment, he was quick to give credit to the Sooners when asked which staff he is in contact with the most.
---
My Take
2023's are still a long way away, but Hale is going to be one of the best pass catchers in the state of Texas for his class and establishing a relationship early is huge. The Sooners are off to a phenomenal start in this recruitment. Being able to get him on a second virtual visit will go a long way with no other school having done a single one with him yet.
Again, with things being so early in the recruitment, I don't want to peg anyone a leader or consider a prospect a shoe-in to a specific school, but the Sooners really have to like where things are standing at the moment with the East Texas star.
---
Kris Ross | Down to Four | The Latest
– Super K
Last week, 2022 DT, Kris Ross (North Shore) announced his top four, which included Baylor, OU, Texas and recently offered LSU.
In the tweet, Ross also said "Big news coming Friday". I spoke with Ross a bit ago and he tells me that he will not be committing this Friday.
He also said that he did not have a decision made.
In my conversation with him about a week or so ago, we went through each of the schools above and here is what I can tell you.
OU – Sooners defensive line coach, Coach Thibs, seemed to be his favorite coach.
Texas – Proximity to home and strong academics. He was just building a relationship with Bo Davis.
Baylor – Early offer and has a strong relationship with the entire staff.
LSU – He is originally from Louisiana and said LSU is his dream school.
---
Late Night Notes | Jovantae Barnes & Cyrus Moss
– Super K
***I know I still owe you all a full write up on 2022 Sooners 4-star running back target, Jovantae Barnes (Desert Pines) but for now I've got a bit of a good news for you.
Coach over at Desert Pines tells me that Jovantae Barnes is set to visit OU in mid-April. We are still waiting on final word from NCAA as to whether they will allow on campus visits again. Either way though, Jovantae could still visit for self guided visit.
***Also, spoke with the family of 2022 4-star OLB/DE, Cyrus Moss (Bishop Gorman). They have an excellent relationship with the Sooners OLB/DE coach, coach Cain. The family tells me Cain and Cyrus did a Zoom call last night.
***To keep the Vegas vibe rolling, 2022 4-star DB, Zion Branch (Bishop Gorman) is likely to also be out in Norman for the visit along with Jovantae Barnes.