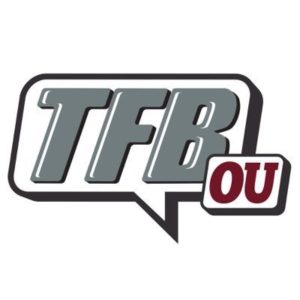 Open Post | Tuesday, February 11th
Posted on: February 11, 2020
NFL Draft : Defenders
– Charlie S
Earlier this week the NFL announced the list of players invited to the combine which takes place at the end of this month.
The Sooners will send two defensive players in Linebacker Kenneth Murray and Defensive Tackle Neville Gallimore.
PFF has Gallimore rated as the 6th best interior lineman and Murray as the 5th best linebacker in this year's draft.
Below you can see their breakdown along with a link to the rankings for their respective position groups.
PFF: 2020 NFL Draft Position Rankings: Interior Defenders
' 6. NEVILLE GALLIMORE, OKLAHOMA
Draft Board Rank: 60th
Gallimore reinvented himself this past season after dropping almost 30 pounds and adding some much-needed range at the nose tackle position. One-gapping defensive lines will fall in love with Gallimore's get off. He was ranked second to only Iowa offensive tackle Tristan Wirfs on Bruce Feldman's yearly "freaks" list and that burst shows up time and again on tape. He wrecked plays purely with his ability to fire off low at the snap this past season.
While his pass-rushing grade took a big step forward in 2019 from 75.0 to 82.4, there's still some concerns on tape. He hasn't shown much an ability to win late in the snap and is often shut down if his first move is ineffective. Gallimore very much still looks as if he's learning his pass-rushing moves as they're not quite second nature at this point.'
PFF: 2020 NFL Draft Position Rankings: Linebackers
'5. KENNETH MURRAY, OKLAHOMA
Draft Board Rank: 70th
Murray is the type of linebacker that plays the game of football like they've been shot out of a cannon. That can get him in trouble at times with 50 missed tackles in his three-year career, but I'd rather teach a guy to tone it down than try to get one to speed it up. Murray is very much in the conversation for the most explosive linebacker in the country as he got home on some blitzes in the blink of an eye.
With all the athleticism in the world, it's a wonder why he hasn't been more of a playmaker in coverage over the course of his career. He allowed 82.4% of his targets to be completed in his time at Oklahoma and broke up only 4 of 102 targets with no picks. I will say that his read and react ability looked different down the stretch in 2019 as his processing speed took a noticeable step forward. He finished the year with 66 stops — fourth-most among linebackers in college football.'
The two main things I take away from the PFF breakdowns:
Gallimore and Murray still have a ton of untapped potential and you all pretty much have been spot on in your assessments of them as players after having seen them for the past 3-5 years.
Neville needs to develop his game after his initial burst (which, as stated above, is very good) and Murray played over the tip of his ski's far too often.
I think one major positive you can take away from the breakdowns in regards to the trajectory of the Sooners new defensive scheme can be found in the piece on Murray:
'I will say that his read and react ability looked different down the stretch in 2019 as his processing speed took a noticeable step forward. He finished the year with 66 stops — fourth-most among linebackers in college football.'
The fact that in the writer's opinion, Murray's ability to read and react took a step forward as the season progressed is a welcomed sign for those of you who have endured watching seasons of seeming regression for some talented athletes in Norman under the past regime.
It sounds so silly to say, but linebackers coach Brian Odom deserves a lot of praise for continuing to develop his 'star' player as the season went on. In previous years, it seemed like the staff would put their star players out there and kind of let them figure it out as they go instead of continuing to work with them and develop them. (This is not a knock on any other coach on the staff, please do not turn it into such, it is simply pointing out the takeaways from the PFF breakdown)
Jordan Evans needed his father to get him to turn the corner in his last season in Norman. Thankfully it looks like those days are behind you all.
The only thing I really am not in line with in these articles is Murray's defensive draft board rank which has him listed as the 70th best defender in the class. That would likely leave him out of the first three rounds, which I don't see happening. I still think he goes in the top two rounds. I could see Gallimore's rank of 60th as being a bit high, but that should have him projected to be taken around the 3rd or 4th which is where I would expect him to go.
Interested in reading your thoughts.
---
Quick Hitter | 2021 LB Junior Colson
– Charlie S
*** Touched base with Sooners 2021 linebacker offer Junior Colson (6'2″ 210) out of Ravenwood High School in Brentwood Tennessee after I saw the following tweet…
*** Now Ravenwood may sound familiar to you, and for good reason…Colson is a former teammate of Oklahoma 2020 edge signee Reggie Grimes.
*** Colson tells me Sooners linebacker coach Brian Odom is the one who is recruiting him right now (was actually hoping to hear it was Coach Cain to get some feedback there).
*** He also tells me that he is trying to get out to Norman during his spring break (March).
*** Colson already holds more than two dozen offers which include offers from Tennessee, Auburn, Michigan, and LSU.
*** With Grimes in the fold, that can only help OU in their pursuit of the talented backer. Getting him on campus in March could go a long way in locking up an official later on down the road.
---
Monday Notebook | Part One | Secondary Notes
– James Hale
*** Going into the spring it will be interesting to see how the secondary is going to turn out. OU returns four starters from the secondary but I don't get the feeling that a lot of things are settled initially except maybe at safety where Coach Grinch seems reluctant to take his starters out no matter what happens. That has been the case at the nickel position as well, but this spring I am getting a vibe that they're going to open things up and have some real competition.
*** At corner OU returns senior Tre Brown (5'10, 181) who started all 14 games last year and eight games the year before while playing in every game. He will go into the season as one of the most experienced players in the secondary and he also excels on special teams. I would expect that Brown will emerge as the starter at one corner going in and coming out of the spring.
*** Senior Tre Norwood (6'0, 185) has been given the green light to return this spring, but you know that they will go easy on him throughout the spring. Norwood tore his ACL and was forced to miss the 2019 season. in 2018 he started all 14 games and started five games in 2017 while playing in all 14 games. The coaches know what they're getting in Norwood and they trust him. Right now they are thinking about playing him at corner and if he moves back there he would be the odds on favorite to start opposite Brown in my opinion.
*** Sophomore Jaden Davis (5'10, 175) will go into the spring looking to break through Brown and Norwood. Davis is a very confident player that played in all 14 games last year and started one logging 33 tackles, grabbing one interception and one pass breakup. Davis seemed to hit a wall around midseason and even though he stayed in a rotation as the third corner he didn't play as well in the back half of the year that he did early. He will get a fresh start in the spring and look to get back in the grove and compete for a starting job.
*** Junior Justin Broiles (5'10, 190) will move back to corner in the spring. He didn't fare well at safety against LSU and actually played better when moved to nickel. Broiles can play anywhere but it looks like he will play both corner and nickel in the spring.
*** As we have reported, sources say that freshman D.J. Graham (6'0 1/2, 178) of Keller (Central), Texas has been one of the most impressive freshmen in camp this far. He has worked on both sides of the ball and he wants to start out at receiver but considering the lack of depth at corner it's not going to be a surprise if he does not start there.
*** OU returns both safeties in sophomore Pat Fields (5'11, 192) and junior Delarrin Turner-Yell (5'10, 190) but Turner-Yell will be limited because of a broken collarbone suffered during bowl prep for the LSU game. That will give redshirt freshman Woodi Washington (5'11, 183) a chance to hone in on the safety position along with redshirt freshman Jamal Morris (6'2, 195). There was some talk of moving Morris to inside backer but according to a source, that's not what he wants to do and he will be given an opportunity to show what he can do at safety.
*** Sources tell me Redshirt Freshman Jeremiah Criddell (5'11, 190) will get a look at free safety as a potential challenger to Pat Fields. The coaches are very high on Criddell and they feel this is going to be a great competition as Crddell has looked good this offseason. Hearing that they feel he has a great chance to be in the rotation and they hope he gives them the reasons why this spring.
*** Bryson Washington (6'2, 196) of Houston (C.E. King), Texas was recruited as the prototype player that Alex Grinch wants at safety. A player with great size and length that can run and cover like a corner but those skills are also like his prototype nickel back and that's where we hear that he will start out at OU in competition with junior Brendan Radley-Hiles (5'9, 185). Coach Grinch has run a lot of different players at the nickel trying to find somebody to challenge Bookie and it will be interesting to see if Washington can be the guy that does that in the spring.
*** Senior Chanse Sylvie (6'0, 192) has been close to starting a couple of times during his career at OU and he will give it one more shot this spring to work his way on to the field. It sounds like he will be taking reps at corner this spring.
*** Sophomores Caleb Murphy (5'11, 204) and Eric Gallegos (5'9, 187) will provide depth at safety. Sophomore Ryan Peoples (5'11, 176) will provide depth at corner.
*** The secondary loses Parnell Motley who was their best corner this past year and by the end of the year was the Sooners best defensive back. OU has to get better in the secondary next season and it needs to start in the spring.
---
For multiple daily posts, Insider Notes, Our TFB 'Pick Em' Contest, More Sourced Practice Notes, member chats with TFB staff, James Hale's Notebooks, TFB Sessions (5-minute audio talks) and much more, please check the Donor Board!