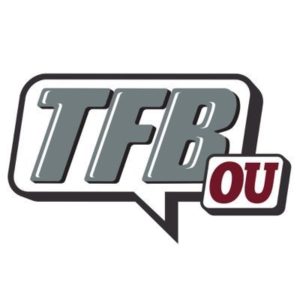 Open Post | Tuesday, December 3rd
Posted on: December 3, 2019
Quick Hitter | Dontae Manning
– Charlie S
Spoke with K and he wanted me to pass along the latest info we have on 2020 CB Dontae Manning…
*** Sooners Defensive Coordinator Alex Grinch and Corners Coach Roy Manning are doing an in home visit with him today (last night)
*** Manning (Dontae) has one official visit left to take and that will be to Georgia later this month.
*** Obviously OU continues to make Manning a priority and having Grinch and Manning (Roy) out on the road to see him during Big 12 Championship Game prep week signifies as much.
---
Quick Hitter | Chandler Morris
– Charlie S
Quick note for y'all…
*** Checked in with 2020 QB Chandler Morris who finished his high school career this past weekend. As you know, the Sooners have some interest there and do not have a QB currently committed in the 2020 class.
I asked him if he planned on making his way to Norman before early signing day and he said "I'm going to try to get up to Norman following this weekend (Big 12 Championship Game)". He also mentioned that he has not yet made a decision as to when he will sign with the school of his choice.
We do believe OU is interested and would likely accept his commitment but it is still not clear how hard the Sooners are pushing here.
Morris continues to pick up offers following his decommitment from Arkansas so there are a lot of moving pieces here and a lot for the young man to consider as he makes his decision.
I'll stay in touch with him and keep you updated.
---
Coaching Note
– Super K
Yesterday, Football Scoop posted the following speculation…
The timing of the comment is interesting as I heard over the weekend that folks around the program believe that Beamer will likely be targeted by UNLV, as well.
As to whether he would take a job at that level, I don't know but I won't be surprised to see it happen given that in his current position he's unlikely to pull interest from a larger program.
I suppose it will depend on Beamer's own personal coaching aspirations.
---
Sooners Sunday Brunch | Bedlam
– Charlie S
'Championship November' has once again proven to be the best time of the year for the Sooners as they once again finish the month with a perfect record after defeating Oklahoma State 34-16 last night in Stillwater.
The Sooners defense closed out the month in style as they have allowed three touchdowns over their last two and a half games. They shut out Baylor in the second half, they held TCU to two touchdowns and were even stingier against the high powered Oklahoma State offense as they allowed only one touchdown.
Following the second half of the Baylor game, I mentioned I felt that that performance could prove to be a springboard for the defensive unit going forward and that certainly appears to be the case.
No, they have not been perfect, but man they have been improved. We still see some warts. Missed tackles, a few blown coverages, linebackers missing their run fits…but man, overall…the last three weeks of November were pretty impressive defensively.
On the year, Baylor averaged 445 yards of total offense. The Sooners held the Bears to 307 total yards in Waco.
TCU averaged 407 yards of offense per game over the course of the season. The Sooners held them to 204 total yards.
Oklahoma State ran off an overage of 463 yards of offense per game and the Sooners held them to 335 total yards.
The Sooners final three opponents averaged 438 yards of offense over the course of the year…the Sooners held them to an average 282 yards per game. In other words, the Sooners held the teams, on average, 156 yards below their season average. That is mighty fine.
As for Bedlam…that was just what the doctor ordered for OU for the most part. The Sooners controlled the line of scrimmage for much of the game, they came away with some big turnovers, the offense was a meat grinder on the OkState defense, and they didn't turn the ball over.
Jalen Hurts and Kennedy Brooks had big games and one guy that really stood out to me was Jeremiah Hall. Hall had a key reception and was dominant in the blocking game for the Sooners relentless rushing attack.
Pretty much checked all the necessary boxes.
Now, we look ahead to the Big 12 Conference Championship game against Baylor.
Baylor had a big game offensively against a Kansas team who appeared to have thrown in the towel prior to kickoff.
The Bears still played quality football and they appear to be healthy.
The Sooners will have their hands full next Saturday.
Right now, we have not heard of any new injuries as a result of last nights game for OU. As you all know, Jalen Redmond did not play and as I mentioned in the thread last night, a source told me he believes that Redmond is in concussion protocol. I have not been able to get solid confirmation on that and while it is never a good thing for a player to be in concussion protocol, I know all of your thoughts went immediately to the blood clotting issue he dealt with last year. Either way, keep your fingers crossed for the young man to get healthy again!
The Sooners make their third consecutive appearance in the Big 12 Conference Championship game since it's reinstallment. They head down to Texas in search of their fifth consecutive Big 12 CHampionship!
---
Fresh off the Sooners dominating win over Oklahoma State in the 2019 edition of Bedlam, OU heads to the Big 12 Championship game as the designated home team:
---
For multiple daily posts, Insider Notes, Our TFB 'Pick Em' Contest, More Sourced Practice Notes, member chats with TFB staff, James Hale's Notebooks, TFB Sessions (5-minute audio talks) and much more, please check the Donor Board!