Open Post | Tuesday, April 27th
Posted on: April 27, 2021
Tulsa Updates | Jayden Rowe Trending & Chris McClellan
– Super K : April 23, 2021
***Trending: As we previously noted, 2022 DB Jayden Rowe's recruitment was really coming down to the Sooners and Baylor. He is scheduled to visit both OU and Baylor, this summer.
However, it sounds like things are trending OU's direction for the Tulsa product.
***Last night, I spoke to 2022 4-star DT Chris McClellan. McClellan recently picked up a Ohio State offer and after some big camp performances, has been surging up the rankings.
As Charlie has noted, Chris plans on being at the OU spring game this weekend. He's been in regular communication with coach Thibs.
However, there is still no date set for a summer official. He has Florida scheduled for the first weekend of June. He has USC scheduled for the big June 18-20th BBQ. And, he has Ohio State the week after.
So, his schedule seems to be getting tight.
The good thing is, it sounds like he is now definitely feeling the love from the Sooners. He said they're recruiting him as hard or harder than anyone.
---
What OU is Getting With Woods
– Charlie S : Posted on: April 23, 2021
The Sooners added some much-needed experience and depth to the wide receiver room with the addition of former Arkansas Razorback Mike Woods.
Woods will head to OU as a rising senior who has two years of eligibility remaining.
The 6'1″ 196 lb pass-catcher originally hails from Magnolia, Texas where he was a composite 3 star recruit.
During his three years at Arkansas, Woods stat line read:
80 receptions for 1,205 yards which is a 15.1 yards per catch average along with 10 touchdowns.
His most productive year was the 2020 season in which he caught 32 passes for a career-best 619 yards and 5 touchdowns while starting all 10 games for the Razorbacks.
Watching his film you can see he has the ability to make the tough catches in traffic, make some catches on bad balls from the QB, and he also possesses the ability to beat defenders off the line and get some separation.
Really like this pick-up for OU and if he can acclimate himself to the offensive system quickly, he could be an immediate impact player for the Sooners. You can see why Arkansas fans are a bit salty over his departure.
---
Initial Reaction to the Spring Game
– Super K – Posted on: April 24, 2021
***For transparency, I did not see the entire game. I watched part of the first half and watched the second half.
***My reaction is simply…wow. I am impressed. I know there are a number of guys out but there is a lot of talent on this OU football team…
***And once they've got the best eleven on both sides in the game, the Sooners are absolutely going to be a national championship level team.
***Caleb Williams is even better than I expected. I don't remember seeing a freshman with that kind of composure. It is amazing to think he should be in high school getting ready for prom right now.
***The way he moved when he got flushed out of the pocket and the nice throw, fantastic. Eyes stayed down the field. Showed really good lower body strength.
***Pocket presence, fantastic. Makes the throws he's supposed to make and has the courage to throw the ball where he needs to when there is tight coverage.
***Man, the future is bright with him.
***Mario…effortless. Again, great demeanor. Smooth and low to the ground.
***Really nice to see the Sooners have a competent walk-on H-back in Sumlin. There is more depth there than I thought.
***Eric Gray is as good as advertised. Sooners pretty much fixed their RB room with him. He took the room from being just a room to actually becoming a weapon. And if the Sooners have any depth issues, give that walk-on RB so burn!
***I actually saw some nice things from both the OL and the DL. They've got some excellent players there despite missing guys. It didn't always look good for either side but again, you can see the pieces are all there for two talented fronts that will out talent most any team they play.
***Great grab by Haselwood. That's what he has to be – a guy who isn't going to separate but will make the play anyway. And your QBs have to know that and be willing to make that tough throw. Think Baker to Ceedee in the second half of the Georgia game when they went man free and Baker just had to throw to Ceedee and rely on a well placed ball and CeeDee's ability to win it.
***The defensive backs looked great. You can see the depth and the added size and speed. Even little things looked better. Eaton for example was someone who struggled a bit in tackling and at the LOS, looked really good doing both, today. Bryson Washington showed up. Guys like Kendall Dennis give you so much extra speed, he's stride for stride with anyone.
***The backend just looks fast and very good in coverage. I know there are some breakdowns but first thing you want to know is whether you've got some man to man guys and I think OU does.
***Again, I think this is absolutely a national championship caliber team. I think the competition is going to keep every position group honest…including that QB room. And, it's that competition that leads to great teams.
***Gotta say again, Caleb Williams…man! He's going to be something special, in my estimation. A high school senior in his first collegiate spring game isn't supposed to look that good or nearly that comfortable. I cannot imagine what he will look like in a year or two.
---
Sooners Stock Market | Spring Game Returns
– Charlie S : Posted on: April 24, 2021
The Sooners spring game offered a glimpse at the progress the squad has made.
Over the course of the last couple of months, Super K and James have brought you all a ton of sourced notes. Those notes appeared to be quite accurate as the defense stymied the offense over the first half and our guys had indicated throughout spring that the defense was holding the edge.
After watching the game a couple of times, there are a bunch of guys who stood out to me. Gonna list a few who I am buying stock in.
Three offensive buys and three defensive buys…
Buy all you can get: Billy Bowman.
Bowman came to OU as an athlete and many people (including myself) were fascinated with the possibilities the quick-twitch speedster could provide the OU offense. DC Alex Grinch won the initial battle for his services and Bowman started his time in Norman on the defensive side. K and James were both told how well he was coming along, but it wasn't until today that we got to see it with our own eyes.
As I said in a tweet earlier…Billy Bowman may introduce Jeremiah Criddell to Wally Pipp if he continues to progress at this pace. Remember, Bookie held that spot for the better part of 3 years because nobody else 'got it' (meaning the nuances and defensive calls). Bowman showed up and seems to 'get it'…very much.
Buy heavy: Jordan Mukes
Mukes was supposedly a 'project' when he signed with OU. Jordan was very eager to get to Norman, so eager, he shifted gears at the beginning of his senior year in order to graduate early and get to Norman. That hustle and work has paid off. We began getting sourced notes about his progress and they were glowing. Today, he made a very good first impression, even with Eric Gray taking his ankles at one point. Mukes was solid in coverage and showed the willingness to come downhill and 'bring the wood' on more than one occasion. The kid has all the physical attributes to be special as a DB. I'm buying.
Buy: Josh Eaton
Another defensive back who looks to have made big strides. When Eaton got into games last year, he looked hesitant, as one would expect from a freshman. However, today, he was very sticky in coverage and while Jadon Haselwood made his circus one-handed catch with Eaton covering him, Josh was in good position and did everything correctly except to break up the pass. Really liked what I saw from him and his body language on the field displayed a level of confidence I did not see last year.
Buy it all: Mario Williams
Yup. Not too much to say really. All the hype was warranted as Mario looked like the cat people have been raving about. Looked incredibly smooth and effortless with and without the ball. You can see the threat he will pose the defenses around the country in the coming years. He doesn't look like a freshman out there, much the same way Marvin Mims didn't look like a freshman. I'm not anointing him as the next Marvin just yet, I want to see how he blocks on a consistent basis and how he reacts to adversity when it comes. But man, at first glance, all the tools are there.
Buy every share you can get: Caleb Williams
You saw it. Arm, legs, mentality on the field and on the sidelines. I don't have to convince any of you. You know he's special and when his turn comes, yeesh, imagine what he will be. Not going to get carried away, but I think it is safe to say, on what little we have all seen from him, he has the potential to be the next great one.
Buy: Eric Gray
OU solved their running back problem when they picked him up via the Great Tennessee Player grab. Gray got his hands on the ball on the very first play from scrimmage by way of a pass from Rattler. He had the highlight rush between the tackles and made his one-man (the safety) miss and he was off to the endzone. The kid fits the OU offense like a glove with his rushing and pass-catching ability. He also offers a nice change of pace compared to Kennedy Brooks who is a different kind of runner who will be effective in his own way. Brooks is so patient while Gray runs in a much more twitchy style. Nice pairing for Riley to play with.
Bonus Buy: Jackson Sumlin
In my best Gus Johnson voice "Who is this kid? Where did he come from?' Seriously, if he's as good throughout the season as he was today, Sumlin is a nice depth piece at HB behind Jeremiah Hall and if he can pick up his responsibilities in the blocking game, he could be a valuable asset for OU. I was more concerned about the move of Mikey to RB prior to seeing Sumlin. His performance today gave me some good vibes in regards to that position and as I said, if he gets the blocking game, OU is in good shape there.
Who are you guys investing in based on our sourced notes and what you saw on the field Saturday?
---
Spring Game Visitor Note | Jacob Sexton
– Charlie S : Posted on: April 26, 2021
With the spring game providing recruits an opportunity to see the Sooners in action, in a self-guided capacity, there isn't going to be a heckuva lot to report on in regards to the athlete's recruitment based on their visit in most cases. They weren't able to interact with staff in person, so they were there, in large part, as any other fan would be.
However, I have caught up with several of the recruits who were in attendance, one of them being 2022 offensive tackle offer Jacob Sexton (6'5 285) out of Edmond, OK.
Sexton is a priority target for Coach Bill Bedenbaugh this class and I asked him about what it was like to make the visit in the 'self-guided' capacity. Sexton said, "It was definitely different seeing things just from a fan's perspective, but it was great seeing it that way. I was able to run into some other recruits (including Cole Hutson) while walking around the stadium and I got some 'Wow, he's tall, looks like he should be out there' comments."
As far as his thoughts on the game and the atmosphere, Sexton said "I thought it was great! I enjoyed being back out at the Palace and I thought there was some great team energy."
Expect Sexton to make his way back to town in June when he will be able to interact with the staff following the end of the NCAA dead period.
---
Jayden Rowe Announcement Timeline
– Super K : Posted on: April 26, 2021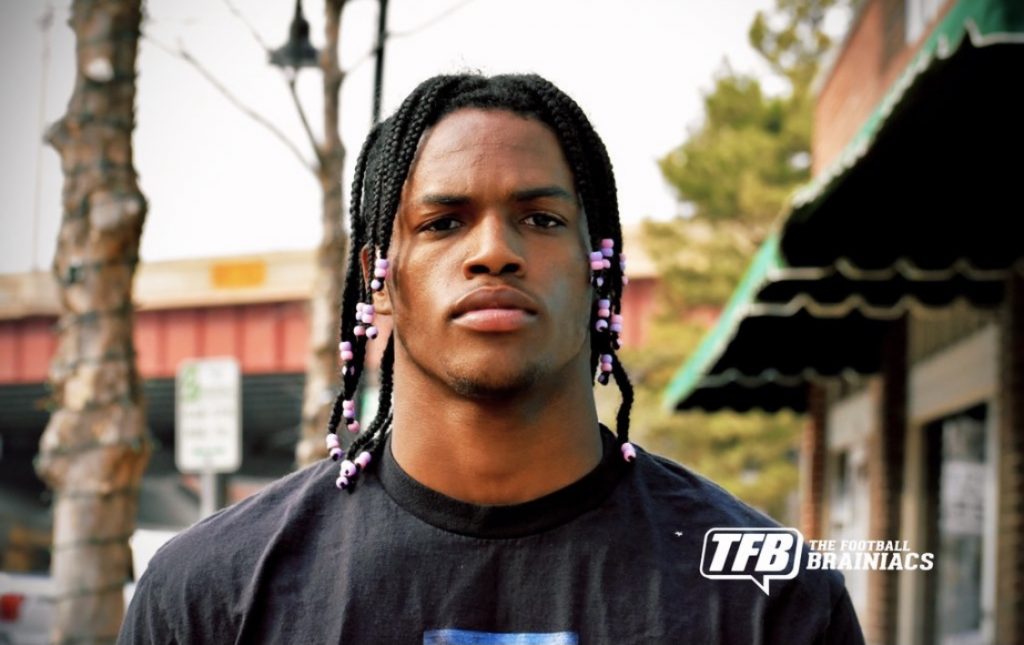 Last week, we mentioned that things were trending towards the Sooners for in-state 2022 DB, Jayden Rowe (Link)
Spoke with someone close to Rowe who tells me that Jayden is set to announce this week. The most likely date for the announcement will be this Friday, April 30th.
This past weekend, Rowe blew a 10.45 100. Again, I've seen Rowe in person. He is a big dude. Nearly 6'3 and almost 220 lbs of muscle.
---
Carthage 2022 LB Kip Lewis Has an Announcement
– CJ Vogel : Posted on: April 26, 2021
I was able to connect with 2022 Carthage LB Kip Lewis this afternoon following his weekend visit to Norman for the Oklahoma spring game.
It sounds like the Sooners made a very big impression on the talented linebacker. So much so that an announcement is coming soon according to Kip.
In our conversation this afternoon, Kip told me he plans on committing either Friday or Saturday of this week.
"We went to the game and stopped by the dorms and classes," Lewis said about his visit to Norman. "It was just a really good feeling up there." Kip mentioned he also stopped by the baseball game going on this weekend, so he truly got a feel of campus and Norman itself. He called the visit "one of the best he has been to."
Lewis also said during the game several Sooner fans were coming up to him asking for pictures, he said it was awesome to see and he really felt at home as a result.
As for the game itself, Lewis said he loved the chemistry of the team. He said it looked like they were really having fun while also competing hard against one another.
For an announcement to come this soon after the weekend visit to Norman, I have a very good feeling about the Sooners' chances of landing the talented East Texas linebacker.