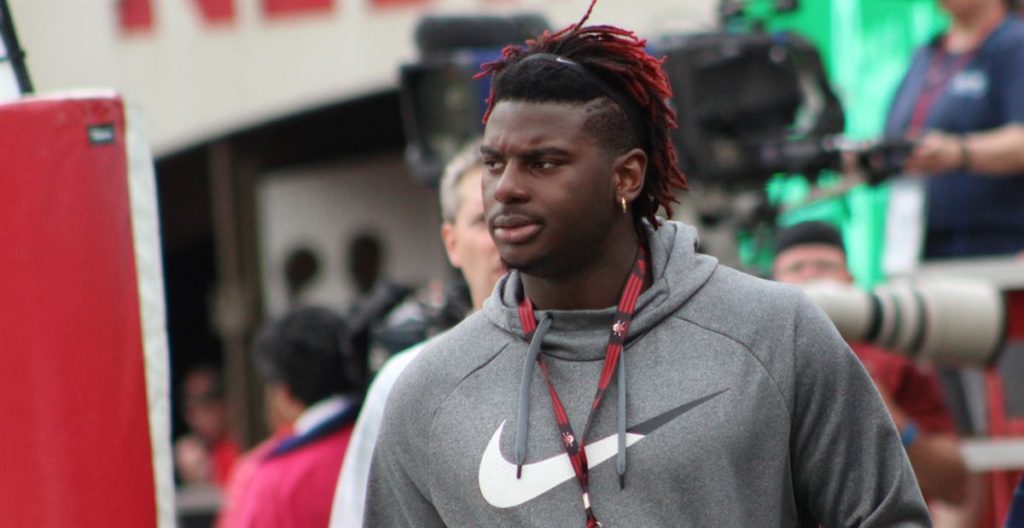 Open Post | Thursday, June 15th
Posted on: June 15, 2017
Image of Jalen Redmond via 247
– Jalen Redmond: On Tuesday, Oklahoma hosted star in-state OLB/DE, Jalen Redmond.
Oklahoma is really pushing to get Redmond and, with the commitment of 2018 PCO DL Ron Tatum, the odds of landing the talented pass rusher seem to be getting better for the Sooners.
Other players involved with Redmond are Ole Miss, Nebraska, Arizona State and Kansas State among others. A couple schools that really seem to have his attention are ASU and Nebraska. The Sun Devils of course signed Redmond's former teammate in the 2017 class, Evan Fields.
That said, Redmond seemed to really enjoy this most recent trip under the new management of coach Lincoln Riley. From sources on the OU side of things, we definitely get the sense that OU would really like to get Redmond in the fold as soon as possible. However, Redmond continues to tell us that he doesn't plan on deciding until December.
Redmond did say he plans on making yet another trip to Norman for the BBQ in July. It'll be interesting just how long this one goes, but I like where the Sooners sit a lot more today than I did a couple months ago. – (Brandon)
– Staff | Team Note: As you all know by now, Lincoln Riley made former ECU head coach, Ruffin McNeill his first hire.
.@LincolnRiley's first hire as OU head coach is @RuffinMcNeill. Great experience, reputation. Details: https://t.co/iBP7yZ7vYq #Sooners pic.twitter.com/x0YnSqvzJW

— Oklahoma Football (@OU_Football) June 14, 2017
Just prior to the hire there were folks close to the program that did sense Riley was really looking to make an immediate defensive hire.
Among the other bits of speculation that some of our sources around the program have offered as well (these are obviously unconfirmed but do sound plausible) is that Riley's offense could end looking like the following:
Cale Gundy: The speculation is that Gundy could be in line to receive an "offensive coordinator" title and also be named passing game coordinator. Keep in mind of course that Riley will continue to call the plays.
Bill Bedenbaugh: The speculation around the program is that coach Bedenbaugh will be named co-OC/run game coordinator.
QB Coach: The speculation is that Riley will retain that title for this season. A guy I could see eventually picking up that position/title is current GA, Tyler Tettleton. Tettleton played his high school days at Norman North before being the starting quarterback at Ohio University and winning a lot of games for the Bobcats. The move to make the young, energetic GA the QB coach would make a lot of sense and relieve Riley of one more responsibility going forward.
Again, these are just some speculative notes offered by folks close to the program. – (Brandon)
– Josh Proctor: It's no secret that after flipping Tatum, the next in-state prospect Lincoln Riley and the staff are dead set on flipping is Ohio State DB commit, Josh Proctor.
So far, Proctor isn't saying much publicly, but behind the scenes I am told that the Sooners have been quietly making some moves here. Don't be surprised if something happens here pretty soon. At the very least we expect Proctor to be in campus in the near future.
Oklahoma is really pushing here. If you asked me a month ago, I'd tell you Proctor isn't listening. It's my understanding now that he definitely is. – (Brandon)
– ST2K18: Last night, Lincoln Riley had the Sooner twittersphere in a bit of a tizzy with…
#ST2K18 🔥🔥🔥

— Lincoln Riley (@LincolnRiley) June 15, 2017
We did ask around to see if a commitment happened and we were told a commitment did not happen last night. However, the flood gates do appear to be on the verge of breaking open. The Sooners went from a dry spell to a lot of rain clouds forming in a short period time. – (Super K)