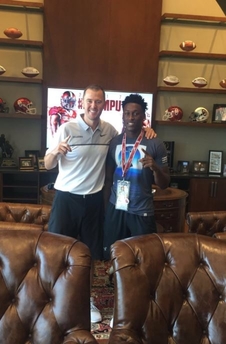 Open Post | Thursday, August 3rd
Posted on: August 3, 2017
– The QB Situation: As you all know by now, Sooners QB Chris Robison is no longer with the team. So the question now becomes whether the Sooners will look to take another QB.
As we mentioned yesterday, when the possibility of Robison departing became apparent earlier this summer, Brandon spoke with a few sources. At the time, they indicated that, if Robison were to leave, the Sooners would go after an additional 2018 QB. The particular QB mentioned was Casey Thompson.
Brandon reached out to his sources on this matter yesterday and tells me that he's been told that the staff has not made a decision about how they will move forward or if they will go after a second QB.
We will continue to check on this today and tomorrow. – (Super K & Brandon)
– Delarrin Turner-Yell: 2018 Baylor DB commit and Sooners offer, Delarrin Turner-Yell (Hempstead, TX) made his first visit to Oklahoma this past weekend.
Really had a great time down in Oklahoma today ‼️⭕️ #OUDNA pic.twitter.com/Xiuqn89asp

— Troubleman (@dtturner11) July 30, 2017
I exchanged a few text messages with Turner-Yell. As a Baylor commit, it's no surprise that he's not saying a ton, but he did emphatically say that he enjoyed the trip. So much so that he tells me will take an official visit to OU along with an official to Baylor.
It sounds like he may have given the staff an indication that he may make a decision in the very near future, but, if that's the case, he isn't making that publicly know. He tells me that he does not have a "final decision" date set. I asked if a decision could come this week and he said no (though I'm not sure he'd want that out anyway).
One source indicated that, if it weren't for the distance, it sounds like Turner-Yell would already be a Sooner. I'm told he has a close family member with a health issue and he'd like to stay closer to home for that reason if possible.
This remains one to watch. – (Super K)
– Team Notes | Quick Hitters: Just a couple quick notes…
*I asked about the competition at the cornerback spot opposite JT. Specifically, I asked if Motley had secured the spot. I was told that it's still a competition. Jordan Parker is apparently having a good camp. I'm also told that, "the two freshmen (Brown and Norwood) have raised the competition level." – (Super K)
*I am told that the defense has been primarily in the a 4 man front alignment. However, Obo has been, more often than not, in a stand up DE position. In that case, you'll see a lot less three man rushes this year. I'm sure that's music to many ears. I was also that Obo has "been giving the tackles fits." Sounds like he's back to form. – (Super K)
* As first announced by Ryan Aber on twitter, Alex Dalton suffered an off-the-field season-ending injury before fall camp. This is a hit to the Sooners offensive line depth. – (Ryan)