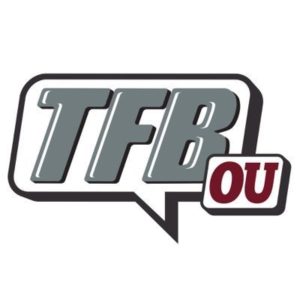 Open Post | Thursday, April 20th
Posted on: April 20, 2023
Working Visitor List | Spring Game 2023
– Charlie S – Posted on: April 17, 2023
The Sooners are holding their Spring Game this weekend.
The festivities will include the unveiling of Kyler Murray's Heisman Statue.
Just wanted to get a working list going for you all and this is by no means a complete list, but each of the '24 visitors that are confirmed to this point are priority targets for OU.
I will add '25-'26 recruits later on in the week as well as additional '24 kids, but just wanted to get the ball rolling for you!
I will also add any transfers who plan on showing up and we're keeping an eye on OL Troy Everett and WR Brenen Thompson at this time in particular.
Reminder…just because a kid is not listed at this time, it does not mean he will not be in…the list will grow as the week goes on!
---
24 OL – Isaiah Autry – Tupelo, MS
'24 DL – Joseph Jonah Ajonye – Conroe, TX
'24 LB – D'Angelo Barber – Pinson,. AL
'24 S – Michael Boganowski – Junction City, KS
'24 RB – Caden Durham – Duncanville, TX
'24 WR – Zion Kearney – Missouri City, TX
'24 DL – Kellen Lindstrom – Springfield, MO
'24 DB – Mykel Patterson McDonald – Oklahoma City, OK
'24 OL – Casey Poe – Lindale, TX
'24 DL – Nigel Smith – Melissa, TX
'24 DL – David Stone – Bradenton, FL
'24 OL – Garrett Sexton – Hartland, WI
'24 EDGE – Loghan Thomas – Katy, TX
'24 OL – Hayden Treter – Englewood, CO
'24 WR – Bryant Wesco – Midlothian, TX
---
News From the Portal | Brenen Thompson
– Charlie S – Posted on: April 14, 2023
A name that has been a hot topic since he announced his intentions to enter the NCAA transfer portal is Texas wide receiver Brenen Thompson.
***We can confirm that there is mutual interest there.
***We also believe a visit is imminent.
***Source tells us that OU views Thompson as a guy who can play both inside and outside and his elite speed is something OU covets.
***Source also noted that they are very happy with the inside wide receivers already on campus and they noted that Jalil Farooq has even been getting run inside along with Stoops, Freeman, and Bunkley-Shelton. They believe Thompsons speed can be a weapon all over the field.
---
Sourced Visit Note | Transfer Player
– Charlie S – Posted on: April 18, 2023
As we mentioned last week HERE, we were led to believe that a visit from Texas transfer wide receiver Brenen Thompson to Norman was imminent.
Source tells us that visit is currently scheduled to take place on Thursday, April 20th.
---
News From the Portal | OL Troy Everett | Sunday Note
– Charlie S – Posted on: April 16, 2023
Yesterday, the Sooners extended an offer to Appalachian State offensive lineman Troy Everett who officially entered the portal.
Everett was named a second-team Freshman All-American following the '22 season, his redshirt freshman season.
I touched base with a source close to Everett who let me know that Troy is in the process of setting up an official visit to Norman.
Everett started six games at center for App State and played in 10 games last season.
I asked if Everett was solely focused on playing center or if he was also open to playing guard. Source said "He can play all three interior positions at a high level. He has a really high football IQ and he's tougher than a pine knot".
I have to say, that was the first time I heard someone referred to as 'tougher than a pine knot', so that's pretty fun and I will be using that down the line.
Source also said Everett is a 'superior young man', which sounds exactly like the type of player the Sooners would like to add to their locker room.
I expect the official to be locked in very shortly and would not be shocked to see it take place next weekend.
---
Sourced Team Note | Cornerbacks
– Charlie S – Posted on: April 18, 2023
Super K asked me to pass along a note following Jaden Davis' entry into the NCAA Transfer Portal.
Source tells K that they do not expect OU to look to the portal to replace Davis.
Sounds like OU is currently content to go into the season and the recruiting cycle with the guys they have on campus.
They could always pivot for one reason or another, but as things stand right now, it appears that they are not actively looking to add any corners.
---
Update | '24 OL Isaiah Autry
– Charlie S – Posted on: April 19, 2023
As you know, I reported back on Monday that '24 OL Isaiah Autry is set to make a return trip to Norman this weekend, starting on Friday evening, on our Working Visitor List | March 25th Weekend.
Leading up to the visit, I wanted to make sure that those who missed the CHAT last Friday are aware that I named him as a potential for 'next commit'.
With him coming in Friday night, he will be one to keep an eye on.
---
Summing Up Spring | Offense
– Charlie S – Posted on: April 19, 2023
The Sooners completed their 13th of 15 spring practices yesterday and they have one more on Thursday, which will be a walk-through type deal, before they take the field for the Spring Game on Saturday.
Just want to talk about where things stand based on the sourced notes we have brought you with each position group as Spring comes to a close.
***At Quarterback it's Dillon Gabriel and then everyone else. Everyone else consists of Davis Beville, Jackson Arnold and General Booty.
Gabriel is the unquestioned leader of the offense, and while some people will want to manufacture a QB competition over the summer, there isn't one. Gabriel will be the starter for the Sooners for game one snap one of the 2023 season so long as he remains healthy. He is a leader and teacher and out of everyone on the entire team, he is the one guy you can write in with ink, with the most confidence, in regard to taking snap one of game one at his position.
There may be a QB competition, but it ain't for QB1 right now.
The fact that Gabriel is so locked in does not mean there hasn't been movement in the QB room. While Davis Bevile still takes 2nd reps in front of freshman Jackson Arnold on most occasions, Arnold did get his share of second reps, particularly when the team went live (or scrimmaged). Arnold has had a very good camp, he has shown growth and an understanding of the playbook and when the rubber meets the road, we believe he would be considered QB2 for game one if things continue to track the way they have been. Shout out to Davis Bevile for helping the team in a time of need by stepping in and taking some TE reps, but Arnold should be considered the present QB2 and the future QB1.
When that future arrives is likely up to how Gabriel executes the offense through the early part of the season.
***In the Running Back room you have a lot of youth and inexperience, but a lot of talent.
Jovantae Barnes started the spring as RB1 but he had to be shut down midway through the spring session to get an injury straitened out. In his absence, redshirt freshman Gavin Sawchuk has moved into the RB1 position and Tawee Walker has been the guy getting the next most reps. Sawchuk has had an explosive spring as every time the team scrimmages, he has made big play after big play. Walker is a nice change of pace back and he has been doing the dirty work in short yardage and goal-line work, partly in an effort to keep Sawchuk healthy I imagine.
Three freshmen, Kalib Hicks, Daylan Smother, and Chapman McKown have each had their moments in camp. Hicks has really garnered a lot of praise for the way he has shown up in camp ready to roll at the collegiate level. Smothers has been a bright spot when not dinged up and he has flashed his ability as a game-breaker at times. Chapman McKown had some big moments with his speed early in the camp, but he has been nicked up lately.
Marcus Major, who has the exact same amount of carries (116) in his four years in Norman as Jovantae Barnes has in his one year, has been held out of contact all spring and he hasn't been seen around practice for the past few outings.
Bottom line…expect a healthy Barnes to get the first crack in the lineup while being supported by Sawchuk and Walker while Hicks may be able to work his way into the rotation as the season moves along.
***When you talk about Wide Receiver, the spring really hasn't taught us much.
Jalil Farooq came into the spring as the guy who is expected to be a leader in the room and he has been as expected. Solid guy who flashes at times and has the ability to break some plays open. One interesting note we picked up late in camp was that Farooq has been taking some reps inside as well as outside. I like that move a lot, so long as someone else is able to step up outside.
Gavin Freeman has received a lot of good reviews throughout camp as has steady Drake Stoops.
The rest of the group…still all about potential. Nic Anderson, Andrel Anthony, Jayden Gibson and DJ Graham are all going through the paces and we have heard about stand-out moments for most of them. The one thing missing is a consistent buzz on any one guy in particular from that group.
OU will get Jaquaizie Pettaway and Keyon Brown on campus for the summer session and the competition in fall camp will be something we will be keeping an eye on. OU is also looking at the portal for potential help and Texas WR Brenen Thompson (speed) is due to visit this Thursday.
***The Tight End room has been a case of the walking wounded.
Austin Stogner came back from South Carolina and stepped into a room that has been decimated by injury throughout the spring. Stogner has been getting great reviews, but he needs some help and right now, OU has moved a DL (Hayden Bray) and added a walkon (Josh Fanuiel) to the room while also having a QB (Davis Beville) run some routes due to the low numbers.
Blake Smith came to OU from Texas A&M and he missed the middle portion of camp with an injury and while he is back out there now, he is sporting a massive club on his hand which obviously limits his effectiveness in the passing game.
Jason Llewellyn and Kaden Helms are expected back for summer and should be full go for fall camp. I expect Llewellyn to step into the void and be a guy that is relied upon in Daniel Parkers role from last year at the very least and Helms should be able to give Stog a breather from time to time.
Kade McIntyre and perhaps Taylor Heim will also add to the depth in the room when the summer session rolls around.
***When you listen to what has been said about the Offensive Line, despite numerous injuries, this group once again seems to be on the most solid footing, aside from QB, as we reach the conclusion of spring ball.
Stanford transfer tackle Walter Rouse and tackle Jacob Sexton have not been participating in any contact periods throughout spring, yet the line has held up well.
Young Cayden Green has been one of the highlights of spring ball as he has stepped up and taken the majority of the reps at left tackle for the injured guys. Aaryn Parks was working at LT early in camp until he had to take a seat for being banged up and Green has not looked back.
Savion Byrd, Andrew Raym, Jake Taylor, Miami (OH) transfer Caleb Schaffer, McKade Mettauer, Josh Bates, Cullen Montgomery and Nate Anderson have been working inside for the most part (Taylor has been at tackle as well here of late) and that is a solid bunch.
Tyler Guyton could be the next 'great' tackle at OU and he has been receiving high marks for his focus on and off the field this offseason. His ceiling is ridiculously high and right now, it sounds like he is intent on reaching it.
OU will add Logan Howland and Heath Ozaeta this summer. Both of those guys will have a lot of catching up to do but do not be fooled, each of them bring some really good tools to the table for OU. The Sooners are also keeping an eye on the portal as they recently offered App State transfer Troy Everett.
---
Summing Up Spring | Defense
– Charlie S – Posted on: April 19, 2023
Earlier, I wrote up a summation of the Sooners offense through the first 13 practices of the spring.
Now,lets talk about where things stand based on the sourced notes we have brought you with each position group defensively as Spring comes to a close with the Crimson and Cream game on Saturday.
***The Safety room has been a headliner this spring and it just may be the deepest and highest ceiling group that the Sooners have defensively for the '23 season.
As Dilon Gabriel is on the offensive side, Billy Bowman is the one guy defensively that you can write in with ink as a virtual lock to start the season at his position. Bowman has been a guy who is constantly recognized by sources as continuing to show growth and development and he has been characterized as a leader. Write his name down as a starter.
The battle will be for the starting safety opposite Bowman, who will likely be backed up initially by freshman Peyton Bowen, and that competition is between Key Lawrence, Robert Spears Jennings, and TTU transfer Reggie Pearson for the most part. Damond Harmon is a guy in the mix, but he has also spent the spring cross-training with a little action at corner. Key and Pearson have been getting the majority of the reps as RSJ had to shut things down due to a lingering issue midway through camp. RSJ is expected back for fall camp, but by that time, the completion will likely be settled between Key and Pearson for the starting spot and RSJ will have his work cut out for him to get back in the mix (which he can do if he continues to develop). Peyton Bowen could also make a case for elevation to a starting role, but a lot of that will be based on how he shows up when the lights come on. Mid-season…you may have a Bowman/Bowen starting safety tandem if he makes that big of an impression in his early-season opportunities.
Whoever comes in second in the competition for the starting spot opposite of Bowman will likely be the dime DB and see plenty of reps in that scenario. One guy I would also not be surprised to see get some more looks at safety (whether at traditional safety or the dime spot) in fall camp is Justin Harrington who could always slide back from the Cheetah.
Erik McCarty will likely redshirt coming off his injury, which will be a positive for his development going forward.
***When you look at the Cornerback room, you see a ton of potential and quite possibly the deepest CB room that OU has had in over a decade…based on their potential.
Woodi Washington has been getting the expected accolades through spring. Washington is a guy who stayed an extra year, in part because he knows this staff can help him get a look at the next level. Jaden Davis left the program to enter the transfer portal, while being projected to start the year opposite Woodi. The issue amazing part about that is…
Every scholarship corner on the roster has a higher ceiling than both of last years starters (Woodi and Jaden). Period.
Former JUCO Kendel Dolby and sophomore Gentry Williams will likely battle for the spot opposite Woodi and right now I would give the nod to Dolby based in part on Gentry missing the bulk of spring camp due to what has been termed as an episode following over-exertion. Gentry is healthy and has been working with the team, but he has sat out the scrimmages for the most part. Will be interesting if he gets run Saturday at the scrimmage. Dolby is a guy I have been very high on since he committed and it sounds like he is really starting to acclimate to the faster pace of D1 football.
Then you have a pool of guys that includes Kani Walker, Jayden Rowe (who needs to be able to get healthy and go through contact) and freshmen Makari Vickers and Jasiah Wagoner who will battle it out for reps behind the projected starters.
Jacobe Johnson will join the room in June which only adds to the potential as he brings a very impressive skill set to the fold.
***The Linebacker Room is another room that is deep with potential, but short in experience.
Throughout the spring, the one constant has been the growth and leadership of Danny Stutsman. Not only do sources note that he looks like he has made a big jump, but Brent Venables himself has heaped praise on number 28. Stutsman will man the WILL while the MIKE spot has turned into quite an intriguing competition between Jaren Kanak and Kobie McKinzie.
We have heard, and reported, the steady drumbeat of Kobie really coming on. Going into the spring it was widely assumed that Kanak would take that position, but to this point, McKinzie has been the guy who has seemingly improved every time they go out on the field. Kanak is still adjusting to playing in the box after spending his high school career playing everywhere else but in the box and when it comes to soundness on assignments, McKinzie, who redshirted last season, is really opening some eyes. Kanak is the guy who takes the first reps most of the time with Stutsman in individual drills, but the fall camp will dictate who wins the job here for game one snap one. Freshman Phil Picciotti has given a good account of himself this spring and he may work himself into some reps, but right now I expect him to redshirt.
Behind Stutsman, right now you have Kip Lewis and Shane Whitter working for that spot. Whitter has been limited as he has been coming off an injury and Lewis is still flying to the ball, but he still is light in the britches and has not been able to put on the desired good weight that OU would like to see.
In June, Sammy Omosigho and Lewis Carter come in, which will give OU a solid group of 8 players designated for ILB without taking into consideration Indiana transfer Dasan McCullough who is focused on Cheetah right now. Good potential here, just need to see how this room plays out through fall camp.
***When you look at the Cheetah spot, right now it's a two-man room for the most part with some other guys getting reps there as well for different looks.
Right now, the advantage at Cheetah goes to Justin Harrington. I know nobody wants to hear hype around Harrington as he has probably been the most talked about non-entity over the course of the last 3 springs defensively for OU…but here we are. Harrington has the edge over McCullough in large part due to his familiarity with the position. Dasan has been very good this spring in learning the role, but Harrington has been more consistent.
I am not ready to say Harrington will start game one snap one, but I would not be shocked if he is. With that said, if Dasan continues to make strides in regard to assignments, it will be difficult not to see him win the job as he progresses through fall camp. There just are not a lot of guys with his size and speed that can move as fluidly as he can. Plenty of time for him to earn that spot.
Sources, as well as Venables himself, have mentioned Peyton Bowen and Reggie Pearson and a few other guys getting looks there at practice and perhaps Taylor Wein or Carter or Omosigho works there when they arrive in June, but I expect McCullough and Harrington to man the spot for the majority of the snaps in the 23 season should they remain healthy.
***Perhaps the most glaring weakness last year for OU was the EDGE room.
The biggest question this year for the OU defense is, can they remedy the issues that plagued this group last season? In the '22 season OU was unable to consistently get pressure from the EDGE and to complicate matters, they had a difficult time in consistently setting the edge in the run game.
With that in mind, the Sooners were active in the transfer portal and on the recruiting trail as they brought in some much-needed talent by way of Wake Forest DE Rondell Bothroyd, OkState transfer Trace Ford, and 5* freshman PJ Adebawore. Add those guys to the group on campus, Downs, R Mason Thomas, Marcus Stripling, Reggie Grimes and sometimes Gracen Halton, and you can see some hope for a different outcome this year.
When he transferred into OU from Wake, I said that I felt that Bothroyd would be the most impactful transfer for the Sooners this season. Following spring practice and based on our sources, I see no evidence of that being off base. Bothroyd has received rave reviews for his work ethic and his ability.
Ford is a guy who has been limited this spring but he seems to be ramping up and has flashed some over that last week or so. PJ is a stud and he is only beginning to learn the position, but I have a difficult time seeing him redshirting. R Mason Thomas is said to have made a jump and he certainly looks like he put on some good weight.
Ethan Downs is nothing but a hard worker and a terrific teammate who will bust his ass and give everything he has. I expect Downs to remain in the starting mix, particularly when OU goes to an odd front. Grimes is a guy who we have not heard much about this spring and unless he makes a jump from last year's performance, I see multiple guys who would likely pass him on the depth chart. Hopefully, he puts things together because he has a lot of talent.
Based on sourcing, I do expect this group to be better than last year. My question is, how much better will they be? In an ideal world, they fix they things they can fix (setting the edge) and become better as a unit at rushing the passer.
***In the Interior Defensive Line, the Sooners are looking for a difference-maker.
The loss of Jalen Redmond is not something that will likely show up statistically as he really didn't have eye-popping stats. 10 solo tackles and 4 sacks shouldn't be all that difficult to replace, but the attention he received from opposing offenses will be shifted elsewhere and without a difference-maker inside, that could spell some trouble for OU.
OU attempted to address the interior issues through recruiting and the transfer portal. The Sooners brought in Notre Dame transfer Jacob Lacey, Texas State transfer Davon Sears, they moved Jonah Laulu from end to interior, they brought in Ashton Sanders and Derrick LeBlanc in the '23 class and they have Markus String coming in June. OU returns Isaiah Coe, Jordan Kelley, Gracen Halton and Kelvin Gilliam as well.
The buzz out of spring camp has been…quiet. Maybe that's by design, maybe it's just what the group is right now. Most of the talk has been about Laulu starting to stand out inside, Ashton Sanders flashing, Derrick LeBlanc looking like a future solid piece and Isaiah Coe making some strides in using his impressive physique better.
The interior of the defensive line was not nearly as poor as many believed last year. They were pretty stout against the run between the tackles and when OU got pressure, it was typically coming from them or the linebackers. The loss of Redmond could show up here as he was able to get into the opposition backfield (rarely finished) frequently. We will see if OU can get some push there, but right now, it's not like we can point to the guy(s) who will provide that. Can a guy like Gracen Halton make a big jump? Can Kelley and Coe be consistent because they did flash last year?
The run defense also is a concern of mine as Jeffrey Johnson was more than steady in that aspect, and his big body will be missed in that respect. While spring ball didn't give us any real hype in regard to the interior defensive line, we also did not hear much in the way of outward concern. We will see how it goes, but I believe they will be 'fine' as a floor and 'good' as a ceiling right now.