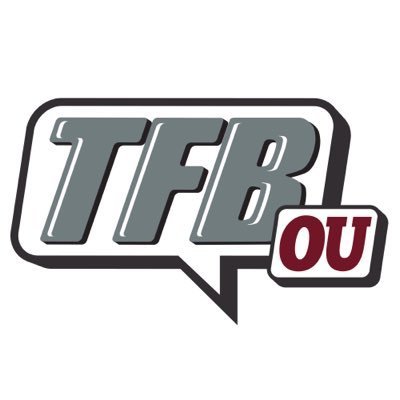 Open Post | Monday, May 8
Posted on: May 8, 2017
– Penei Sewell: Sooners offensive line coach Bill Bedenbaugh has been on a roll recruiting; the 2017 class was highly regarded, and the 2018 class started with the commitment of what most believe to be the top offensive tackle in the country in Brey Walker. So it's no surprise when nationally-regarded offensive lineman stop in to check out the Sooners. It's more of a testament to Bedenbaugh's recruiting. Oklahoma hosted yet another big time offensive lineman this past weekend in 2018 St. George, Utah star offensive tackle Penei Sewell.
TFB spoke with Sewell, briefly, after his visit and the 2018 offensive tackle had nothing but great things to say about it, "The visit was good and my family had a lot of fun." Now, the Sewell family isn't a stranger to the Sooner State; Penei's grandfather is from Coweta, Oklahoma. When I spoke with Penei's father, Gabriel, he spoke of visiting Oklahoma often as a child. This could only be a good thing for Oklahoma, as family seems very, very important to the Sewells.
Gabriel Sewell is also Penei's coach and has been since he coached Penei and his older brother, now Nevada safety, Nephi Sewell. Gabriel spoke of both of the Sewell boys' football IQ's and how they know the game. That makes Penei even more of a hot commodity, as he is already known for his mean streak. Gabriel went on to say that the family's relationship with Bedenbaugh was one of the main reasons for the visit to Oklahoma. He also spoke of the new facilities being top notch, saying, "I kind of knew what to expect, but the facilities at OU are really, really impressive."
Lastly, Penei and his family has been on numerous trips and unofficial visits. With summer starting soon and workouts beginning, the Sewell family's plan is to narrow down their list soon – a list that most believe will have USC and Oklahoma in it. I will say that Gabriel (Penei's father) is well versed in recruiting and, to no surprise, very football savvy being a coach. I got the feeling in talking to them that Oklahoma put their best foot forward and really impressed them. It's always hard to pull players from Utah out of the PAC 12 region, but with Sewell's connections to the state it seems more of a possibility than previously thought. This will be very, very interesting going forward. – (Brandon)
– Emmit Gooden: The Sooners are in search of defensive lineman and Emmit Gooden, defensive tackle from Independence CC, is a great place to start. With offers from Alabama, Georgia, USC, and more, it was no surprise when Oklahoma offered him back on April 24th. After the offer, Gooden, who is a huge Gerald McCoy fan, set up a visit for this past weekend. Unfortunately, the visit got off to a rocky start, with Gooden's ride falling through early Saturday morning. Things quickly turned around when Gooden did find a ride, but at that point he had cancelled his visit for that afternoon. Gooden decided to still head down to Norman and stay the night.
With Gooden's late arrival and the staff heading out for spring evals early Sunday morning, the staff gathered former Sooners star defensive lineman, and current defensive line assistant, Jamarkus McFarland to show Gooden around. For this I give the staff kudos; That is a tough situation to be in and defensive line coach Calvin Thibodeaux and Director of Player Personnel Drew Hill really did a great job of organizing the visit on the fly. The Sooners staff did such a great job that Gooden tells me he will "definitely be back for an official visit." The star JUCO defensive lineman enjoyed his time in Norman, where he even got to go out with current Sooners defensive back Parnell Motley after his very late arrival on Saturday evening.
Most believe the Sooners are in prime position with Gooden, who says he will commit when it feels right, whether that is before he takes officials or after all of them. This is one to watch as summer and fall draw near. – (Brandon)
– Tanner McKee: With Oklahoma in search of a quarterback for the 2018 class, it was refreshing for Sooners fans to hear that Corona, California QB Tanner McKee would be making a visit to OU this past Friday. When our own Andrew King reported the visit, it caught everyone by surprise; that's because the visit was really a spur of the moment thing for Tanner and his family. There had been talk of McKee visiting Texas for some time, but his family decided to stop by Norman while they were in region. From what McKee told TFB, the visit went really well, especially for a visit that was as quick as his was. McKee was shown around by Sooners offensive graduate assistant Tyler Tettleton with all of the coaches still out on the road. McKee spoke highly of OU facilities, saying, "We got to see all of the facilities and improvements they are making. They are doing some really, really good things there."
McKee's recruitment with Oklahoma is in its infancy (due to Rising being committed for so long), but McKee says he and Riley speak and are getting to know each other right now. I asked McKee if he planned on being back when the coaches were in town. McKee says he would like to, but that all depends on how his schedule lines up, as he will be in Elite 11 Finals next Month and already has some other stuff scheduled with his summer practice starting in June.
Oklahoma is probably in an uphill battle with McKee; not only is it a new relationship, but also because McKee plans on narrowing things down in the next month or so. That doesn't mean OU is out of it by any stretch; McKee still plans on deciding and committing in the fall, so that gives Riley plenty of time to develop an even better relationship with the star QB. OU fans also have to remember that McKee is a devout Mormon and will be doing a 2 year mission once he graduates high school. With that in mind, he wouldn't be on campus until 2020 at the earliest.
TFB will continue to stay on top of the Oklahoma 2018 QB search. So far it definitely looks like Tanner McKee and Adrian Martinez are the front runners. We expect more names to pop up as spring eval continues. – (Brandon)