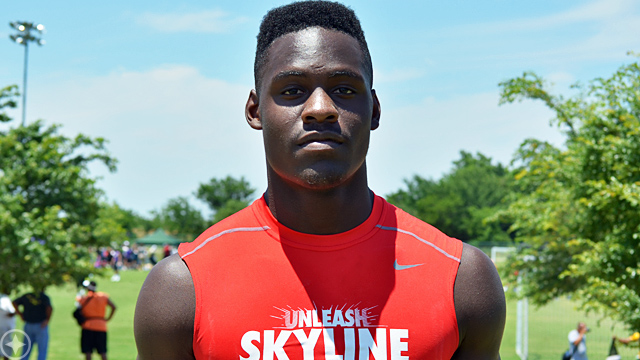 Open Post | Monday, June 9th
Posted on: June 9, 2014
Image of Anthony Wheeler via scout.com
– I had a brief exchange with OT Jamal Danley about his recent visit to Miss. State. Danley would be a key pick up for Oklahoma and he is set to visit later this month. I asked him about his visit to Miss. State and he said that the trip "went alright…same ole same ole."
– I know it was mentioned in the comments of this weekend's Open Post, but in case you missed it OU offer Louis Brown decommitted from Baylor yesterday. Brown is a prospect we've been a fan of since Oklahoma first got involved back in February. Brown has been in regular contact with Oklahoma, and last I checked he said that he planned on taking an official visit to Norman. However, he did attend UT's camp yesterday and received an offer so perhaps that had something to do with his decommitment. We'll try to see what we can find.
– I also had a chance to catch up with Neville Gallimore earlier this weekend. Neville said that his communication with Jerry Montgomery is extremely frequent, and he made it clear that Montgomery is doing a really good job of building a relationship. Neville has to be one of the most thoughtful and polite recruits I've ever spoken to. His upside and character make him the kind of prospect who would fit exactly what Oklahoma is looking for these days. Namely, guys who are not only talented but can add to the already excellent team chemistry that currently exists.
He has every intention of visiting Oklahoma this summer or for an official visit. The original plan was to come down for a visit this summer with his coach, Geoff McArthur, however due to a scheduling issue that visit might not happen. The unofficial visit may happen at another tim,e but either way it's clear that Neville really wants to visit OU. And I'd be surprised if he can't find some way to make that happen.
– I was also able to check in with Anthony Wheeler about his time in Norman this past weekend, and he said it went "very well." He said he spent time with a number of coaches, including Coach Stoops and his position coach, Tim Kish. He also said he spent a lot of time with another former Skyline player and Sooner, Frank Shannon. I'll be catching up with Anthony further to talk about some of the other schools that he's considering in addition to OU.