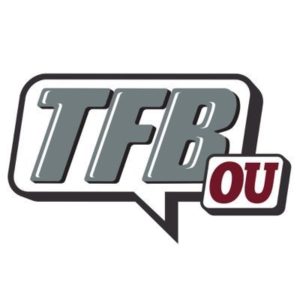 Open Post | Monday, January 7th
Posted on: January 7, 2019
Sooners Signees & Commits React To Grinch Announcement
– Charlie S
Reached out to the Sooners defensive signees and commits for their reaction to the news of Alex Grinch taking the defensive coordinator job,
You will like their reviews:
*** This hire is a game changer. He is an elite coach coming to an elite program!"
*** "He wasn't my recruiter at Ohio State, but I have heard great things about him"
*** "I think this is a huge hire! I'm excited to see how he will change the defense for the better and I am happy that I will be there to be directly coached by him. Really excited!"
*** "It's on now. Cannot wait to see the changes in style"
*** "We had heard he may be a possibility and I am looking forward to seeing his plan for all of us. Big stuff!"
*** "I like it! Can't wait to get up there and see what he's all about on the field"
*** It's an exciting hire! I know he was at Ohio State and they ran primarily man, which I love. I know before that he was at Wazzu so I am sure he is familiar with west coast kids. Great hire!"
---
Sourced | More Staff Changes Coming
– Super K
***As we mentioned earlier this week, Tim Kish has retired. I believe the conversation between coach Kish and Riley happened on Thursday.
***This isn't the only change happening…
***Source tells me that everyone on the defensive staff could be replaced except for coach Calvin Thibodeaux. Obviously Thibodeaux being retained isn't a huge surprise for you, as we did mention, a while back, that this was likely.
***I don't yet know if Diaco will leave Oklahoma or if he will be in an off-the-field position but source indicated he will not be on the field.
***I asked the source about Ruffin McNeil and was told that McNeil could take an off-the-field position.
***If this all comes to pass, as my source indicated it may, then there will be a total of four open positions with three remaining open positions now that Grinch has been announced.
***I'm hearing that the likely way this will play it as follows…
Defensive line coach and an additional defensive front coach for the outside backers/defensive ends. Grinch runs an attacking style 3-4 with two hybrid edge players.
One linebackers coach…inside linebackers.
One safeties coach (Grinch)
One cornerbacks coach. Don't be surprised to see Chip Viney in that role but that isn't something I can confirm just yet.
***Some names to keep an eye on are…
Jeff Phelps – current defensive line coach at Washington State. I've heard very good things about him and he was a Grinch hire in Grinch's final season at Washington State.
Brian Odom – we've already mentioned him previously. Linebackers coach at Missouri. Very close to Grinch.
Chip Viney – mentioned above.
Roy Manning – outside linebackers coach at UCLA. I'm told when he was at Washington State he was responsible for landing a lot of the players that Grinch wanted.
I want to be clear that while the notes on current OU personnel leaving are sourced. The notes on possible guys to keep an eye on are more speculative with bits of sourcing.
---
Linebacker Coaching Search Update | Sourced
– Super K
***Per a source, it sounds like there are at least two guys now in the running to be Tim Kish's replacement as inside linebackers coach.
***One guy we mentioned is Brian Odom who currently serves as linebacker coach at Missouri. As we've noted, he's very close to Grinch and is Grinch's choice for the position. Odom served as a quality control assistant at Washington State when Grinch was there. I'm told that Odom is Grinch's choice. I'm also told that if the job is offered to Odom he would likely accept.
I do not believe coaching under his brother at Missouri will deter him from taking a job at Oklahoma. My initial impression was getting Odom to leave his brother would be a challenge, but I've learned more about the situation and I am now under the impression that the hold up is not on Odom's end…
It's on Oklahoma's end.
***I'm told that Lincoln has a guy he is personally very interested in and is a guy who could get the offer – and to be honest has the superior recruiting and on-field resume in my opinion.
The candidate is Tim Skipper, defensive coordinator at UNLV. I'm told by folks in the know that Skipper is a monster recruiter. Before he took the DC spot at UNLV, he was the linebackers coach at Florida and before that running backs coach at Florida. He's also coached on the west coast at Fresno State. He's originally from New Orleans.
So you're talking about a guy with deep recruiting ties in Florida, the SEC and California. To me, based on resume and experience Skipper is a tough guy to beat.
I'm told he was responsible for the landing a number of elite guys while he was Florida. Lincoln is looking for elite coaches that can also bring in the best of the best. He knows he needs the best guys to win. Scheme is important but you need the players to make it work.
***Source tells me that the decision will be made in the next few days. I will say there could be other guys that Lincoln is vetting but so far the two names I've heard are Odom and Skipper. If another name pops up, I'll pass that along.
---
Weekend Visitor | Offensive Lineman Enokk Vimahi
– Charlie S
With all the coaching changes its easy to forget that the Sooners are still not done recruiting as they look to fill up their New Wave 19 class on the February signing day.
We have mentioned previously that 2019 Offensive Tackle Enokk Vimahi out of Hawaii would be visiting Norman following the dead period. He confirmed as much in a tweet last night…
Vimahi spent last week in San Antonio at the All-American Bowl. He just happened to be on the same line as OU offensive linemen EJ Ndoma-Pgar and Stacey Wilkins. His quarterback on the west squad? Spencer Rattler. Oh the guy who lined up next to him at times at tight end? Austin Stogner. Then you had wide receiver and New Wave 19 promoter extraordinaire Trejan Bridges also repping the West Squad.
Obviously the New Wave 19 presence also got a major boost when wide receiver Jadon Haselwood announced his decision to go to Oklahoma late in the game.
While Vimahi was surrounded by a heavy Sooner presence , he is currently very high on USC following his official visit to L.A. just before the dead period. You know the OU signees put in work on Vimahi and with him heading to campus so soon after spending a week with those guys, things do set up nicely for OU.
Now it will be up to the staff to make the race more interesting and state their case for the big man to spend his college career in Norman. It will be a fight, but are you willing to put anything past Bedenbaugh and Riley when they set their sights on it? I'm not. We will keep you updated.