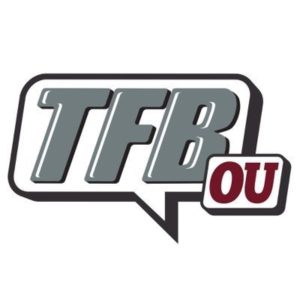 Open Post | Monday, January 14th
Posted on: January 14, 2019
Recruiting Updates | Grad Transfers, Visitors
– Super K
***As I mentioned, offensive line recruiting is going to be the priority for the next few weeks.
***Enokk Vimahi's father tells me that Enokk and his mother will flew out on a red eye from Honolulu Thursday night. Enokk's father wasn't there. Have to think that doesn't help the Sooners.
In regards to how the visit went, I touched base with sources around Vimahi and by all accounts it went extremely well and the Sooners gave him and his family a lot to think about. I will have more on him later.
***As I said going into the visit, keep an eye on Danielson Ike. Ike enjoyed his visit as he took in the basketball game and spent a lot of time with the staff and the early enrollees.
***I'm told OU is going to try to take Alabama offensive line grad transfer, Richie Petitbon. Petitbon is going to make a decision pretty quick in order to get enrolled and begin classes. So, I'm told Bedenbaugh will head out to see him and is hoping to be able to wrap this one up.
***As I previously noted, another guy the Sooners are circling back around to is Butler grad transfer and Miami commit, Tommy Kennedy. I'm told that two things have changed for Kennedy and the Sooners.
1) The Miami coaching changes
2) Bobby Evans leaving. The simple reality is at the time Kennedy visited, he didn't know which of OU's tackles was staying or going. And, at the time it seemed that at the very least Bobby Evans would be staying and OU was pretty upfront about that. The sudden change of heart from Evans makes the situation at OU look better for Kennedy. He has more reason to believe he can get on the field.
***If the Sooners do take a final defensive guy in this class, I believe it'll be one of two prospects – David Ugwoegbu who you all are already familiar with. And an emerging prospect to watch is Georgia OLB/DE, Ja'Darien Boykin. Boykin has picked up recent offers from Miami, Louisville and Maryland. He has an absolutely devastating first step. And though he is sawed off at only about 6'0, the Sooners need pass rushers.
It's a bit of a wait and see right now because the offensive numbers are so low. Just hang tight.
A few other clean up notes…
***Sooners might be opening up another defensive spot. Prentice McKinney is now in the portal…
***Also, something that may become of interest is Tennessee starting offensive lineman, Drew Richmond has entered his name into the NCAA Transfer Portal. He will be a graduate transfer. Still trying to find out if OU will pursue him.
I did speak to someone inside the building at Tennessee about Richmond and didn't hear rave reviews.
***Last thing for now, Sooners have hired an S&C assistant coaching replacement for Mahala Wiggins…
Got wind of this earlier in the week. Honestly don't know much about Martinez but the source I spoke to said that he was at Texas Tech at one point. Can't recall if the source said as a player or a staff member.
---
O Line… Who's left and what are my thoughts?
– JY
So everybody's graduating or leaving it feels like. Left Tackle Bobby Evans & Right Tackle Cody Ford both have declared for the NFL draft, while Left Guard Ben Powers & Right Guard Dru Samia were both seniors and have exhausted all of their eligibility. This leaves only Creed Humphrey at Center as a returning starter.
This group just won the Joe Moore Award for the nations best offensive line. That's a lot of experience and talent to replace, but the cupboard isn't bare by any stretch of the imagination.
In a lot of posts over the last few years I've talked about how I believe that Coach Bedenbaugh is brilliant at what he does.
Year after year he brings in players who are athletic enough to play outside and powerful enough to play inside. Cody Ford, who was a high school tackle, played his entire career up until this last season on the inside for the Sooners. In order to get the best five on the field and have the best group, Cody slid outside and is now projected to be a late 1st round to early 2nd round pick in the NFL draft!
By doing this, Bedenbaugh creates the exact environment that you're going to see this spring. Only one person has a spot clamped up and that's Creed Humphrey. The competitions for the other four spots will be as fierce as we've seen in a long time. I doubt that any of them will be decided until the fall, and that's exactly how Bedenbaugh wants it. Keep their seats hot, and make em battle all spring, fall camp and season long to get and keep them.
At this point here's who I think are the frontrunners. Keep in mind that it's January 10th, and the guys are getting ready to go through what we called winter ball. It's the absolute toughest time of the year where you lift and run and run and lift. 05:30 agility workouts, class and then lift in the afternoon. During this time you earn trust of your teammates and coaches through effort and toughness. There's no ball, no football stuff except for running, lifting and agilities. This time tests how much you love the game and gives a gauge to everyone around you how committed you are.
So who comes out in the spring running with the 1st group? If I were a betting man, I'd say it goes something like this.
The two tackles most likely will be Adrian Ealy 6'6″ 328 at left who we have heard has the best feet on the O line and Erik Swenson 6'5″ 317 at right tackle. Erik was running with the 2nd group at right tackle all fall, and I think his time in the program may put him a little ahead of some other guys.
At the two guard spots, I think you see Marquis Hayes 6'5″ 351 and Brey Walker 6'7″ 330. While that may raise some eyebrows putting Brey inside, I just get the sense that Brey would be a better fit at guard than either Ealy or Swenson. Brey is built like a greek god, and posesses power that few people do. While he's more than capable of playing at tackle, and most likely that's where we'll see him in the future, I just think that's where things start.
You never really know how a Juco guy will do until he gets on campus. Finley Felix is going to come in at 6'6″ 325, and can play inside or outside. Can he overtake some of these guys? Also you'll have Darrell Simpson 6'7″ 330 and Tyrese Robinson 6'3″ 332. Darrell and Tyrese are going to be really good players for the Sooners in my opinion, I just think they may need another offseason to develop somewhat.
In the fall you'll have E.J. Ndoma-Ogar, Stacey Wilkins and Marcus Alexander coming in. Also there's the chance the Sooners nab Danielson Ike and Enokk Vimahe. What you have then is 14 guys giving you a very, very talented three deep. In years past, like 2005 and 2009, the Sooners were in a bad way when great offensive lines graduated. Now under the guidance of Coach B, they just reload.
I'm really interested to see how this all shakes out because, these o linemen know they're counted on to be the best group in the building.  I can't wait to see what goes down.
---
Lincoln Flashes The Eyes
– Charlie S
***Just to follow up on the note Charlie posted earlier regarding Lincoln Riley's eyes tweet – player tells me that it'll likely be a couple more weeks before he announces. So, not expecting anything today.
Wanted to clarify the note I made on Friday regarding why we can't divulge the DB coach's name. Said coach is still on staff elsewhere and a source in the coach's camp tells me that there are some particular contractual stipulations that could be jeopardized. It doesn't sound like Manning is in that same boat. Although I'd imagine the past few days have been a little uncomfortable for him at UCLA.
***We are still waiting to see what, if any, announcement Kyler Murray will make. There were reports that the A's were heading to Dallas to speak with Murray yesterday.
I don't imagine we will know anything about Hurts until OU is certain on what Murray will do. I continue to believe that Hurts' is OU's to lose. So, if OU gets Hurts…be excited.
If OU doesn't get Hurts…be more excited.
---
David Ugwoegbu | Update
– Super K
2019 OLB/DE, David Ugwoegbu (Katy, TX) tells me that the Sooners new defensive coordinator, Alex Grinch, will do an in-home visit with David this upcoming Tuesday.
Also, based on what I'm hearing, it does appear the Sooners will have the numbers to take a defensive recruit (which would be Ugwoegbu) while presumably still taking two additional offensive linemen.