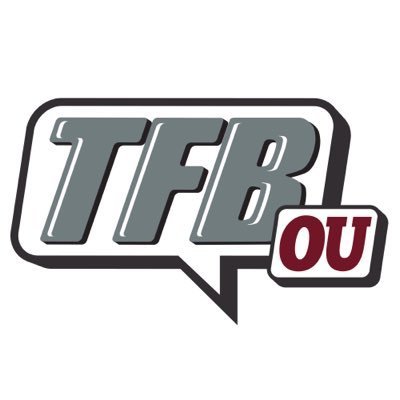 Open Post | Monday, February 19th
Posted on: February 19, 2018
– Jack Buford: This weekend, the Sooners hosted 2019 OL, Jack Buford (St. Louis, MO). This was a second visit for Buford. His first visit was last season for the TCU game.
I spoke with Jack's father, Tony, and found out that the family has a connection to the state of Oklahoma.
Tony Buford played linebacker for the University of Tulsa. Tony tells me that he gets back to Tulsa for games and that the state of Oklahoma is a place his son has frequented, "Jack has familiarity with the state of Oklahoma going back to Tulsa and at the same time he's been to AAU games through Oklahoma a lot".
Another interesting connection for the Buford family is that Tony's first position coach was current Illinois head coach, Lovie Smith. In fact, the Buford's went to to Illinois to attend the University of Illinois' elite JR day on Sunday. They recently took a visit to UGA.
Tony tells me that they will take a few more unofficial visits and then narrow things down to set up official visits. It doesn't sound like a decision has been made as to whether they will do officials in the spring or the fall. – (Super K)
– I spoke on the phone with Garrett Wilson. I'll have a full write up later, but wanted to say, OU blew him away…I mean really blew him away. Going into it, I knew Ohio State and Texas were in the mix and that he was interested in OU but hadn't been to campus yet. OU did what they needed to do. He said he will "100%" take an official visit. It's looking he's going to visit for the Spring Game since he wants to have a decision by the summer.  – (Super K)
– The Sooners had 2018 Lawrence (KS) OL, Jalan Robinson, in on a visit this weekend. OU was intrigued by the athletic offensive lineman and wanted to get a look at him in person, something Bill Bedenbaugh had yet to do. Also, Robinson had yet to see OU, so it worked out great for both parties.
2018 Lawrence (KS) OL Japan Robinson (@jalanrob00 )on his visit to #OU today. Robinson is set to announce a decsion soon. Could #Sooners be adding another big oiece to an already star-studded 2018 class? @TFB_Sooners pic.twitter.com/ZhpLMMGcHO

— Brandon Drumm (@BrandonTFB) February 18, 2018
I spoke with Robinson while he was driving back to Kansas and he spoke glowingly about the visit, saying, "It is ridiculous here. I loved it!"
Robinson also got to meet 2017 Heisman Trophy winner, Baker Mayfield, on his visit. It stuck out in a major way for him too. "It was exciting to meet him. Not a thing lot of people get to do that, meet the Heisman Trophy winner."
Robinson joked, "If I would have had time, I would have asked him about what went down in Lawrence when he came up here to play KU last season."
Robinson, as we reported, is set to decide on his college of choice very soon. Oklahoma will also make a decision if they plan on offering Robinson. We are asking around to see where OU might stand in their minds, on whether to offer him or not.
Regardless, the reigning thought is that OU killed it and there are a ton of targets walking away from Oklahoma having loved their visit. – (Brandon)
– 2019 Millwood (OKC) RB and Sooners offer Marcus Major Jr was unable to make it down for JR day. I spoke with Marcus' father and he told me that they got caught up at an ACT prep class and as a result couldn't make it. Marcus Sr. said they were disappointed they couldn't make it down. Expect them to visit OU in the near future, as Marcus Sr said they will be down to Norman "as soon as humanly possible!" – (Brandon)
– Oklahoma had a top 2020 LB from Whitehaven (TN), Bryson Eason, and his teammates sneak in and visit OU. Eason was offered by Oklahoma nearly a year ago, so he is very high up on their board at LB. I spoke with Eason about his visit and he was "very impressed" with everything. Eason said the facilities were "amazing." Eason is visiting Tulsa on Sunday. We will have more with Eason, but bottom line here is, if you want to win these kinds of out-of-state battles, you have to get these guys on campus early and often. OU is doing that. – (Brandon)
– Another big visitor was 2019 Allen (TX) WR, Theo Wease. Wease has been to Norman a ton, so finding something that stands out to him is hard to do. Wease did say that an OU visit always makes him realize how much fun he has when he visits. Wease is close with 2019 WR commit, Trejan Bridges, and said that Bridges is pushing him hard to join him.
The thing that stood out to me, during our conversation, is that you could tell the A&M post visit high has worn off. Wease set his official visit to OU for April 13th-15th. That is the Spring Game weekend. – (Brandon)
– 2020 Booker T Washington (Tulsa) Javian Hester is going to be one of the top players, regardless of position, in the nation for the 2020 class. Hester was invited as one of the few 2020 targets to the Sooner JR Day on Saturday. We were told that an OU offer was coming, but that the Sooners wanted to do it in person.
Oklahoma did just that, as Hester was offered by the Sooners.
After a great visit and talk with the coaches I'm blessed to say I have received my 3rd offer from The University of Oklahoma??‼️ #BoomerSooner pic.twitter.com/wR3ipp2CFi

— Javian Hester? (@JJHester_7) February 17, 2018
Hester says he will be back to Norman for the spring game and has no other visits to other schools set up at the moment.
Hester stated,"the visit really made me realize they want to know me as person." Hester added, "I loved everything about it!"
Expect Hester to pick up a ton of offers, but one thing is for sure: Oklahoma will be a major player for him going forward. – (Brandon)
– Oklahoma is the last official visit for highly sought after grad transfer target, Calvin Anderson. Anderson is down to OU, Texas, Auburn and Michigan. K and I spoke, briefly, with Anderson. Last night Anderson texted K and said simply, "It's been awesome so far. I am currently at Riley's house for dinner.
#Sooners grad transfer OL target Calvin Anderson (@THE_CONDA25 ) took official visit to #OU this weekend. Have full interview in just a bit, but quick hitter going up on @TFB_Sooners soon! #Oklahoma made a big impreeion on star OL. @SuperK_TFB pic.twitter.com/TqJqg1UDVM

— Brandon Drumm (@BrandonTFB) February 18, 2018
Anderson's visit has since ended and he texted me when he landed in Houston saying, "the visit was definitely a good one." Anderson added, "OU is going to be in the hunt for a national championship next year. The visit really showed me how real of chance that is."
Playing for a national championship caliber team and getting prepared for the NFL are two of the major criteria he has for a school. They aren't the end all, but certainly play a role. Those two aspects are some of the reasons Oklahoma is in it to land the star OL grad transfer.
We will have much more on Anderson soon, as I spoke with him last night and will have a full write up shortly. – (Brandon)