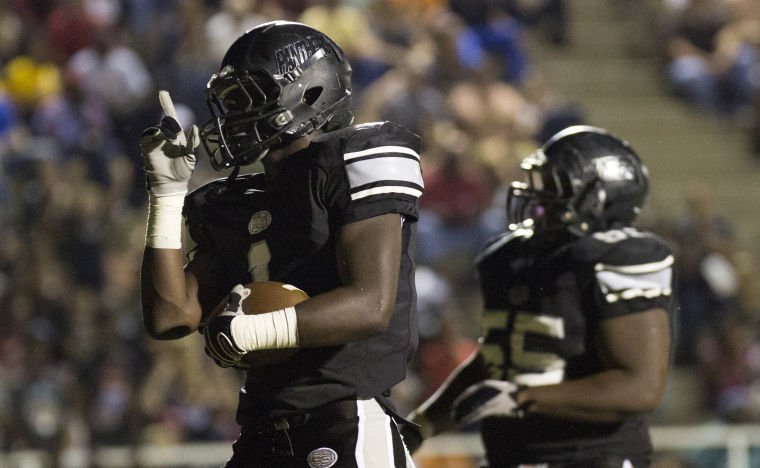 2015 LB Amonte Caban – What OU Needs
Posted on: August 14, 2014
Image via Opelika-Auburn News (Photo by Albert Cesare)
Derrick Brooks, Derrick Johnson, and Lavonte David are names that come to mind when I see Amonte Caban (Smiths, AL). I know, I know, this comparison is absolutely ridiculous! We're talking about a Hall of Famer, a Big 12 Defensive Player of the Year, and a 1st team All-Pro selection. I am fully aware of these lofty accolades, but I don't care. I am willing to be audacious, because I really like this kid!
Inside linebacker recruiting is critical right now. Frankly, it's always critical in the 3-4 scheme. Oklahoma needs fast, physical, instinctive guys, and they need to build some real depth at that position. With Jordan Evans being ill, the uncertainty surrounding Frank Shannon's situation, and the lack of time Aaron Franklin has seen on the field, there don't seem to be a whole lot of options at the ILB position. And even if all three were available, we're still talking about a converted safety playing ILB in a 3-4 (Franklin), two true sophomores (Alexander & Evans), and a distinct lack of a fourth legitimate player to complete a two-deep.
When breaking down any linebacker, I have to know if he is a '3-down' backer. Does he have the HIPS to play in coverage, or does he have the first step, hands, and HIPS to charge the pocket. Caban appears to have all three. But he's also just a play-maker and I can't express that enough. In fact, at first glance OU fans might see Rufus Alexander. While Alexander was a Louisiana guy and Caban is an Alabama guy, the two of them just look like they're cut from the same cloth. Caban punishes everything. He has a zone and it's everywhere. There is a play on his film where he's manned up and displays one of the most fluid 'speed turns' (when a player knows he is going to the flats and, for a split second, turns his back to allow himself to recover from an arrow route) I've seen.
Caban's largest flaw drives any coach insane. His first movement is always straight up. He doesn't even get into his first step before he stands up. And in doing so, he essentially handicaps himself. Once a player is in his stance, he must always play at the same level where he begins, with a slow crescendo of the HIPS prior to the tackle. Caban is one of the most explosive athletes when he's closing and tackling, but he rarely begins in proper position. Even his pre-snap stance has a ton of wasted motion; hands on his knees, which makes for an awkward knee bend, butt out instead of more down, etc. But all that said, he still makes the play! Once he gets to college and gets additional instruction all these things will be easily correctable.
I'm going to be honest. I see a future All-American type player in Caban. To me, he is a potential Butkus Award type of a guy with the right coaching. He plays with moxie that coaches seek and the athleticism that makes them salivate. As a former LB and current coach, I love linebacker play and Caban is a guy that gets me excited. He is a player I will follow wherever he goes. A novice observer might see too much Jeff Luc (2009 All-American who signed with Florida State, but transferred to Cincinnati), but Caban has better hips and sideline-to-sideline speed.
Caban may be a tad sawed off. He may be a little raw. But I simply don't care. He is a player and fits what OU wants. And, frankly, at this point is what really OU needs.