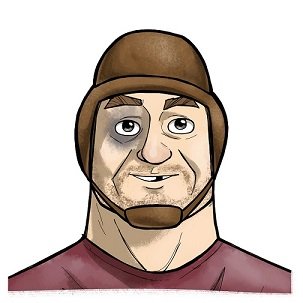 2016 OK Preps Offensive Linemen Feature
Posted on: April 7, 2015
If you weren't already aware, there are quite a few talented OL prospects in this 2016 OK Preps class. And seeing as it's one of the things we do around here, I wanted to take some time to feature three in particular who have stood out to me thus far.
– Luther Harris: 6'6″ 361-pounds, plays right tackle for Heritage Hall in OKC. Much quicker than you'd expect for a guy his size. In my opinion he's a guard at the next level, although he could probably play on the right side at tackle in certain schemes. Very similar to a Dionte Savage type of player that is big, quick & aggressive. He plays very hard but could stand to drop around 20-30 pounds which would help him be more effective.  Very simply put he's a drive-blocking steamroller that could flourish in the right scheme. Seems to be a hard working kid that goes all out on every play.
Recruiting – After a great showing at the recent ESPN camp in Dallas, Harris is beginning to pick up some interest. In fact last, Brandon reported last night that Harris just picked up an Ohio offer. Harris also holds an offer from Tulsa.
– Rowdy Frederick: 6'6″ 320-pounds, plays guard and tackle at Broken Arrow. Simply put, this is the kind of kid you want on your team. He plays hard on every snap and gives you a guy who is versatile enough to play virtually any position up front. Reminds me a lot of Bronson Irwin, who you'll recall bumped out and played right tackle for OU in the Sugar Bowl a couple of years ago.  Frederick has good size and anchors very, very well in pass protection. He very rarely, if ever, gets knocked backwards, which is a good sign of his power.
One play from his film in particular comes to mind down by the goal line where he's at guard and pulling on a power play. He's two steps into his shuffle, when a backer is filling hard and is on top of him very quickly. However due to his technique and staying square to the line of scrimmage, he took the best hit the backer had without even flinching and was able to recover quickly enough to drive the player into the end zone while his RB scored on the play. Frederick isn't going to enamor you with being a dancing bear type, but he's a nice combination of athleticism, toughness, power & grit.
Recruiting – Frederick held a lone offer from Tulsa, but after winning the MVP award at a recent Rivals camp shortly thereafter Texas Tech also offered.
– TJ Fiailoa: Huge kid at 6'4″ 340-pounds playing guard and tackle for MacArthur (Lawton, OK), but with his frame it definitely doesn't look like he's carrying 340. Very athletic and aggressive, always looking for the kill shot on defenders, which I love. He's very thick in the lower body but could stand to gain some good strength in his upper body. At this point, he shoves and pushes more than he locks onto people. If he figures out how to use his hands and upper body more effectively, he could develop into a devastating player.
In my opinion he's a guard at the next level, but one who will be athletic enough to bump out and play tackle in a pinch. A former teammate of mine has a son who plays with Fiailoa at Mac and says TJ is a great who plays the game the way it's supposed to be played. He's a little raw at this point, but displays all the potential to turn into something special in the years to come.
Recruiting – We haven't had a chance to catch up with Fiailoa yet, but various recruiting services show he holds a Utah State offer.
– Coach JY's Board: When looking at various recruits, a program prioritizes their recruiting targets and creates a board with a list of those targets. So while I like all three prospects, I'm going to offer up some thoughts on what my board would like as I watch film on all three of these players:
Luther Harris would likely be at the top of my board. While all three are power five conference level players, I'd set my board as Harris, Fiailoa and Frederick in that order. What you have to keep in mind, though, is that their games and skill sets are very different, and coaches are going to want different things to fit their preferred style of scheme. I project all three as future guards but, for example, Frederick has the most versatility in my opinion.
So to that point, some coaches may have him rated higher the other guys if they have a need for guy capable of potentially playing multiple positions. From an athleticism standpoint, I think that Fiailoa takes the honor there. He is very natural, but raw player at the moment. While he has the feet to play tackle, he needs to work on his hands a little more. Once he he's able to show that he locks people out consistently, he could become special. Finally, Harris is probably the most powerful out of all three. At least in the old scheme, he's probably the kind of player that Bill Bedenbaugh would love.