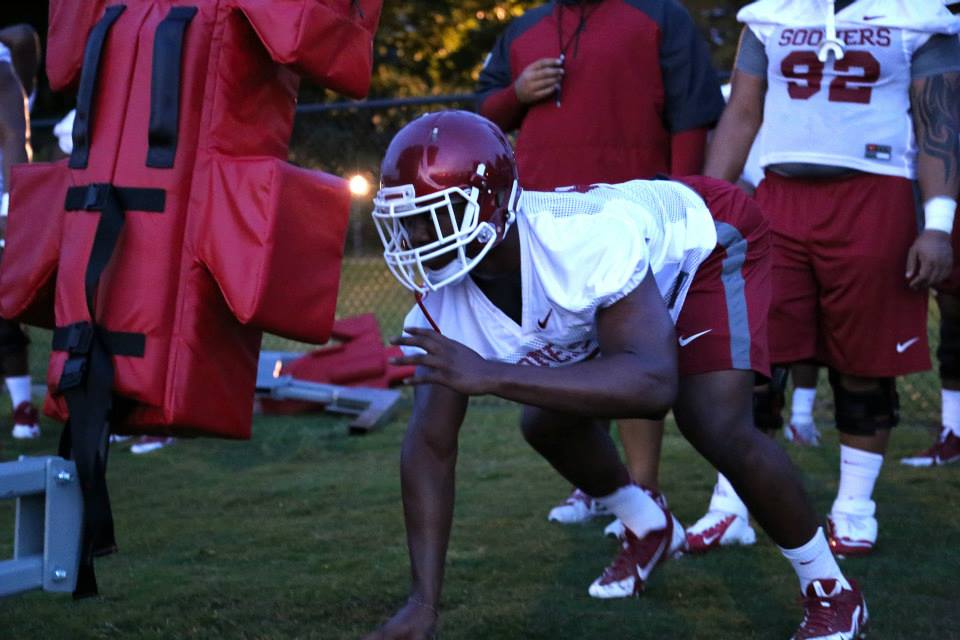 Obo in Focus
Posted on: February 9, 2014
Image from Soonersports.com
I'm sure many of you love hearing about how players that we haven't seen on the field yet are doing or had been doing in practice. Throughout the off-season we will try to bring you some "behind the scenes" looks at some intriguing players on Oklahoma's roster. For now most of the information will be based on what we saw last time we had a chance to look at some of the OU prospects (we saw most in practice/Fall camp this past season) but hopefully this spring we will be able to bring you more updated information. As many of you know these are all young players that are developing fast. We saw how quickly some of our young players grew up between the end of the regular season and the bowl game. I suspect we will see a great deal of growth this off-season.
When I first saw Ogbonnia Okoronkwo (Obo) play it was back in high school where he played the 3-tech and NT position. He was obviously undersized at those positions. But even as an undersized interior d lineman in high school you could see he had incredible hips and a great first step which would show up in fall camp as well. I loved that he didn't mind playing in the interior line in high school. It showed me he didn't mind getting physical and dirty. Anymore high school players want the glamour and the spot light but playing DT means you won't necessarily get all of the sacks. That's especially true when you play in a place like Houston where just about everyone runs a zone scheme and your interior linemen are going to regularly get scooped by the center and the guard. But despite that Obo still found ways to get in the backfield, make plays and rack up tackles for loss. He had developed a couple of pass rush moves such as bull rush and then he would show off a club/short swim move which allowed him to get vertical quickly, knifing through a double team then getting a TFL. For such a young kid at the time it was very impressive.
When I had a chance to see Obo again last fall camp at OU he looked like he had put on a little weight. I had never seen him up close until last camp and I was really shocked at how long he is. His wing span is unbelievable and as a pass rusher that is definitely something that can benefit him if he learns how to use it. His bull rush wasn't nearly as effective as it was in high school, which obviously isn't a surprise. But you could still see that incredible first step. I think Obo will compete for the other hybrid position opposite Eric Striker. Like Striker Obo can turn the corner with ease and that is one of the first things you want to see from a potential pass rusher. It something I'm still not certain I'm seeing in someone like Michael Onuoha. But Obo definitely has it in my opinion. A great initial first step can do a lot but it's the ability to flip the hips and collapse the pocket that can separate a guy from first team and second team.
I think Obo knew he was going to redshirt and I believe it was the best thing for him. The red shirt year should have helped him develop the size and strength he needs to hold up in run support but overall, I always liked what Obo brought from that stand point. He wasn't as big as he needed to be but he's a strong kid. And with a year of weight training there is no reason why he can't sit in the 230 to 238 lb range by spring.  He is not a text book tackler but certainly knows how to get a ball carrier down. Obo has a chance to make a big impact this next spring. I'll be curious to see what counter move he will be working on from the club/swim move to a possible inside move of some sorts. He always seemed to have a have a good initial punch with quick hands.
To bottom line this for you Obo has the right combination of qualities to be a really excellent hybrid OLB in our scheme. Last week coach Wright mentioned that they would probably start Devante Bond as an inside linebacker. Most folks, including myself, assumed that Bond would be an outside LB. But you have to wonder if perhaps they are seeing the benefits of Obo's red shirt year and feel like they could potentially have three elite pass rushing linebackers on the field with Bond, Obo and Striker. As such the desire to try Bond as an inside linebacker would make sense because Oklahoma would then have a number of ways they could mix and match personnel to get great run support on the field and great pass rushers on the field.
Obo is just another one of the many reasons that there a lot of people, including us Brainiacs, who believe this defense is headed to nasty heights. We look forward to bringing you an inside look at some of these players when spring ball starts. We can't wait!
UPDATE (added by Super K): Just wanted to add that there seems to be a discrepancy regarding how Devante Bond will be used. Coach Bobby Jack Wright was asked about him and said: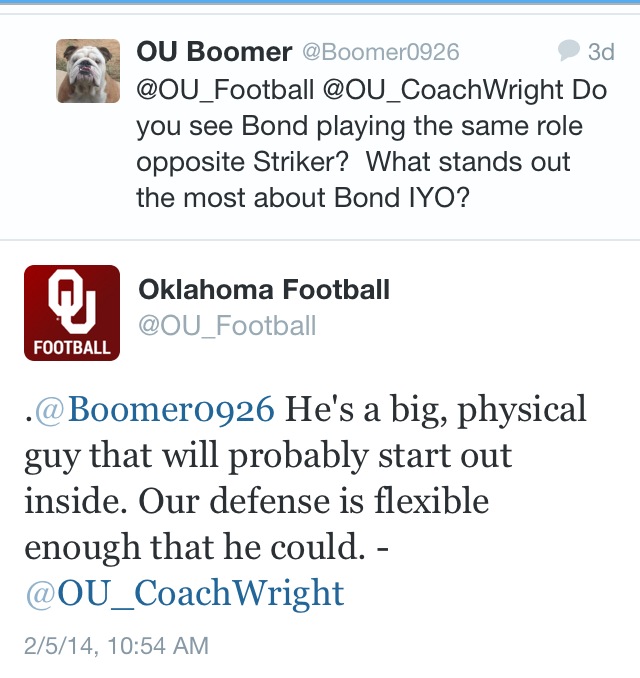 However, there is also a quote from coach Kish on Soonersports.com that says: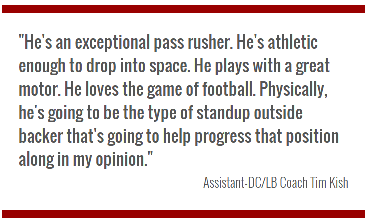 Perhaps the difference in the quotes is simply due to the fact that it's still under discussion but it could also be based on the 3-3-5 alignment where the ILB really sometimes looks like and aligns in an OLB spot because of where Striker lines up. That's especially true in certain down and distances. We saw them move Shannon around quite a bit. And there was a point early in the season where it was hard to really name an LBs spot because of the alignment. Some of the coaches are still using old 4-3 lingo. Our depth chart on Soonersports never even accurately reflected the scheme change by using traditional odd front parlance.