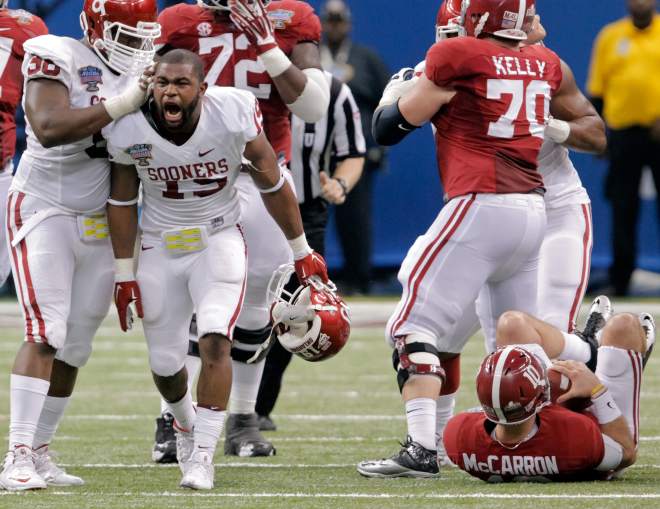 Nothin' but the Dog in me
Posted on: January 12, 2014
Image from TheAdvocate.com (Photographer: Scott Threlkeld)
When K asked us what our confidence levels were and score predictions a day before the Sugar Bowl, I had to think about it for a bit.  As soon as word came out that we drew Alabama in the Sugar Bowl, I was beyond excited.  We've said it quite a few times on Brainiacs that good knows good and ball knows ball.  I want to take that a step further and say dog knows dog.  Anyone who knows anything about me knows that there are two ways to motivate me.
1.  Tick me off.
2.  Tell me that I or my team can't do something.
I've been excited about this team since last spring.  When we added Coaches Montgomery and Bedenbaugh last year, there were some videos that soonersports.com put up that had the coaches mic'd up.  I immediately liked what both were doing because they were teachers, what I liked even more was what they were teaching.  Coach Montgomery said that effort, toughness and technique are three things that don't require any talent.  I really got behind what Monty and B were trying to instill into these young guys, because I can identify with it.  There's a behind the scenes game that goes on in life and on every football team.  The things in my opinion outside of my faith in God that I hang my hat on are grit, toughness and an undying belief that someway, somehow, if I can turn it into a situation where the victor will be determined by who's willing to work the hardest, then I have no doubt that I will win.  In my professional life, and throughout my time as a ball player there have people who were smarter, more talented and better than me, but I have encountered very few who were WILLING to put in the work day in, day out and really boil it down to see what they were made of.  Make no mistake about it, it's a choice.  In proverbs it says that greater is he who conquers himself than he who conquers a city.  Being accountable to self is important, but being able to look into the eyes of your teammates and without a doubt make that promise that you gave them everything you had takes courage.  It also takes grit, toughness and you have to be willing to get hit.  You have to be willing to live with the disappointment that goes along with a broken heart if you lay it all on the line and come up short.
Getting back to our Sooners, that willingness to get hit is something that recently started coming to the surface.  The week leading up to the K-State game, quite a few people out there had written this team off.  Even though we were 8-2 and were coming off of a win against Iowa State, a few people were saying that we'd end up 8-4 and get a trip to the toilet bowl.  Next thing you know, we go to Manhattan and win, and then somehow find a way to beat Oklahoma State in Stillwater.  Right after Bell's big pass to Saunders, there was under a minute to go, and something happened right there on that icy field in Stillwater that you don't see very often.  Our team full of pups started believing.  Everything culminated in that moment for me when I witnessed Eric Striker and Charles Tapper take control of that game.  It wasn't so much of what was happening during the plays as much as what they were doing between the plays.  Eric Striker was just losing his mind, and Tapper was being the guy that everyone knows that you just don't mess with.  In that moment I realized that our team was going to be special.
So getting back to that earlier point I made about dog knows dog, I could see that dog in these guys.  I could see that Torrance Marshall Orange Bowl coin toss moment, that I haven't seen in a long time.  I could see that Rocky Calmus attitude, that Dusty Dvoracek attitude, that Book Everage attitude. That unwritten notice that says that if you're going to beat me…you're going to have to beat me, because we ain't givin you shhh.
One of the reasons we love Eric Striker so much is just because of that dirty south Florida attitude that he just exudes much like fellow Floridian Torrance Marshall.  Earlier in the week he was asked if Alabama was going to be the most physical team they'd played all year.  Just being himself he says "dunno…haven't played em yet."  That attitude is priceless.  His statement said so much in so few words.  Without being disrespectful he says without saying it that I don't give a flip who you say you are, or who everyone else says you are, you're going to have to fight me…You're going to have to fight us.  That attitude is contagious, and it comes from the top down.  It's more evident in Mike Stoops than any other coach we have, but Thursday night you could sense it from everyone.  Getting back to Striker, the guy goes out against Cyrus Kouandjio who before last night was considered the best left tackle and college football.  A lot of people had him penciled as a top five pick in the draft.  What does Striker do?  Comes out, dominates him and gets three sacks off of him.
There's just an attitude that exudes from this team that we haven't seen in a long time.  Guys were close to coming to blows with each other a few times during the game.  While you may think I'm crazy for liking that, there's an accountability between teammates that you just can't help but love.  Guys caring so much about doing things right that they were willing to kick their own teammates butt if they didn't think they were focused enough.  Time after time after time last night whether it was Charles Tapper, Sterling Shepard, Jalen Saunders, Geneo Grissom, Gabe Lynn or Eric Striker, guys just weren't backing down.  They were in Bama's faces all night and each others.
The talking heads can say whatever they want about Bama being uninspired or having deficiencies, but leading up to this game, Bama had ROLLED through the SEC.  People were shocked that Auburn beat them, and there was even one writer who said that he would vote Bama #1 even after the BCS National Championship game and regardless of the outcome.  So to see our guys perform the way they did last night speaks volumes about just how focused and well they had prepared approaching the matchup.