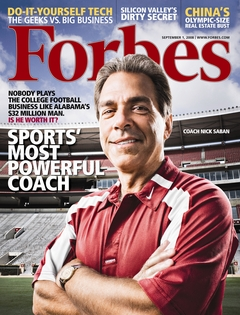 Nick Saban to Texas Appears to be a Done Deal
Posted on: December 4, 2013
Image from Forbes
We have word now from two trusted sources that Nick Saban to Texas is a done deal. One of the sources said the money he will get is substantial (obviously) but we haven't got any word on what that number might be.
UPDATE: for those asking for exact dates on when this is going to happen. We don't know. We are telling you what we know which is that we have two very good sources that have told us that Nick Saban is going to Texas and one of the sources said that the money is going to be substantial. We would not have run this unless we trusted the sources.
We received word from one source saying it was going to happen and then we contacted a second source asking for confirmation and the second source confirmed. That's what we know.