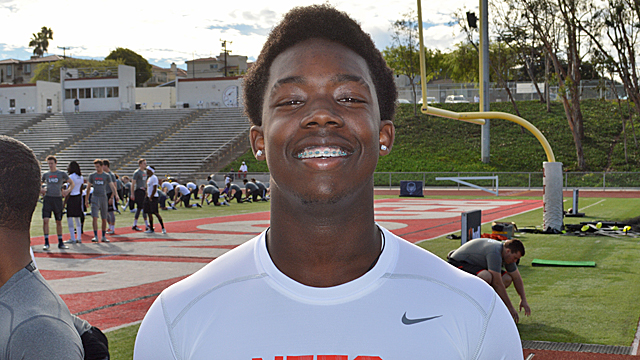 New 2015 Linebacker Offer (Updated 1:24 pm)
Posted on: August 27, 2014
Image via scout.com
2015 linebacker, Khaylan Thomas, tweeted out that Oklahoma has offered him:
Just got a big offer by Oklahoma happy happy man

— RememberTheName ⓚ7⃣ (@ThatManK7) August 27, 2014
Thomas hails from California and already has a number of offers including offers from UCLA, Arizona State, Oregon and Miami. After watching a little bit of his FILM all I can say is…why didn't this offer happen sooner? He plays outside LB in high school but looks more than capable of playing ILB in OU's scheme. He's got a nice frame, great bend, and he closes he extremely fast.
We'll get some additional thoughts from Ace on Thomas and see if we can get in touch with his and see what kind of interest he might have in Oklahoma.
UPDATE (1:24 pm): Wondering how much initial interest Thomas has in OU…how is this? He just tweeted out his updated top 5 and OU is in it:
OU ASU UOFA OREGON OREGON ST top five no order

— RememberTheName ⓚ7⃣ (@ThatManK7) August 27, 2014