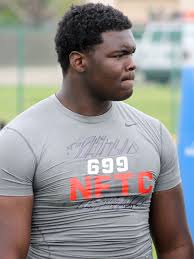 More On The Du'Vonta Lampkin Decommitment
Posted on: April 23, 2014
Image via 247 Sports
Firstly, it's great to be back home. I had a great trip, but in the immortal words of Dorothy "there's no place like home."
I came back to the news that Du'Vonta Lampkin decommitted, but I can tell you that it did not come as a complete surprise. I got wind of this possibility last week just before I left. I'll let y'all in on what I was told prior to my trip and give a few thoughts on recruiting in general.
Last week I was told by a source that Du'Vonta was planning on going to the Texas spring game, and that he would assess where things stand with his commitment in general after that. I asked Du'Vonta if he was going to go and he didn't respond, which is unusual because he typically responds to me immediately. That furthered my suspicion that a visit was imminent. I haven't confirmed whether he made it to the Orange/White game, but as soon as I heard he was going to "assess where things stand" after he saw Texas, I figured there must be some serious interest regardless.
I know Du'Vonta has said that OU still remains number one and that may very well be true, but if I were a betting man my money would be on Texas right now. It really doesn't seem like a situation where there is much OU could have done differently (and that's definitely not always the case in my opinion). Du'Vonta has been to OU a number of times. He's got a great relationship with the coaches. At one time he was even recruiting for OU. And it may very well be just one of those things where he's itching to be back in the mix of the process, but the decommittment coming so soon after I heard from a source that it was possible makes me feel that his decision was, at least in some part, because of Texas.
You can usually stick with a kid who just wants to look around, and in the end there is a good chance he'll come back. When a kid loves another school though, that's tough. Though I will say that based on what I've heard about how Texas looked in the spring game, if the Horns face plant next season then I think OU could win him back.
I want to also add that it appears that the mother really wants him at Oklahoma. But it sounds like there are other voices in the family that wanted him to open up his recruiting. I also know there are some folks that think he could quickly recommit to Oklahoma…as in within the next week or two. But again, I don't have a great feeling about it. I can tell you this, while the Oklahoma coaches would welcome him back they are definitely working on other targets.
But the question I ask myself is…would I take Du'Vonta back if he wanted to recommit?
If I'm being completely honest, I wouldn't. I think Du'Vonta has a great frame and probably has a decent upside. But at the end of the day, there is nothing I hold in higher regard for a DL, especially a B-gap player (and of course anything further out) than an explosive first step. And that step just isn't there with Du'Vonta, in my opinion.
—
Enter Neville Gallimore. We'll talk more about him later, but for those of you who missed it OU offered Gallimore (a 2015 DE/OLB out of Canada – yes, that Canada) yesterday. You may recall that we talked about Neville a couple months back, but if you missed it you can read our notes about him here (see the second note in the post). Neville was EXTREMELY excited to receive the Oklahoma offer. I know Neville's coach, and I'll hit him up later today or tomorrow, but the early impression I get is we could land Neville. He's exactly the kind of kid I like OU going after. What Oklahoma does best is development, and Neville is a kid that has all the tools but needs coaching and experience playing against elite talent. On a side note, the kid weighs 280+ lbs and Geoff (his coach) told me he can do 10+ wide grip pull ups!
There is no question that Oklahoma isn't have the best time right now in recruiting, and I know it can be frustrating. But I assure you we are very high up on the list for a number of talented kids. Oklahoma is not a school that pushes for commitments though. OU isn't the type of school that is going to tell a kid, "hey you better commit because your spot is about to get filled." That isn't to say that haven't done it, because at times they have, but for the most part it's not part of their DNA as a staff.
I still believe we are going to end up with some tremendous players, especially on the defensive side of the ball. I've heard some good news about a few players just in the past day since I've been back. Having said that, I can tell you that recruiting isn't some secret magic formula. It comes down to charisma, sincerity and probably above all else simple hard work.
And while, like every staff, OU has made mistakes in recruiting, these latest two decommitments have nothing to do with a short coming on the part of the OU coaching staff. Josh Wariboko simply wants to see what else is out there, and wants to see if there is a legit chance he could play with his brother. In fact, he asked Oklahoma point blank if they would offer Max, and they answered him truthfully and said not at this time. There isn't much OU can do about that. With Lampkin, again you have a situation where it seems the young man may have grown up loving another program that's only 2.5 hours away from home and has some people close to him that encouraged him to open up his recruitment. So while I would argue that our recruiting efforts could use a boost, I also think these latest two decommitments were beyond Oklahoma's control.