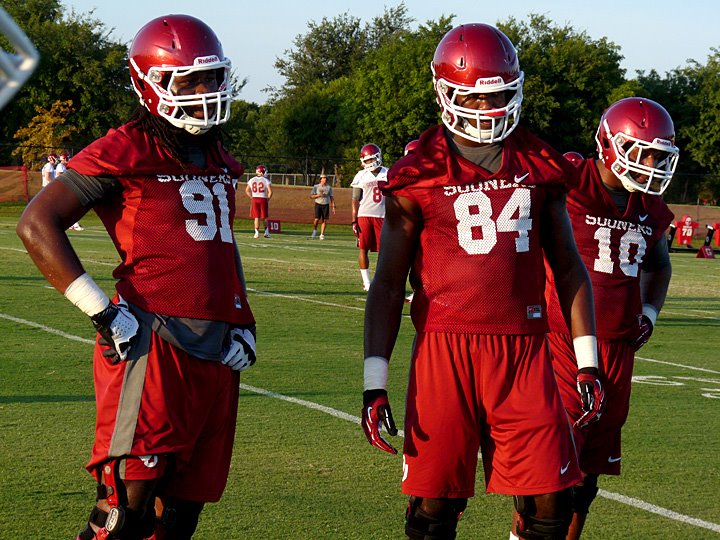 Michael Onuoha in Focus
Posted on: January 19, 2014
Image from Soonersports.com
I'm sure many of you love hearing about how players that we haven't seen on the field yet are doing or had been doing in practice. Throughout the off-season we will try to bring you some "behind the scenes" looks at some intriguing players on Oklahoma's roster. For now most of the information will be based on what we saw last time we had a chance to look at some of the OU prospects (we saw most in practice/Fall camp this past season) but hopefully this spring we will be able to bring you more updated information. As many of you know these are all young players that are developing fast. We saw how quickly some of our young players grew up between the end of the regular season and the bowl game. I suspect we will see a great deal of growth this off-season.
Back in November there were some folks curious about Charles Walker and Mathew Romar which we responded to in a "Mailbag" post. If you missed it, here it is: https://thefootballbrainiacs.com/?p=1323
This week I thought I'd give you a few thought on Michael Onuoha or "Big Mike":
A former undersized power forward at Edmond Santa Fe, Onuoha has very limited experience playing football in general. Oklahoma and Missouri ended up getting very involved in his recruiting. UTSA, where I used to do recruiting evaluations, is where I came across him. I got a chance to see him up close for the first time at the OU football camp and have seen him many times since then. Michael Onuoha's true position is still a bit of a mystery. When he was first recruited, Oklahoma was still running an even front and he would have fit in perfectly at defensive end. In Oklahoma's new front things are a bit up in the air. At first Oklahoma tried him at stand up OLB opposite of Striker. Onuoha is a really long player, much taller than any of the other prospects we have at the position but he is still very raw.
For a player his size he is explosive with a good initial step that is long and it allows him to gain separation quickly. His long reach gives him a good counter move into a bull rush because the tackle is having to recover ground because of Mike's quickness and that ulimately forces the OT to play too high. However, Onuoha still seems to struggle with getting to the corner and being able to collapse the pocket which allows the tackle time to recover and play him honestly. It will be imperative for him to really gain big strides in his overall flexibility. In my opinion, currently he is just too stiff in the hips to really be a complete pass rusher, at least at the stand-up position. But Oklahoma seems to have done an excellent job of putting weight on him and when I saw him in New Orleans in street clothes he looked like a rock solid 250 lbs.
If Devante Bond emerges like a lot of people are anticipating, then I believe they will slide Onuoha down to the 4i DE position where he would go from a stiff OLB to potentially a flexible 4i DE. With the developing depth at that position, he could crack the rotation. It won't be easy but he's got the athleticism to do it. He really is a tremendous athlete and one thing I have learned is that former basketball players with limited experience are like blank canvases. You can coach them and mold them into whatever you want and teach them to play whatever technique you want. There are certainly things that may take a little longer to teach because the player is so raw but you don't have the bad habits to break either.
We look forward to seeing Mike in the spring and seeing where he ultimately ends up. He has a tremendous frame and great athleticism so he can be about as big he wants to be. At this point my guess is he ends up at the 4i.