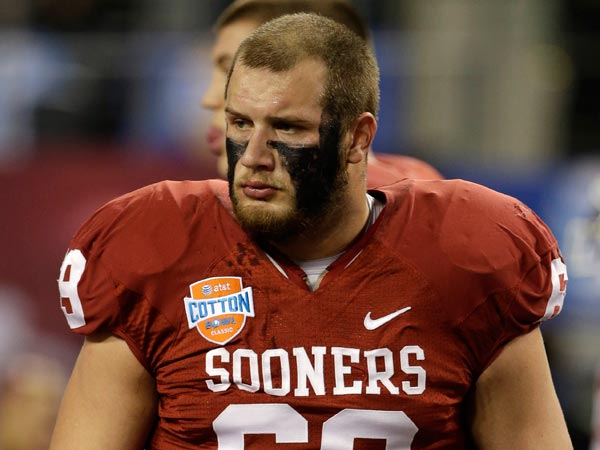 Mailbag – Explaining the Offensive Line
Posted on: January 25, 2014
Image from gcobb.com
We haven't done a Mailbag in a while. A reader sent us an email and asked how one can tell the difference between an offensive tackle, a guard or a center.
Ideally you'd like to set up an offensive line like a V.  Shorter guys to the middle at center and guard and they get taller as they go to tackle on the outside.  This is why a nose like Jordan Phillips who is 6'6″ who is also quick and athletic is such a mismatch inside.  Number one they can't get their hands on him, and two he's bigger and faster.
Your most athletic guys have to be on the outside since they're going to face the most athletic defenders on the defensive line.  That length has to come into play with the height too since you have greater wingspan from defensive ends.  The left side of the offensive line is normally the most athletic.  This is because defenses normally like to put their best pass rushers on that side.  They call this side of the line the blind side, since most quarterbacks are right handed.  If you have a lefty at quarterback, then it's changed.
While tackles are considered the most athletic, your guards have to be athletic too.  Your center has to be very intelligent, and close in athleticism as your tackles.  Centers have to step and step, and in today's age in the shotgun, that's even more difficult.  They have to know everyone's job, and get people in the right protection in a lot of schemes.  Your guards have to be battering rams, because you'd like the middle of your offensive line to be like the tip of a spear with the tackles cleaning up the trash on the outside.
As always we appreciate the question and hope that helped a little. For any further explanation feel free to drop us a note/question in the comments section below.