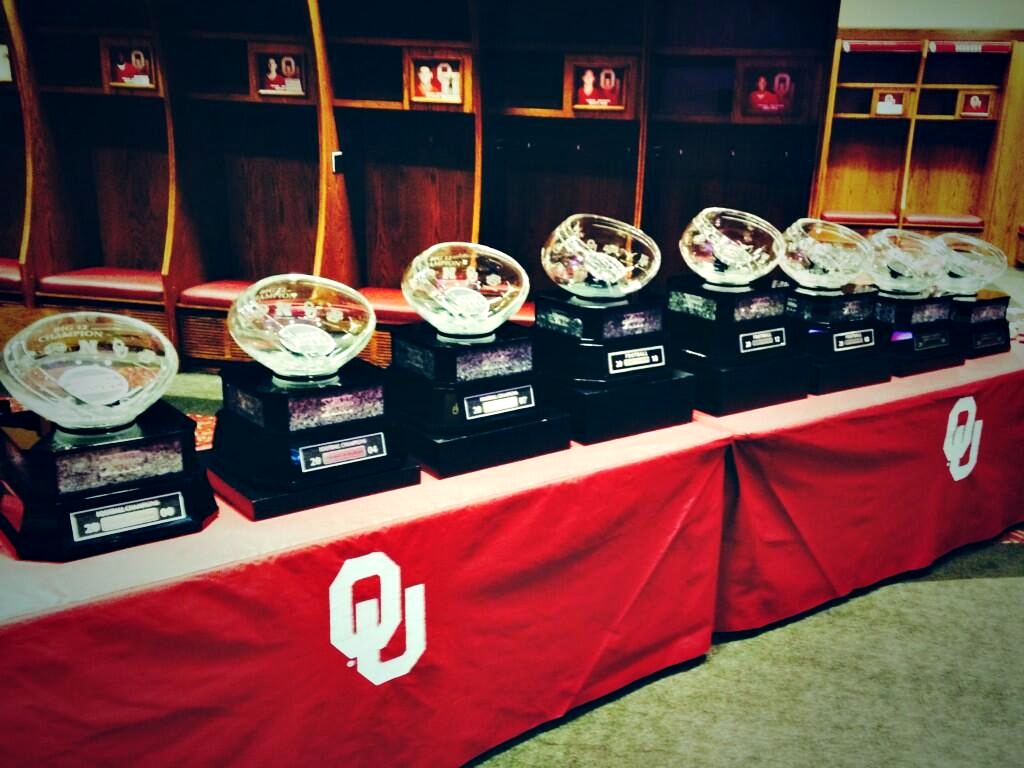 Jr. Day Visitor Notes and Quotes
Posted on: February 2, 2014
Image from https://twitter.com/OU_CoachNorvell
We've been trying to catch up with as many visitors from yesterday's jr. day as possible. Obviously, we couldn't catch up with all of them but did get a chance to chat with a few.
Will Sunderland (DB) – This one was interesting because I actually asked Will before the jr. day if he might commit this weekend and he was adamant that he would not. However, when I asked him afterwards if he considered it while he was there, he said "yeah a little bit!"
James Lockhart (DE/OLB) – James was pretty tough to read. I asked him how he'd compare the visit to other schools he's been to and what he really emphasized was that this was a time to learn about Oklahoma. He said, "I learned a lot of facts about OU compared to other schools…OU has a lot to offer". But when I asked him if he'd consider taking an official to Oklahoma he said, "I don't think I'll take an official visit there." I don't know if that's because he feels like it's close enough to get to and he'd rather take visits to other places or what. He did say he doesn't plan on committing anytime soon so I'd guess the Oklahoma coaches will try to read the situation and figure out if there is a legitimate chance there. If so they might stay in for the fight.
Darrion Daniels (DL) – Darrion was pretty straight up about the whole visit and where Oklahoma stands. He said the visit was really good. But he also said that because Oklahoma plays in the Big 12 and because Oklahoma was his first offer "they will always have a shot". In the context, the way I read that was Oklahoma is a legitimate player in his recruiting which is in some ways is the best you can hope for this early on when it comes to big time recruits. I asked him about his relationship with coach Montgomery and he said that they talk every Thursday which is more than he talks to other coaches. He said he feels like his relationship with coach Montgomery is "really good".
Keaton Sutherland (OT) – This was Keaton's first time to visit Oklahoma and he said it met his expectations in most ways and in some ways it exceeded his expectations. He said he enjoyed the trip enough that if he had to make a decision right now Oklahoma would be one of his official visits. That might not sound like much but again it's part of the recruiting process. You make sure the initial visit is good and plant yourself in the recruits top 5 or 6 and then with hard work you hopefully are standing there at the end.
Connor Lanfear (OT) – Connor is currently a Texas commit. He said that he feels Texas is a premier program. But he said "however with the coaching change I also felt that it was smart for me to visit the other powerhouse universities". I asked him if Oklahoma made an impression on him at the jr. day and he said "Sure! And they made a BIG impression." He continued by saying "winning is demanded at OU and it's part of the tradition…it was great!" He also said it's too early to be certain but depending on how things go he'd "love to take an official to OU".
Kahlil Haughton (DB) – Kahlil picked up his offer at jr. day and it sounds like Oklahoma made some moves with him. When I asked him about the visit he said that he "definitely loved Oklahoma!" He also added, "The coaches were friendly and very involved! We got a very thorough visit of the campus and facilities and it was very nice." I asked him if he had any childhood favorite schools and he said he kind of rooted for Baylor and Texas which I took to mean he doesn't have a strong sense of loyalty to either school…which is good for us. I asked him if committing crossed his mind and he laughed and said he definitely liked the trip a lot but he's still trying to adjust to the recruiting process.
Darreyl Patterson (DB) – For those of you not familiar with Darreyl he is a DB/RB out of Lawton. We've had our eye on him. In fact we had Broyles and Stanford Samuels take a look at his film a couple weeks ago. They were both impressed though they thought at this point he may project better as a safety. The OU coaches believe he can play both CB and safety. Coach Stoops and co. seem very interested in Darreyl and Darreyl made it no secret that he is very interested in the Sooners. He loved the jr. day and loved the one-on-one time with coach Stoops. Interestingly, I spoke to Darreyl just a few days ago and he didn't have an invite to the jr. day. But that obviously changed pretty quickly. Coach Stoops told him they will continue to evaluate him and then discuss an offer in the spring.