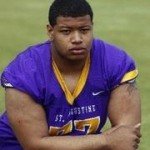 Joseph Paul
Height: 6'5
Weight: 325 lbs
Position: Offensive Tackle
Brainiac's Average Grade:

3.9
/ 5.0
As noted in the Courtney Garnett note from earlier, Joseph Paul, Courtney's teammate will be visiting Oklahoma with Courtney on January 17th.
Huge guy. Listed at 6'5 and 315 lbs but I'll bet he goes 325 lbs. Very heavy handed. A bit of a waist bender. A right tackle to me who will be a road grading, Phil Loadholt type of a player. Has quick feet and can handle speed rushers as well. He seems immune to a bull rush because he anchors so effectively. Has a lot of mass in the lower body while being very strong in the upper body. Already benching over 400 lbs but like Dwayne Orso, he's still a baby. No telling where he ends up in terms of size or strength when it's all said and done. He's one of those monsters that LSU runs out every year that makes you wonder where they find them. He plays very hard and has a great deal of nasty in him. Frequently rag dolls opponents, and does it with ease. He's not the natural athlete that someone like Pruitt is, but will be a highly effective college player. I'm confident he can be an all-conference player if he puts in the work and is in the right system. He seems to have progressed a lot between his jr and sr years. Looks much smoother and more comfortable his sr year. Make me optimistic about his development.
Grade: 3.8
Jason Y.
Joseph Paul is a mammoth of a kid with an NFL type frame. He played RT as a junior but looks like he could be most comfortable sliding inside to capitalize on his strengths. He has very good feet when it comes to getting to the second level. His violent hands and long reach will get any line scout excited. My primary issue with Paul is that he appears to lack the natural knee bend which raises concerns about how he he'd handle a good pass rusher that can turn the corner. However, as a guard he would be able to slide in and with his violent, almost boxer-like hands, he could easily hold his ground against any three tech. Still at RT he shows an amazing ability to block down on the defensive ends. If he were to slide in, that quality tells me what I need to know about his ability to block down on a slower, albeit stronger nose tackle.  Overall, I see an all-conference type OLineman.
Grade: 3.9

Ace