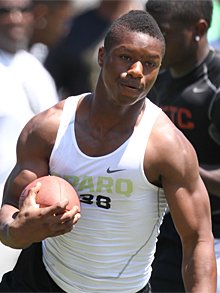 Joe Mixon – the Recruiter
Posted on: January 7, 2014
Image from Scout.com
Put aside, for a moment, the fact that he's a very big and very elite athlete. How amazing is it that he's just recruiting like crazy for Oklahoma?
I mentioned in another post that I talked to someone who knows him and the person praised his work ethic and teamwork. I also mentioned Steven Parker's father told me how much Steven likes Joe. But seeing him hitting people on twitter and trying to bring players to Oklahoma with him just gives you the sense that he really get's it…and perhaps moreso than most kids his age! He knows that Oklahoma will be at it's best when the best kids are at Oklahoma.
And now it seems he's got Samaje Perine (who is a quiet young man) in on the recruiting train. Samaje was hitting up none other than Jovan Pruitt (Samaje is a smart kid – he knows he needs OL to block for him haha). I also feel like Joe has already begun to bring the team together. Sure some of the recruits were tweeting at each other or talking to each other here and there before he committed, but he's really taken it to another level.
Bravo Joe. Bravo! Team chemistry in the locker room and off the field is way undervalued by fans and Joe seems to be getting an early start on creating that chemistry between the incoming players and of course trying to bring the best players to Oklahoma.