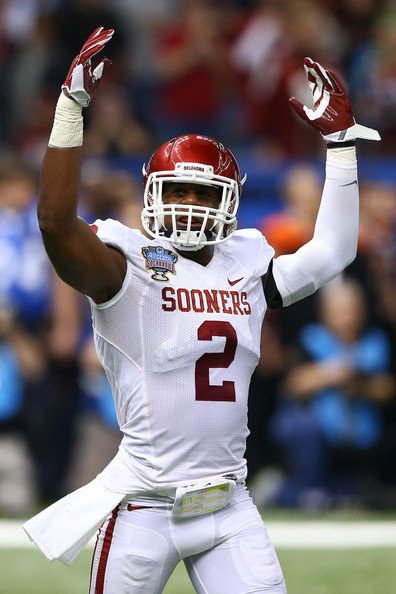 How Did Julian Wilson Look? (And Additional Defensive Notes)
Posted on: September 2, 2014
Image via Streeter Lecka/Getty Images North America
Julian Wilson is a 6'2 200+ lb DB that made the switch from nickel to outside cornerback this past off-season, and in doing so he's faced some skepticism. Earlier this summer I did a brief review of some of his film at nickel to see how it might translate at CB (HERE). Now that Julian has played his first game at outside corner, I wanted to take a closer look at how he did.
The "Bad"

I went through the whole game and to be quite honest, I really only found a couple "mistakes" one of which really was just a great play by the WR.
1. The play everyone probably remembers is when Julian comes down to tackle a receiver, gets juked, and the receiver breaks up field. If you go back and watch that play, I actually think it was less of an error on Julian's part and more just a tremendous cut by the WR. Julian came down quickly, broke down, and really almost made the play showing off some good ability to cut. Again, this is something that didn't bother me.
2. A play where Wilson does make an error is when he gives up a deep pass in his zone. OU is going to initially show a Cover-2 press man under look, and then Julian is going to bail as it appears he's in match man zone. Meanwhile, the outside LB is going to be asked to re-route the slot WR and then play the curl flat.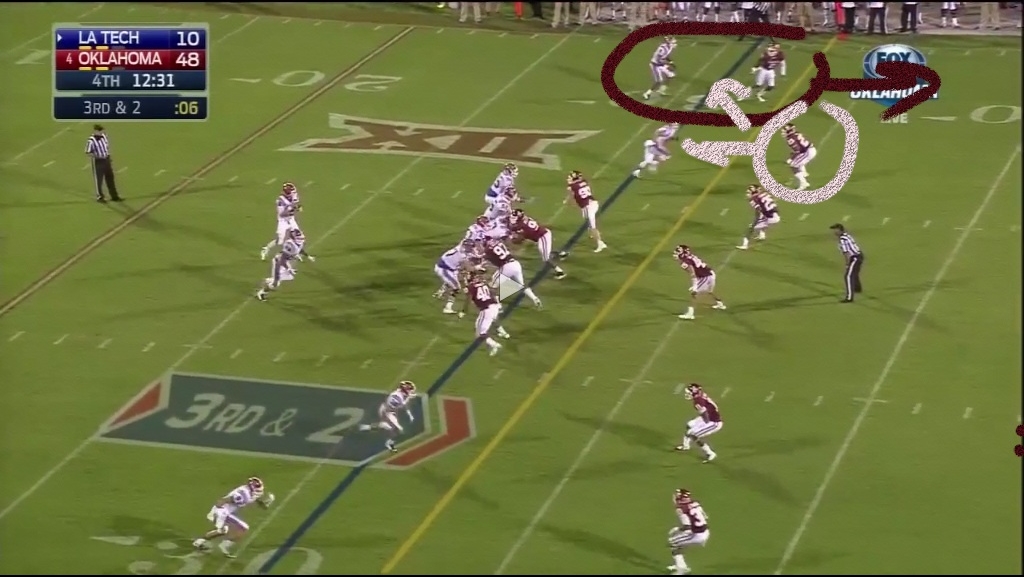 The problem with that being the outside WR is going to sit in the flat, while the inside WR is going to get up field into Julian's zone. But Julian is going to sit on the short route for too long. You're going to see the OLB reroute the WR and at this point, Julian needs to be giving more ground. If he does that then the deep route is taken and Bond is probably plastering the WR in the flat, because that'd be the only place to go with the ball.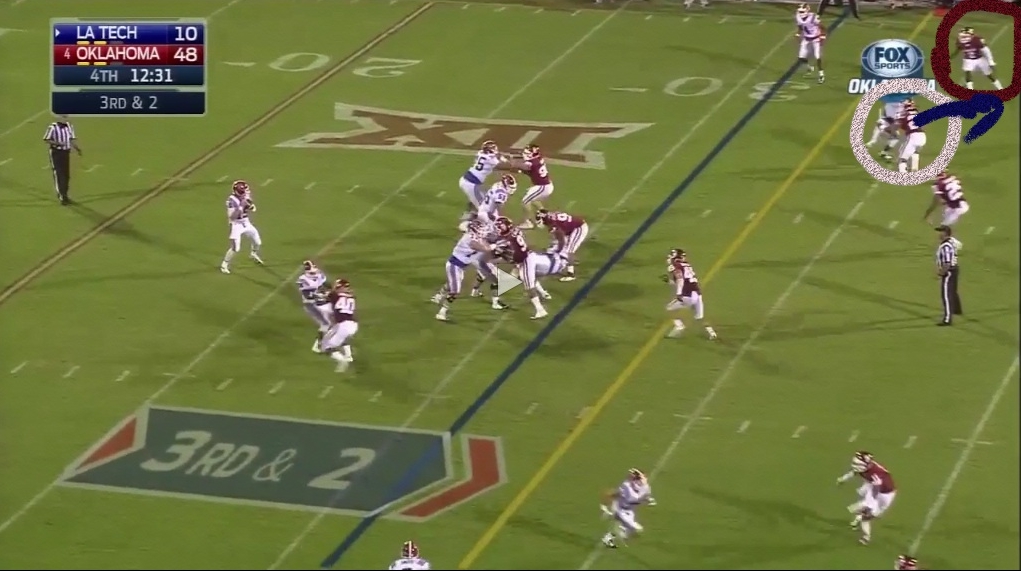 Instead the WR gets behind Julian and even with his speed, he can't turn and stay with the WR. Fortunately, the ball is overthrown. Again, that's about all I could find to pick on.
The Good
Julian showed everything you want to see from a corner. He showed the ability to back pedal, drive, and stone the run. He showed the ability to turn & run with a receiver, find the ball, and the ability to press and be physical.
1. Here is a great play where Julian is in a backpedal and drives on the ball to stone the WR. The outside WR is going to run a deep route and the insider receiver is going to run an out.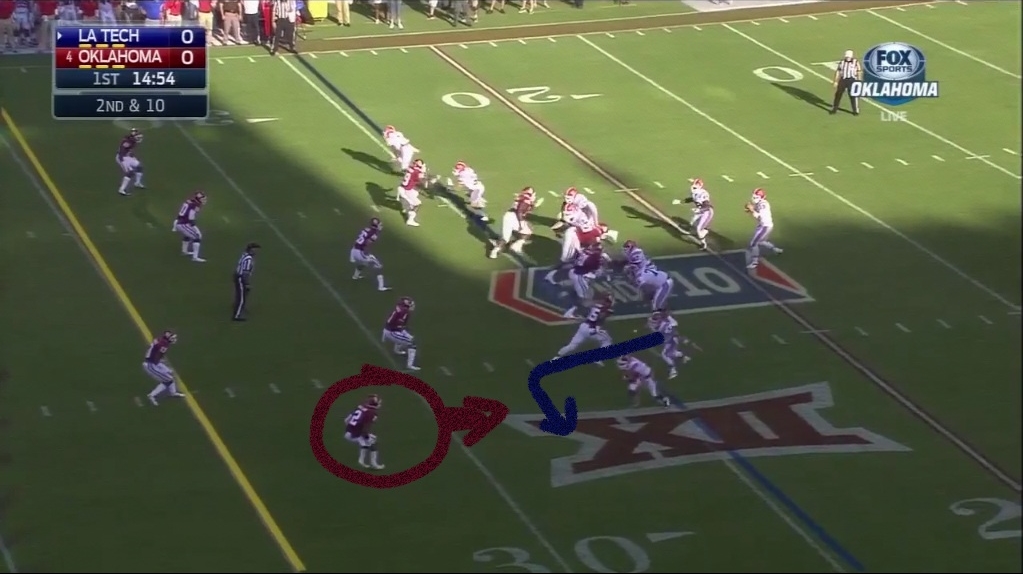 Below, you're going to see Julian T-step and drive, come off the outside WR, and close the yard gap in no time. Pay attention to where the WR is in the image below just before he catches the ball…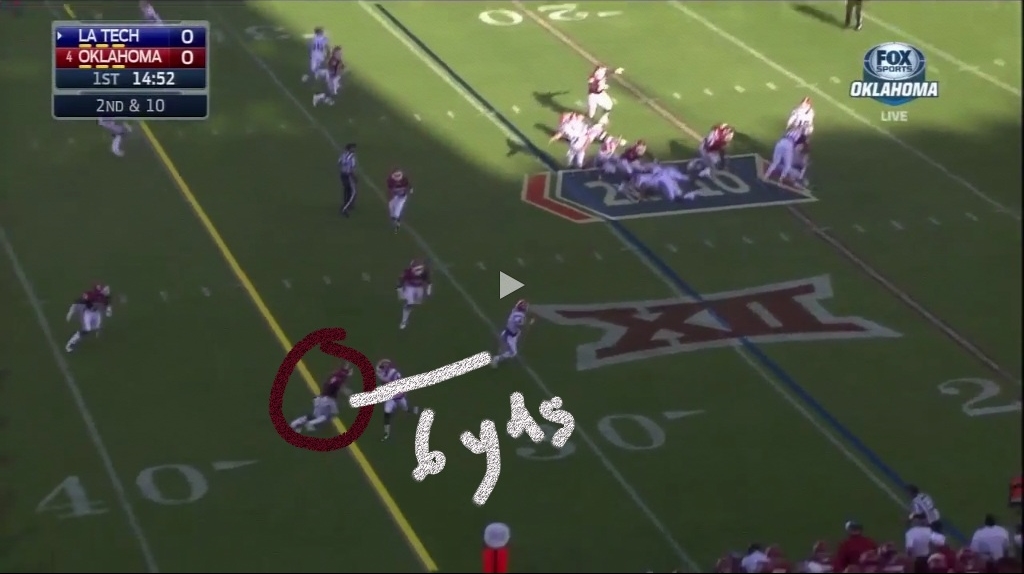 Now look at where Julians hits the WR. The receiver only takes about a step before Julian is in his face, and if you continue to watch the play the WR gains no additional yardage. In fact, Julian's size shows up. He's able to drive the receiver backwards.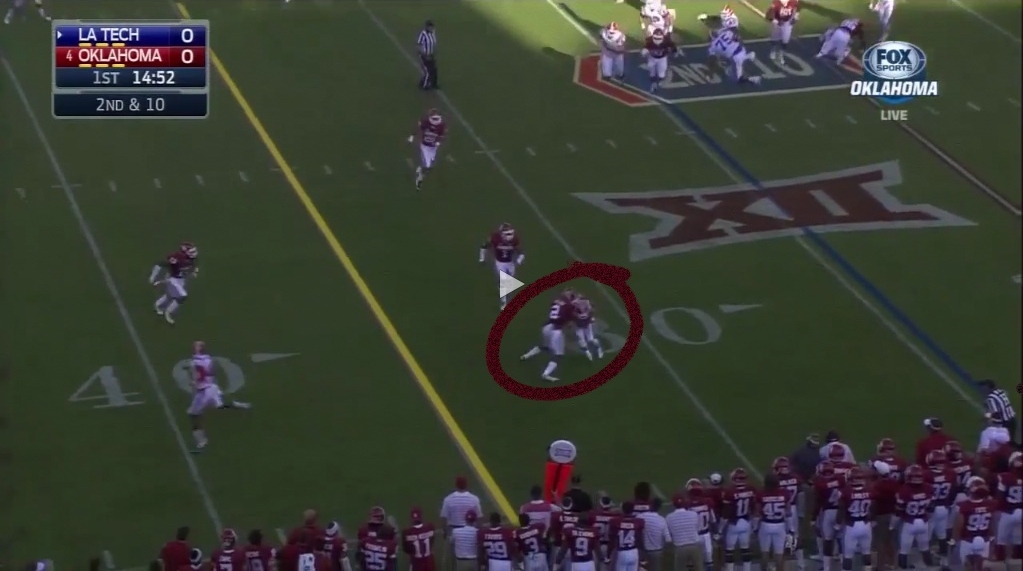 2. This play shows your classic cornerback ability. Julian is lined up in man coverage at the bottom of the screen.
As you can see below, the WR gives Julian an outside release and Julian has the hips to turn through the release and stay on top of the route throughout the release.
Then he shows a quality that is one of the most important traits in a corner and much more rare than one might image…he turns and finds the ball to make the play. This is just textbook corner coverage on a fast senior receiver from Florida who actually led Louisiana Tech in reception yards last year.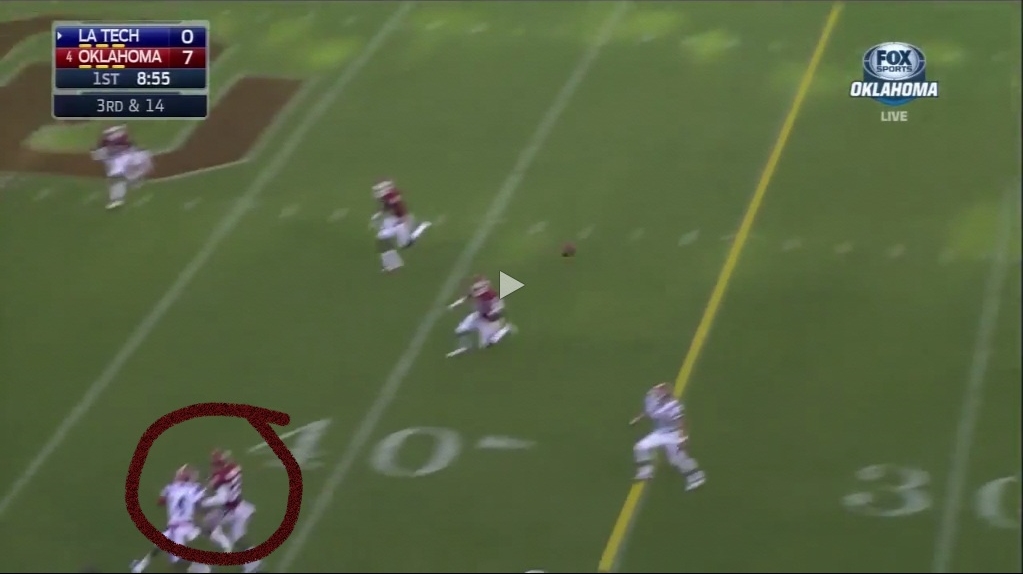 3. This next play is the play where Zack Sanchez picks off the LA Tech quarterback. But one of the best things about this play happens away from the ball and probably went unnoticed by most. This is where you see how the size f and physicality of Wilson at outside CB makes life difficult for WRs.
OU is going to initially show a Cover-2 shell, but then go to a Cover-1 robber defense. This is important because while Julian has a safety deep, he isn't playing with bracket coverage so he's still playing this like he's on an island. The free safety is going to drop to the deep middle and the strong safety is going to come underneath. Notice at the bottom of the screen where I've circled Zack Sanchez, he's already turned and his WR is running along the sideline. Meanwhile, by this point in the play, Julian's WR (circled at the top) has attempted an inside release and he was jammed like Smuckers. So he tries to go outside and again…Smuckers…a second later he's going to try to go back inside and again…Smuckers.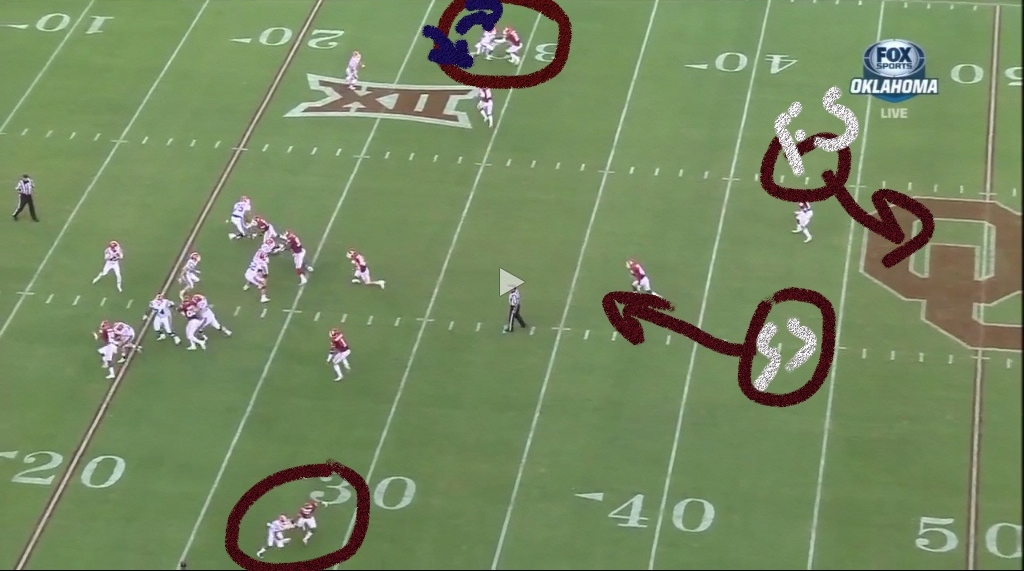 Look at the play here a tick or two later and you can see Julian's man STILL trying to get into his route (I seriously starting laughing out loud!) and while Sanchez plays his route beautifully, his man is now well into his route.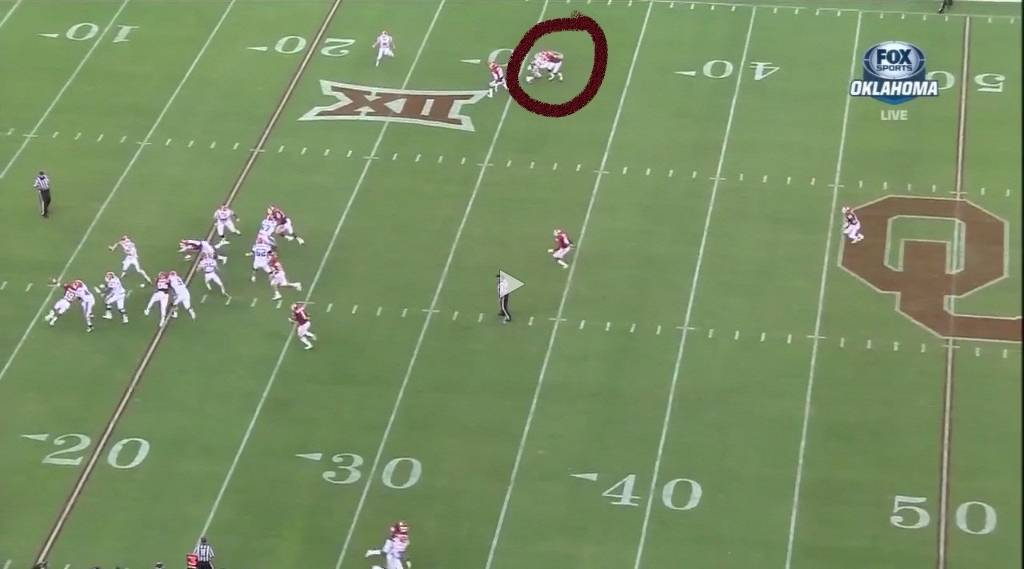 Final Note
It's still early but in his first game, Julian looked good to me. Coach Stoops praised his performance and, in my opinion, it was well deserved. I'm excited to see him go against some Big 12 WRs. In fact, I believe Tulsa has a couple good WRs that could pose a challenge.
Additional Defensive Notes
– I went back and watched Steven Parker play and I really feel like, for the most part, he looked very comfortable. He had an indescribable ease about him on the field that you don't normally see in a freshman. There was a great play at around 1:19:28 on the YouTube upload of the game where Mike Stoops shows you why you want great cover safeties. Parker and Ahmad Thomas show of some great cover ability and demonstrate the flexibility they give the defense.
OU is going to show an off man Cover-2 shell and then at the last minute the nickel back and EVERY Single LB is going to blitz forcing Parker and Thomas to play man on their inside WRs. This is going from looking like Cover-2 to Cover-0 man across against a four WR set. That means were going to bring seven and they've only got six to block. Thomas and Parker stay with their inside WRs, and Thomas actually almost picks the ball off and you can see Parker right there.
– Around 1:56:44, it's 3rd and 2 and La Tech has the ball. Charles Walker absolutely destroys the offensive lineman here. He throws him into the backfield and then wraps up the ball carrier for a loss. This is exactly the kind of play he in made in high school. You're looking at the future here.
– Around 2:07:00, Devante Bond shows tremendous speed with backside pursuit and a tackle. What I really like about this play is that the left side of the defensive line doesn't give any ground so the play was stopped on the strong side. But Bond is so fast that he's actually able to make the play from the weak-side before anyone play-side is able to.
– Around 2:17: 45, Steven Parker makes a difficult play look easy for a young safety. Parker is manned up the inside WR. The WR gives him a four or five yard stop route and Parker is able to back pedal, T-step, and drive on the ball. And he stones the receiver immediately. Again, looks simple enough but young DBs might trigger slow or play too far off in fear of getting beat deep. In fact, just making the tackle in space for a young DB is noteworthy. Again, Parker just looked seasoned for the first game.