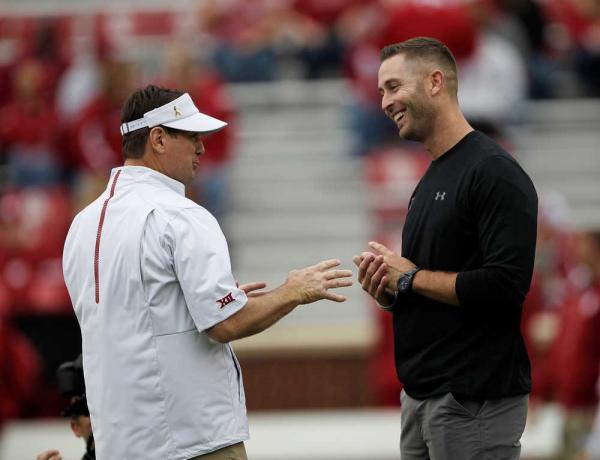 Hot Takes | OU vs. Texas Tech
Posted on: October 20, 2016
Image via Lubbockonline.com (Mark Rogers)
Tech misses a lot of tackles on the perimeter.
Tech misses a lot of tackles on the interior.
Tech defensive line looks smallish, but then again a lot of them wear single digit numbers and that is just weird.
Everyone knows Mahomes is playing through some pain. He did not look good against West Virginia and it was not because of West Virginia.
Tech gave Skylar Howard a lot of time to throw last week. Howard is good, but Mayfield should be able to carve up the Red Raider secondary.
Tech's defensive backs give a lot of ground both by alignment and drop. West Virginia threw a lot of "pop screens" and stop routes. OU should do the same.
Mahomes' ability to make plays with his feet is always a threat. What should scare OU fans is his ability to shift from one side to the next in the pocket and using his arm strength (which he has a lot of) to launch the ball 50+ yards down the field to a wide receiver who has made his way behind the Sooner secondary.
Building on the previous point, it will be imperative that OU's defensive line create consistent pressure on Mahomes. The more time he has to sit and look downfield, the more tense each and every play will be for Sooner fans.
Before last week, Tech was #2 in the nation in points per game but most of that was with a healthy Mahomes. They are a shell of what they were right now. That is the good news.
Sooner fans should be ready to lose their minds a few times with missed holding calls. Seems like that happens a lot in Lubbock.
Last week, Tech scored a touchdown on 3rd and 29 when they were outside of field goal range. Thus far, the OU secondary has not shown much ability to not allow something like this to happen on Saturday.
Expect Joe Mixon to have a big day. Abdul Adams will get meaningful reps and I believe the way Tech plays defense will allow Adams to have some early career numbers.
During last week's broadcast, Joel Klatt opined that Tech's offense has no structure to it and that is "school yard football with Mahomes". I do not think Mahomes is healthy enough to defeat OU, but crazier things have happened.
OU's offensive line has improved a lot since Week One. The defenses they have played since Ohio State have not exactly been world beaters but there is obvious improvement. Having running backs like Mixon and Samaje Perine can help a unit look better, but even without Perine, look for that trend to continue in Lubbock.
Fans should hope DeDe Westbrook's undershirt does not come untucked at any point during the game.
For no reason other than a gut feeling, and no Perine, I feel as if Mayfield will have a lot of rushing yards on Saturday from designed QB runs/Zone Reads.
Mixon will not play on special teams.
Tech cannot cover Mark Andrews. Once Andrews catches it, Tech won't be able to quickly tackle Andrews.
The size of Andrews, A.D. Miller, Geno Lewis (he's pretty thick), and Mixon will give Tech fits.
O/U on carries for Mixon: 23
O/U on carries for Adams: 12
O/U on receptions for Westbrook: 7
O/U on number of times the camera goes to Kliff Kingsbury: 12,450
OU will win 45 to 17 – Thoughts?