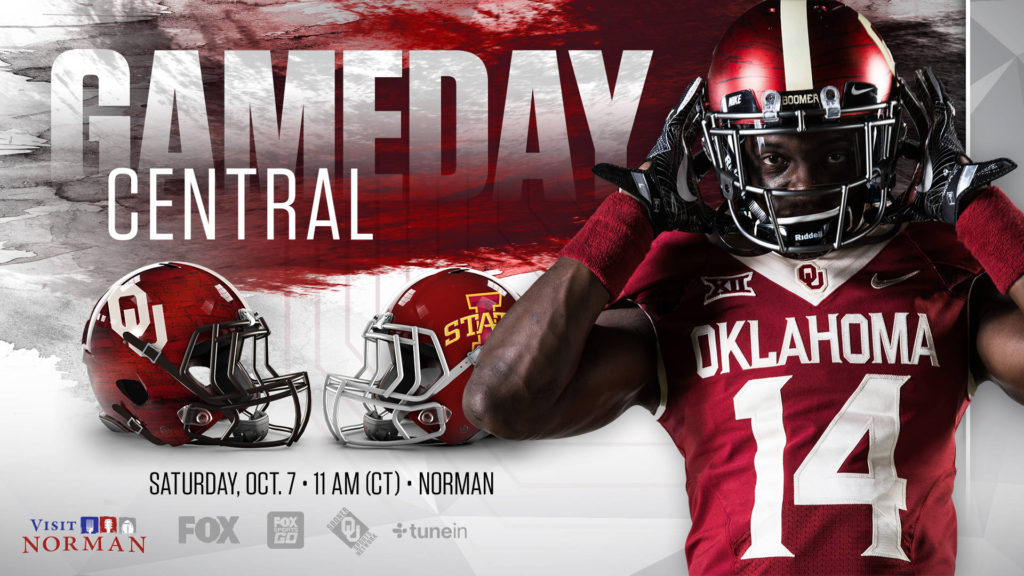 Hot Takes | OU vs. Iowa State
Posted on: October 6, 2017
Image via SoonerSports.com
It feels like a month since the Sooners have played football. Part of it, obviously, is due to the bye week; a bigger piece is related to the last time fans saw OU play. Folks were understandably disappointed and are ready to see if the team took the time "off" and are refreshed and ready to grind out the rest of the schedule.
Last season, I was actually in attendance for the game in Ames; the Sooners came out a bit sluggish, in my opinion, but they also were missing Perine, Mixon, and did not have Andrews the entire game. The talent won out, winning 34-24, but Iowa State made the game respectable and sort of gave me the thought that maybe I should circle the 2017 matchup as a trap game for OU. Now that the game is actually here, my mind has shifted gears a little.
Hot Takes
– I was looking at Sooner Sports.com earlier this morning and saw that Baker Mayfield is off to the best start of his career. Let that sink in for a moment. Mayfield is such a surgeon on the football field. For all of the times I have sat on my couch and told him through the television to just throw the ball away, instead of jitterbugging around flying defenders, he has made ten times as many jaw dropping plays to make me forget the sack he took four plays earlier. Mayfield is completing 75% of his passes. That is unreal. Iowa State is allowing opponents to complete passes at a 64% clip. Get ready.
– Allen Lazard of the Cyclones should have the defense's undivided attention.
– Jacob Park, the Cyclones quarterback, is averaging just under 300 yards passing per game, but does not seem to be very consistent. He has thrown five interceptions over the first four games and, if the Park who played against Texas shows up, I think he will give the Sooners' secondary some real chances to make plays on the football.
– OU has only allowed four rushing touchdowns this season. Iowa State's David Montgomery averages just under 90 rushing yards per game. The Cyclones did not utilize him as much against Texas, much to my surprise, but something tells me Matt Campbell may try a few things with him against the Sooners. If this happens, I think OU is in a really good position.
– I think OU is in a good position because I really like the defensive line. In the games I've watched, Iowa State's offensive line looked really shaky. It will be surprising if the Sooners are not able to get consistent penetration and have some control of the line of scrimmage.
– Which running back will be the feature guy Saturday? So far, it seems Riley has gone with the flow and looked to the opponent to dictate who needs to be getting the carries.
– Looking at the previous bullet point, Mayfield has more carries than both Anderson and Sutton.
– Sometimes I get too excited about the prospects of position groups. I have to really temper myself. The current look of the Sooners receiving corps, however, has me using a word I don't normally employ in my vernacular: "Giddy." There are four receivers averaging 60 yards or more per game. There are four receivers with double digit receptions. There are two legitimate deep threat burners (Badet/Brown). There are two guys Mayfield can absolutely rely on when a catch "has" to be made (Lamb/Andrews). Brown and Badet are guys who can take short passes and turn them into "88 and out the gate." Then, you also have this guy named Flowers, who has nine catches for 168 yards and two scores. These guys are only going to keep improving and there are other names I didn't even mention who are high end receivers. It is scary for a defense.
– Hakeem Butler creates a bit of issue for opposing defenses as teams cannot just focus on Lazard. He has 19 catches for 296 yards and three scores.
– Northern Iowa had 259 yards passing against Iowa State. Iowa had 333. Akron 293. Mayfield is licking his chops.
– Can I just say I love Jeff Badet on kick returns? I keep thinking he will break one for a score. Is this the game it happens?
– The Sooners have been a team that has been a bit odd. A slow start against Ohio State and a strong finish. Tulane had great success early and then Oklahoma turned on the afterburners. Then, the strong start against Baylor and a so-so finish. What happens when this team puts it all together? A true full game. It will be interesting. I would like to see the hammer come down early, the foot stay on the gas, and knock Iowa State over the ropes. This sounds obvious, but with Texas looming next week, it would just feel better to see a real, complete game against a team OU should beat.
Over/Under Fun
– Passing yards for Mayfield: 330
– Completion percentage for Mayfield: 71%
– Rushing yards for Sooners: 185
– Carries for Trey Sermon before halftime: 8
– Carries for Abdul Adams: 16
– Combined catches for Lamb and Andrews: 7
– Passing yards for Iowa State: 275
– Rushing yards for Iowa State: 140
– Combined points at halftime: 34
Final Thoughts
Oklahoma should win this game, that much is obvious. It's a home game. The Sooners are riding a winning streak. They have played better teams. The thing that concerns me about OU, right now, is they really are pretty young. There are a lot of pups playing very meaningful minutes and it is easy for guys to get hyped for games against teams like Ohio State. While the "every game counts" mantra is very true, it is also accurate to mention "overlooking" an opponent is a very real thing.
This will be a litmus test for Lincoln Riley's motivational preparation. That may sound silly, but most smart money will be on Oklahoma to win, right? Players know this. Coaching staffs know this. How the team prepared during the bye week, not just strategically, but mentally will really give folks an idea of how Riley handles this aspect of being a head coach. I know he can't be satisfied with the overall product in Waco. He said in his postgame interview he needed to self-evaluate his own mistakes and that, to me, is the sign of a great leader. Now, how does that great leader take his words and put them into action? I believe fans will see that Saturday.
SCORE PREDICTION: Oklahoma 41 Iowa State 17