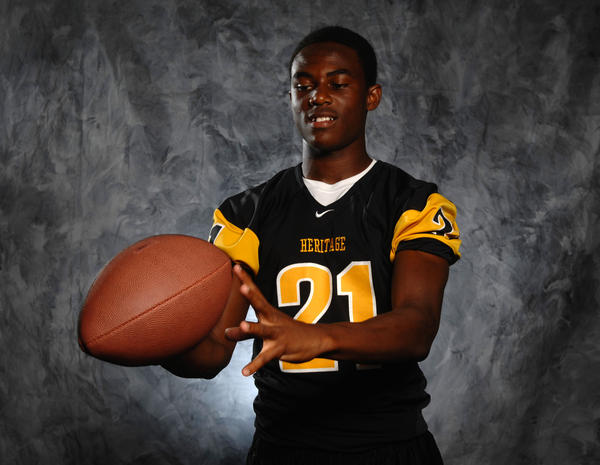 Former Florida State CB Talks about Juwan Dowels
Posted on: January 8, 2014
Image from the Sun Sentinel (Photographer: Mark Randall)
I've made it no secret that I'm a huge fan of Miami (American Heritage), CB, Juwan Dowels. I personally gave him the highest rating I've given a CB that we've looked since starting this website three months ago.
But I wanted to give you the perspective of someone who has known Juwan for a while. Juwan's mentor, personal coach and 7-on-7 coach, Stanford Samuels, played cornerback for Florida State. In fact Stanford played against us in the 2000 national championship and he has tremendous respect for coach Mike Stoops, in part, because of his experience in that game. Stanford trains a number of the best athletes in the Miami area including Juwan.
If you ask Stanford about a kid in Miami he will tell you the truth whether he trains them or not. He won't sugar coat it. If a kid can't cover he'll tell you. In fact when I want to know about talent in the Miami and to some extent the Florida area he can tell you. He knows the kids that are overlooked but will end up finding their way into the NFL and he knows the kids who have offers from all over the place that "can't play…can't cover" and vice versa.
The thing Stanford really emphasized to me when he talks about Juwan is explosiveness. In fact the way Stanford described Juwan was "super explosive". He told me that Juwan is one of the most explosive kids he's seen. I want you to stop and think about all the phenomenal athletes Stanford has been around. In fact as a Carrol City legend and a former Seminole, Stanford is an athlete himself. And as we like to say, good knows good.
Stanford told me that, "when I want to lock a WR up…I put Juwan on him". Some of you may be familiar with Ermon Lane. For those of you who aren't, Ermon is a big explosive WR from the Miami area that is currently committed to Florida. Ermon is a terror on the 7-on-7 circuit in south Florida. When Stanford's team played Ermon's team, they were having a lot of trouble matching up with Ermon. Now let me pause and tell you that Ermon is 6'2+…Juwan 5'9…so there is clearly a significant height difference. Typically Stanford plays Juwan in the slot in 7-on-7 . The most explosive receivers play in the slot so he puts Juwan on them. On this particular day after the outside corner was having trouble dealing with Ermon, Stanford moved Juwan outside in order to have him cover Ermon. The very first snap, the QB threw the ball to Ermon. Juwan jumped OVER Ermon and intercepted the ball. To quote Stanford, "Juwan is up there with most explosive athletes I've seen."
Juwan isn't a talker on the field but Stanford says don't let his silence fool you, "He won't back down…he won't shrink in the moment." He's a very coachable and intelligent football player and he works to master his craft. Stanford told me that Juwan takes coaching so well that "he never makes the same mistake twice." He said Juwan is a great locker room kid and in fact that is what Juwan is looking for in a school…a great locker room.
In the tri-county area, Dade is considered the county with the most talent but Broward county has plenty! And I've always said that if your head is above the crowd in a place like Miami, you're probably an elite athlete on a level that folks outside of that area don't necessarily appreciate. Well Juwan certainly stood out because this past season he was rated defensive player of the year in Broward county. Some of you may be wondering why Juwan isn't more well known. Juwan was a transfer to American Heritage this year. The school he attended before that doesn't do a good job of getting kids film out or networking with coaches. Unfortunately that is the fate of a lot of great athletes and in a world where publicity can be more important than talent…a lot of kids get looked over for that reason.
In fact when our coaches find Juwan, they weren't even looking for him. Apparently coach Bobby Jack and coach Mike were down in Miami and they stopped by American Heritage to see some of their better known athletes (the cornerback playing opposite Juwan is Tarvarus McFadden). But Juwan stood out and as Stanford says, "they noticed Juwan making plays in practice, as he always does, and so they started recruiting him". You may recall that this is exactly how the Nebraska coaches found Trai Mosley. They were down at Hendrickson visiting Samaje Perine and Trai Mosley stood out. I love when kids are found like that because there is no false preconceived idea or hype about the kid. It's the kids talent, and talent alone, that is so special it stands out (to the trained observer) in a crowd of elite athletes.
From what I've been told, Oklahoma is looking to take two corners and my guess is Tee Shepard is at the top of the board – my hope is Juwan is second. He deserves to be. He is not only the most explosive high school CB we are recruiting but he also may be the key to opening up a pipeline into the Miami area. With Charlie strong at Texas and the pipeline he has built to Miami, Oklahoma may start facing a step up in fast-twitch explosive athletes. We need our own pipeline to the prized recruiting city.