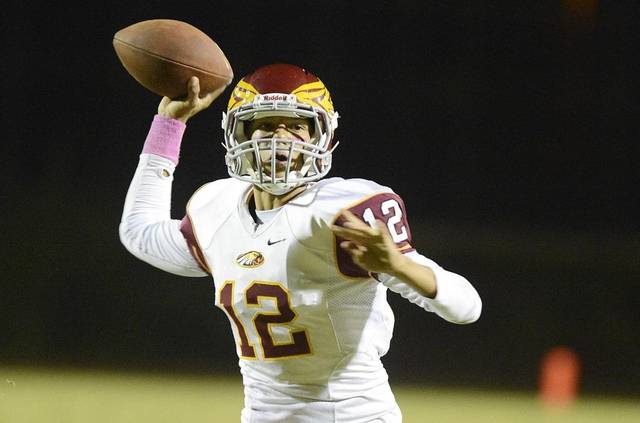 Film Evaluation | 2018 QB Adrian Martinez
Posted on: May 9, 2017
Image via The Fresno Bee
Adrian Martinez – 6'2" 200 – Clovis West High School – Fresno, California
Allow me to preface this evaluation with a disclaimer:
Martinez, like every other offensive skill player I have evaluated, is an excellent high school football player. Most likely, he is the best offensive player on the field each game he plays. I say this to tell you it is difficult to truly discover "negatives" in the film of players of this caliber. I try to do my best to point out small pieces of the skill set and break them down as best I can.
Pocket Accuracy
I believe the thing I like the most about Martinez is the fact he appears deadly accurate. He delivers footballs all over the field with precision, and seems to always stand in the pocket – when he has one – and delivers a nice, catchable ball. In his film, at about the 2:44 mark, he delivers a great throw to his slot receiver just over the arms of the linebacker and just before the safety can come down and make a play. It is one of those "dropping it in a bucket" type of passes, and it seems Martinez can make those at varying distances and degrees of difficulty.
Rollout Accuracy
Continuing with his accuracy strength, he moves his feet extremely well. He is a quarterback that uses this step sequence: Catch…Plant…Shuffle…Shuffle…Fire. Meaning, he rarely has his feet in a holding pattern. The better your feet move, in my opinion, the more likely you are going to be able to have your legs properly underneath you when you deliver the pass.
The key to being accurate on rollouts is shoulder position and feet. Martinez, who appears to be an excellent athlete, does a very good job of controlling his body and getting everything aligned. His technique in this area is not what I would call "sound", but many times superior athletes in high school know what they can get away with (I believe I mentioned this same thing in my eval of Casey Thompson). His shoulders seem to always be pointed properly and in line with his feet, legs, and hips.
Flushed Accuracy
Perhaps my favorite passing clip in his highlight film is at the 2:53 mark. Martinez takes the snap, and never takes his eyes away from downfield. He moves up in the pocket, then moves to his left, finding a crossing receiver and delivers a bullet. I do not personally believe quarterbacks have this ability inherently; rather, it is something that is engrained in muscle memory through countless repetitions. To me, that throw, while probably only about 5 yards downfield, is a thing of football beauty.
Escapability
I will touch on this more in the "open speed" category, but I like what I see in Martinez's ability to escape. For an example, go to the 3:20 mark in his film. He shucks a defender, then keeps his eyes downfield and the ball high and is able to deliver a strike while under duress. These are the types of plays that get my attention. Martinez shows he can run (see below) but he does not give up on the route progression/scramble drill. If a coach is worth his pay, he runs quarterbacks and wide receivers through a scramble drill every single day. You can tell Martinez is always looking for a receiver. Not to bring up Cameron Rising here, but Martinez is comparable to Rising in this area.
Open Speed
There are a lot of examples of Martinez's speed on film. Honestly, my favorite is at the 1:44 mark on the film. He rolls to his right with pressure to his backside and pulls away and then screams down the sideline for touchdown. Is he a burner? No. A burner at quarterback is a guy like Kyler Murray. Martinez does not have that kind of high end speed, but not many do. He does, however, have a very fast first twenty yards. He is the kind of guy who appears to have been shot out of a cannon and then rides that momentum as he picks up more steam.
Arm Strength
If I had to say which one of these areas is Martinez's biggest weakness, I would put it here. He does not have a "laser, rocket arm," but neither does Baker Mayfield and you see where that has gotten him. His arm is strong enough to make every throw he would be asked to make in a Lincoln Riley system. I would like to see a bit more zip on throws to the wide side of the field, and maybe a bit more zip on end zone throws when his receiver has gotten behind the corner and before the safety can make the play over the top or from the middle of the field. Bottom line here is he is very accurate and that neutralizes any lack of arm strength.
Release
I like his release. It's quick. It's high. It's powerful. Martinez appears to have long arms but, in my opinion, he does not "cock" the football or load up and into throws.
Touch
This area is so important. Watching Martinez's film the third time I said out loud "he looks like a guy just tossing rocks into buckets in the backyard". I still see that after the fourth and fifth times. He appears to just have a knack for knowing the right amount of touch to put on a throw. Also, do not mistake touch as a "soft" throw. Touch can also be knowing when to throw a laser and when to throw a handkerchief. One of my college coaches used to always tell me to "know when to throw the spear," and I have always believed this is one of the biggest downfalls of a high school quarterback, whether he is bound for a major college or his career ends after his final game during his senior season. If you know when to put extra behind a throw and when not to, you can have success.
Overall
I have exchanged a few texts about Martinez with some of my fellow TFB'ers, and another buddy or two. My knee jerk reaction is Martinez is a better athlete than Rising. I believe he is faster, straight line, and more powerful. If you look at Martinez, he appears heavier than 200 pounds. Where I believe a guy like Rising has an advantage, right now, is just naturalness. Martinez does not look as comfortable at the quarterback position as a guy like Rising. Martinez is, however, the type of guy who can come in to a program like Oklahoma, spend some time in the weight rooms and film rooms, and become an animal.
I believe he is very comparable to Casey Thompson, but does not possess the same lateral quickness. He probably is a bit slower than a 100% healthy Thompson too. I do believe he would have a bigger adjustment to the speed of an FBS defensive backfield than a top QB from say, Texas or Florida, but I really like what I see on his film.