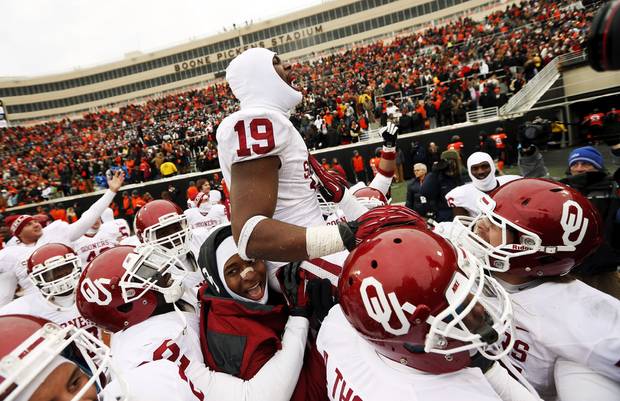 Eric Striker Getting Some New Moves?
Posted on: January 16, 2014
Image from NewsOk.com (Photographer: Nate Billings)
Eric Striker is an elite pass rusher. Everybody can see that. And I'm probably not the only person that thinks there is still plenty of room for development. There are times when I've felt Eric could use an inside move to beat an OT. And despite his size, his ability to get OT's on their heals could really set them up for a bull rush. If you're like me you might have been wondering whether or not there is more to come from Eric Striker in terms of development and it seems there is.
I was chatting with one of Eric's high school coaches and didn't really have any intent on sharing anything that was said…it was just a casual thing. But I know many of y'all are as interested in these random nuggets as I am so I wanted to share a few things he told me. I asked him if he'd seen a more explosive pass rusher than Eric and he said, "First step and overall explosiveness, not too many can match Eric. Ryne Giddins, USF DE, was a monster in HS, is the closest I can compare."
Then Eric's coach mentioned that after the TCU game he specifically told Eric that he needed to add to his pass rush arsenal so that the OTs wouldn't be able to run him wide around the edge. He said that "he (Eric) will definitely get better in the spring…I'm sure coach Montgomery will teach him a few new moves…so Eric becomes more effective".
Eric is so devastating as a pass rusher that it's easy for me to forget that this past year was his first year to see meaningful action. Eric's coach really summed up my thoughts about Eric pretty well when he said."the scary thing is he will only get better!"
Think about that. He made a potential 1st round OT look silly a couple weeks ago! And he hasn't even begun to incorporate additions to his pass rushing arsenal and will still continue to develop physically. That is indeed scary…for other teams!