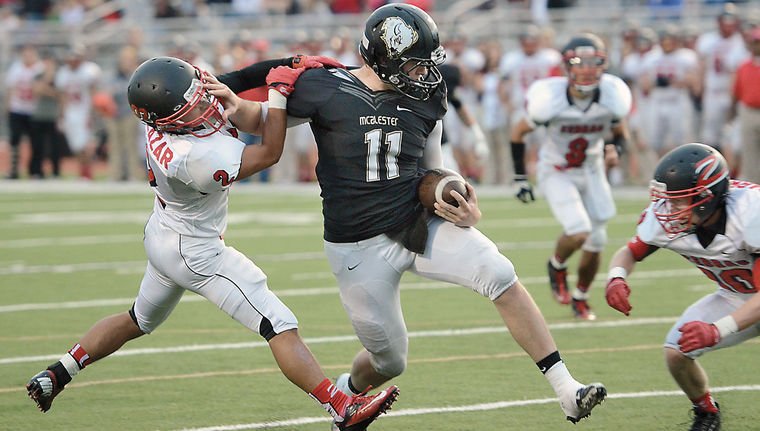 Dalton Wood Commits To Oklahoma
Posted on: September 29, 2014
Image via McAlester News-Capital/Matt Goisman
Yesterday, Oklahoma picked up their 14th commit of the 2015 recruiting class. First reported by the Oklahoma Rivals website, ATH Dalton Wood (VIDEO) out of McAlester, Oklahoma committed to the Sooners.
I'm sure many of you don't know much about Dalton. Up until very recently, not many coaches even knew who Dalton was. So we're going to try to get y'all up to speed after having a chance to catch up with him yesterday. JY reviewed his film and Ace has actually seen him play, so here we go.
Background and Position
Dalton plays multiple positions, including quarterback, for McAlester, but he let us know that OU is recruiting him as a tight end. Apparently, Jay Boulware got in touch with him recently and then came by last Friday to watch him play. An offer was then extended and the rest is now history. If you think this is a surprise to you, Dalton himself couldn't believe it. During his sophomore season, Dalton wasn't able to play due to a surgery he had to undergo. Then he had another setback his junior year suffering a season-ending injury in his team's fifth game.
I asked Dalton if he has attended any OU camps, and he said he has not since his freshman year. But apparently he started turning heads this season and while everything happened fast, OU wasn't the only school taking notice of the big athlete. Oklahoma State and Clemson had both reached out to Dalton a couple weeks ago and were getting pretty serious, but the Sooners were first to pull the trigger. And, in the end, the in-state power won out. He comes from a Sooner family and the joy of this offer was truly a "dream come true" as he expressed it during our conversation.
In fact, I (K) even got a little emotional myself hearing Dalton talk about the unexpected offer. He sounds like a typical small-town Oklahoma kid; the subtle drawl, the respectful mannerisms, and the slightly austere but kind tone. Dalton admits that even though he isn't an emotional guy, he isn't too shy to say that he shed some tears when OU offered.
Dalton the "Athlete"
I asked Dalton how tall he is flat-footed and he said 6'4. He said he currently weighs 255 lbs, but he's listed around 6'3″ 230 lbs. Ace has seen Dalton live and said at the time his listed size was not accurate. He (Ace) confirmed that Dalton is indeed more like 6'4″ 255 lbs. As of last year, Dalton told us that he ran a 4.74 40 and jumped a 31 inch vertical. Those are great numbers for such a big athlete!
Obviously he doesn't do a lot of blocking given the role he's asked to play for his h.s. team, but he said in the few times he's been asked to do it he's very comfortable. He said he enjoys the physical aspect to the game and that can be as important as the athleticism itself. Some guys are just tough, 'bring your lunch pail' type guys that are going to get after their opponent on every down. Those guys can be a menace even when they're not athletic. Dalton seems to be that type of player. But don't misunderstand, he is an athlete.
We asked him if he's ever wrestled just to see if he had any innate sense of leverage. He told us he wrestled one year in middle school. And get this…he won 2nd place in state and 2nd place at Tulsa nationals…in his first year wrestling!
JY's Thoughts
– Really fast for such a big kid. Also, has some nice feet and good ball skills.
– Will probably make a really nice tight end down the road. Probably more athletic than a Blake Bell, but not quite as tall.
– Huge kid. Could end up being a jumbo TE/H-back.
Ace's Thoughts (Ace had a chance to see Dalton live)
– Swiss Army knife player for McAlester. I've seen him line up at QB, TE, OLB, DE. He is a jumbo athlete.
– Overall, a good athlete who has deceptive straight line speed.
– I believe he will be used initially more as an H-back, but does have many of the blocking tools that you like to see with his length and overall body strength.
– He isn't afraid to deliver a blow. Against, Pryor he showed his willingness to get nasty with two pancake blocks on a jet sweep. Has good hips on initial contact and excellent drive.
– He has a little wiggle in him, which allows some double cuts when he sees a hole developing late. However, he is more of a one-cut and go type of guy.
– He isn't necessarily a quick twitch athlete, but he's got good speed and he is a good athlete (Note – Dalton actually described himself similarly).
– He is much bigger than the reported 6'3″ 230 lbs. He's like 6'4″ and probably 245 to 255 lbs. To be honest, he could even grow into a guard or tackle.