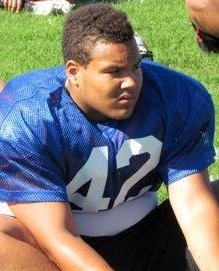 Could Marquise Overton be the Next Kelly Gregg?
Posted on: November 11, 2013
Image from scout.com
Last week in this post ( https://thefootballbrainiacs.com/?p=820) about Duvonte Lampkin Super K asked why 2015 DT from Jenks has not yet received an offer. There are some folks that suggest Oklahoma's 30/50 front might not be the right fit for him. Some suggest that he might not be big enough for the NG position or long enough for the 4i defensive end position. We obviously disagree.
The way I evaluate defensive or offensive linemen is from a former player's perspective.  Going back to my days at Missouri Southern as an offensive tackle, when we would look at film, I'd check out the guys I was going to have to block.  Normally I'd look at the D End on my side, the LB and then the DT.  I played on the strong side of the formation most of the time so I would be facing a three technique against most defenses.  Before I get too far down memory lane, let me just say that if I were playing against Marquise Overton, most of my memories would have been bad ones.
The buzz online is whether or not Marquise is tall enough to play that Nose in our scheme.  But I know Super K has posed the question, if Overton isn't the right size then why would we pursue Ainuu Taua as actively as we have?  Overton goes 6'1″ 300 lbs and Taua is actually a little shorter and isn't nearly as physically big.  But the biggest difference between the two right now is that the film out there on Marquise is sophomore film as he's a prospect for the class of 2015, whereas Ainuu's film is for his junior season in Lompoc, CA. I don't mean to turn this post into a comparison between the two. I simply mean to present the idea that we are pursuing a young man who is shorter and smaller than Overton and the amazing tape we're looking at on Overton is only sophomore film. We hope to dedicate a post on Taua as he is quite the prospect and deserves his own attention.
But back to Overton. Interior offensive linemen usually average about 6'3″ or 6'4″ at the center and guard spots, whereas the tackles on the outside are normally at 6'5″ and up.  It kind of creates a "V" in the middle of the offensive line. This allows the QB to see over the line easier and you want your tackles, who are taller players, matched up against the opponents longer players.  You hear me talk about pad level a lot in my breakdowns, and how it's all about leverage.  When I think about defensive tackles, I don't take height or a lack thereof as a necessary disadvantage.  I think that you can be too short, but for me, Marquise is tall enough.  Also you have to remember that he's only 16 years old, so the possibility of him growing another inch or two is there.  Still going back to where he stands now at 6'1″, I don't think that's too short at all.  Along the interior and at that nose position where I believe Marquise would project for us, his job would be to control the A gap to the play side, hold ground against double-teams and not allow the guard to disengage on combo blocks.
But lets assume for a moment he can't play the nose; that he just can't carry the kind of weight (which again I don't buy). Mike Stoops has been brilliant this year in running a hybrid 3-4 front with a true nose (DT lined up right over the center) and two 4i's to either side (4i means it's a B gap player lined up on the inside eye of the tackle).  In a traditional 3-4, that B gap is wide open, leaving your linebackers uncovered in those gaps. Instead of 4i's those defensive tackles are lined up on the outside eye of the tackles in 5 techniques.  With that in mind, those 4i players that we have to both sides right now are still a B gap players. The nose is a shade either way from an A gap and that 4i is still a B gap player.  Overton could man either of those spots and be majorly disruptive.  What you can do then is take a player like Tapper and line him up outside on the strong side.  K and I have actually talked about doing that this year, but having Torrea Peterson man the strongside 4i spot.  You'd instantly have more beef all across the front, but I don't think that our depth situation would lend us to that this year with the DT's.  But think for a minute how nasty that would be with an athlete like Tapper on that outside!
Anyway, that's down the road a bit, but getting back to Marquise, he projects perfectly to that nose spot for me.  At 6'1″ 300 as a junior in high maybe he'll end up at 6'2 or 6'3″ and 320-330 once he gets older and is in a strength and conditioning program.  But what if he doesn't grow any?  Sooner fans need not worry about that in my opinion.  A young man named Kelly Gregg used to roam the interior defensive line for Oklahoma and stood all of 6'0″.  He spent years in the NFL playing for one of the best defensive football teams ever in the Baltimore Ravens.   Do I think that Marquise could be like Kelly?  Absolutely! Yes I said it. And believe me I'm not the only "football guy" that believes it.
Kelly was known for his lunch pail mentality.  The Baltimore fans actually gave him the nickname "Buddy Lee", because he was so tough.  Kelly came out of Edmond the same year I graduated in 1995, so I knew a lot about him.  Kelly always played with great effort, violent hands, quickness, relentless pursuit, a motor that wouldn't quit, and there was something about his game that just gave you the sense that no matter what, he would be able to get it done.  I see the same things in Marquise's game.   As a defensive tackle for the Sooners in 1997 Kelly led the team in tackles with 97 and followed that up in 1998 with 117.  Kelly was the first defensive linemen in 30 years to lead the Sooners in tackles.  He is also the single season tackles-for-loss player in Oklahoma history at 24 in 1998.  So when people are knocking a kid who seems to display all of the traits that suggest he could be that kind of a player, I just shake my head. Shorter defensive tackles have an instant advantage since they're naturally going to play lower.
Overton is a guy who knows how to play hard and plays with a chip on his shoulder.  I for one think that we're making a mistake if we don't lock him up soon.  Don't get me wrong, while I say that he could become a great defensive tackle like Gregg was, he's going to have to put in a lot of work for a lot of years to really be compared to Kelly who spent 11 seasons in the league. I really like Overton's game and I just call 'em like I see 'em.
Addendum: I wrote this piece last week when Super K started the hoopla about why Overton didn't have an offer. But I just wanted to add a note here and say that in case y'all didn't see the note that we put up last night about Overton, we got word that he was at the Alabama vs. LSU game. We asked if it was just a personal trip or he had been invited and it turns out he was indeed invited. Now I'm not saying an offer is coming from Bama but there is obviously at least enough interest to invite him. And in case y'all didn't know Bama runs a 30 front (though the technique is partially different).