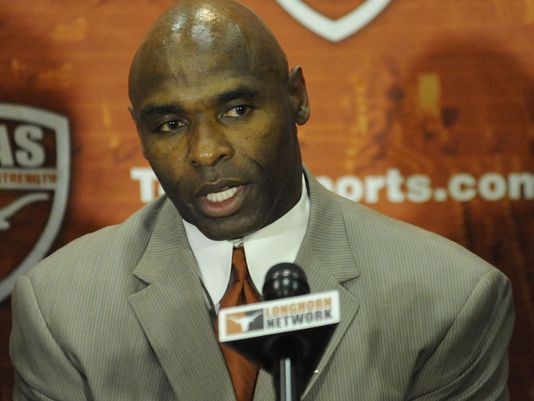 Charlie Strong Recruiting Oklahoma
Posted on: February 22, 2014
Image from USA Today Sports (Photographer: Brendan Maloney)
If anyone was wondering whether coach Charlie Strong would primarily limit his recruiting to the state of Texas like his predecessor, the answer to that question is quickly being answered. Texas is holding a jr. day today and they've managed to bring in some top talent out of the state of Oklahoma including an OU commit.
Here is a list of the Oklahoma HS talent that were invited to and are attending today's Texas Jr. Day:
Ashton Preston (CB) – Ashton is a talented and physical cornerback with beautiful footwork. Preston is being courted by a number of big time programs including, among others, Notre Dame and Texas.
Dahu Green (WR) – Dahu is a 6'4 receiver who has been racking up offers lately. He's now pulled in offers from Southern Miss, Lousiville, Cincinnati and Tulsa.
Josh Wariboko (OL) – Oklahoma commit. Enough said.
Denver Johnson (WR) – Like Dahu Green, Denver is another athletic but very big WR from the great state of Oklahoma.
Other Oklahoma players in attendance at the Texas Jr. day are: Max Wariboko, Vessy Parrish (2016 DT), Jeremy Cox, Keaton Torre, T'quan Wallace, Timothy Gidden.