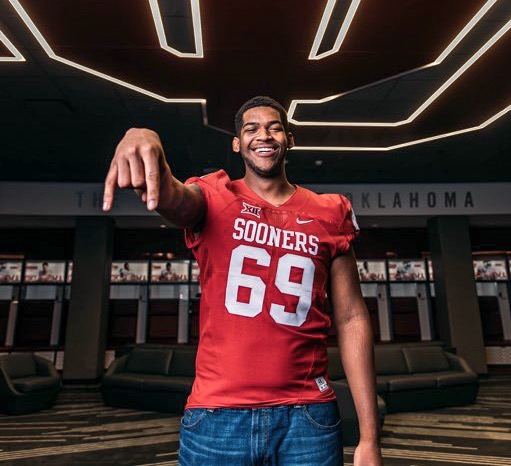 Boom News | Offensive Tackle David Swaby Commits to the Sooners
Posted on: May 14, 2018
Last week, I mentioned that the Sooners were set to host intriguing JUCO Offensive Tackle, David Swaby out of Navarro for an unofficial visit in Norman. David and his coaches did make it to Norman as planned, and I was able to catch up with him following the visit, and subsequent commitment to OU.
Extremely proud to say I'm a(n) Oklahoma Sooner #OUDNA #BoomerSooner pic.twitter.com/clihlgHJY7

— David Swaby (@david_swaby) May 14, 2018
Swaby is a 6'9" 290 lb. Offensive Tackle who plans on enrolling at OU for the summer session. He is an absolutely fascinating personal story and a truly engaging and personable young man,
Swaby's story began in the Bahamas where he grew up in a basketball family prior to moving to the states to play American football in high school. Both of David's parents, as well as his sister Robin, played and coached basketball throughout their lives. As a matter of fact, his sister not only played collegiately at Johnson & Wales University, but she came back to work on the coaching staff following her graduation.
Naturally, one would think David would be all about basketball, right? "Basketball runs in my family, but I decided to make a switch. I never really liked basketball, just never had a love for the sport. I wanted to experience a sport that I was passionate about and when I found football my freshman year, I fell in love with it" David said.
His freshman year was spent at the high school Alma Mater of Sooner Athletic Director, Joe Castiglione, at St. Thomas Aquinas in Florida. That little tidbit about Castiglione is something David actually mentioned to me as I was not aware of it. Swaby remained at St. Thomas Aquinas for the next two years before he transferred out to Salesian High School in Los Angeles for his senior year. Coming out of Salesian, Swaby signed to play at New Mexico under head coach Bob Davie. This is the point where the story takes a turn as he was ruled to be academically ineligible.
As we know, situations like this arise every year. Kid sign with a school and it turns out they aren't eligible, and then, for all intents and purposes, the young man virtually disappears in many cases. That was not going to be the case with David as he said "Initially, I didn't see myself as a JUCO guy. This wasn't supposed to be how it went. But after talking with my parents, and particularly my sister, I chose to embrace the opportunity I still had in front of me, and give JUCO a shot." He continued, "I realized that life happens, and I wasn't going to run from my mistakes, rather I was going to attack them and move forward with my goals and dreams, and JUCO was the only option I had to do that."
David chose to attend Navarro Junior College based on his interactions with the staff and the feelings of being legitimately wanted and cared about by their coaches. He speaks very highly of his Offensive Coordinator Hunter McWilliams and his Offensive Line Coach Jens Danielson as well as the entire staff of New Mexico who helped point him towards Navarro. He said "I am at the point where I truly do not regret anything about my path, and I see it as a blessing now. I would not be where I am today, having these tremendous opportunities, if I had not gone through the experience I went through coming out of High School."
The path he took led him to his unofficial visit and subsequent commitment to the University of Oklahoma. When I asked him about his first impression Swaby said "The first thing that caught my eye was the stadium. You could feel the history, tradition, and legacy just by looking at the stadium." He went on to say, "The campus was amazing, you could feel the pride of the people walking around. It just was an amazing environment to be around."
While on the visit, Swaby had the opportunity to spend a lot of time with Coach Bedenbaugh as well as Head Coach Lincoln Riley. He said "One of the most notable parts about the visit was meeting with Coach B and Coach Riley. We went over film, watched a lot of Orlando Brown's film as we have very similar body types. Coach B was talking about techniques he teaches and even went in to detail about the training and types of machines he uses to teach those techniques." He continued by saying, "One of the coolest things that happened while I was there was that I was just outside the view when Coach Riley was taking that picture of he and the grads that was all over twitter today. It was very humbling to watch that picture take place and to see those guys all interacting like one big family."
It is safe to say that David came away very impressed by Lincoln Riley. He said "One of the things that really opened my eyes was my interactions with Coach Riley. He talked a lot about himself, and his family. He focused on telling me what kind of person he was and how he could see himself and his staff helping me reach my potential as a person and as a player." He went on to say "Coach Riley really made me feel incredible on a personal level. He knew about my story, and my journey, and he kept saying how much he admired the path I have been down and how he has noticed my progress along the way. He was very aware of my story, both on and off the field which was just really incredible to hear and a very humbling feeling."
As I mentioned earlier, Swaby will have four years to play three seasons at OU. His commitment is a very nice add for Coach Bedenbaugh as we have seen how successful he has been with developing big-bodied tackles in his system.
As for what it means to David Swaby to be a Sooner? "I am truly blessed to have the opportunity to be a part of such a great program! I look forward to the future with Coach Riley and Coach Bedenbaugh. I'm already fully bought in and I'm ready to get to work. They can't get me on campus soon enough! I am so happy to be an Oklahoma Sooner!"