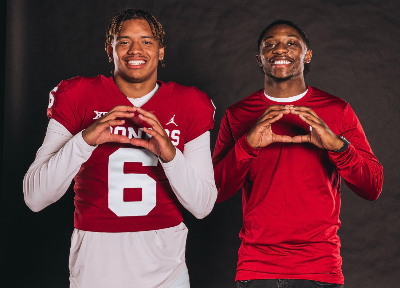 Boom News! | ASU WR Transfer LV Bunkley Shelton Commits to Oklahoma
Posted on: May 18, 2022
The Sooners picked up a big commitment from former Arizona State wide receiver LV Bunkley Shelton today.
Bunkley Shelton (5'11 195) was a 2020 recruit and over his two seasons in the desert, he caught 44 passes for 518 yards…33 of which came last year and 11 in 2020 in their 4 game season.
The Sooners add a valuable piece to the thin (numbers wise) wide receiver room. Bunkley Shelton brings experience along with 3 years of eligibility to Norman.
He was offered by the Sooners in high school, but there really was never a real recruitment between the pair, but things worked out this time around. LV is physically mature and brings more twitch than speed to the room but he absolutely has enough speed to pull away from people. He has strong hands and good ball skills and I think this is a really, really nice pick up for Oklahoma for a number of different reasons.
Numbers crunch? What numbers crunch? Take em' all and let the summer sort them out.
As we have reported throughout his recruitment process, from the time we broke the news of his visit, right up till our last update on him, sources close to Bunkley Shelton continued to maintain that OU would take both he and JJ Hester.
As Super K reported back on May 6th…
'***Source believes, "it going to be OU" in the end.'
They were all correct and now LV joins JJ in the revamped OU WR room.