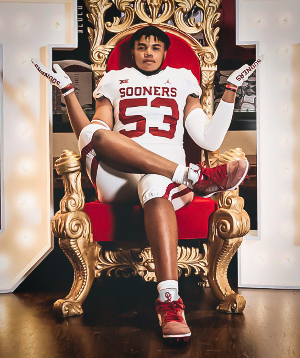 Boom News! | '24 OL Isaiah Autry Commits to Oklahoma!
Posted on: April 21, 2023
The Sooners get a big addition to their '24 class as Isaiah Autry, out of Tupelo, Mississippi announced his pledge to Bill Bedenbaugh and Oklahoma!
He is the fourth member of the class as he joins CB Jeremiah Newcombe, QB Michael Hawkins Jr, and WR KJ Daniels.
Autry holds close to two dozen offers including opportunities to play at Alabama, LSU, Tennessee, Ole Miss, Oregon, Florida State and Auburn.
Isaiah made his way to Norman earlier in the spring and was captivated by the Sooner program at the 'Future Freaks' event. While on Campus, he was offered a scholarship by Brent Venables.
The Sooners did have a connection in this one as Autry is cousins with former OU great Marcus Dupree.
The 6'7 280 lineman, who also is a powerlifter, had a top 5 of Bama, Ole Miss, Auburn, and Florida State to go along with OU and this pick up is a really nice start to the class for Bedenbaugh.