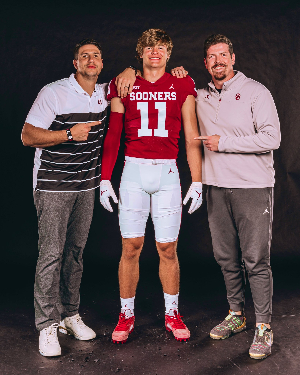 Boom News! | '23 EDGE Colton Vasek Commits to Oklahoma!
Posted on: August 1, 2022
The Sooners pick up a huge commit from '23 EDGE Colton Vasek (6'5.5 255) out of Austin, TX!
Vasek has been a priority for Oklahoma and DE/OLB coach Miguel Chavis since the new staff got to town and he was offered by the Sooners in January.
The Sooners held off Oregon, Texas and Texas Tech for his commitment. Vasek is a Texas legacy as his father played for the Longhorns so that adds a wrinkle to this recruitment and says a lot about how effective Chavis and the OU staff were in their recruitment of Vasek.
Vasek gives the Sooners a versatile big man on the EDGE who can play with his hand in the dirt or standing up in Venables scheme.
Big win for the Sooners over the Ducks and Longhorns.