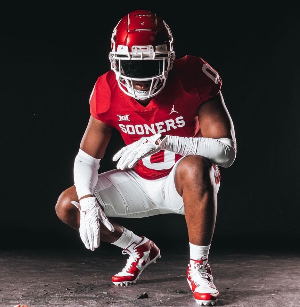 Boom News! | '23 DL Derrick LeBlanc Commits to Oklahoma!
Posted on: July 28, 2022
July has been very good to the Sooners on the recruiting trail and they just received a commitment from perhaps the most important piece of the class as Derrick LeBlanc (6'4 270) out of Kissimmee, FL announced his verbal commitment to Todd Bates and OU!
When Brent Venables and his new staff took over, they made it clear that they would continue to aggressively recruit the southern states. Todd Bates went into Florida and pulled an elite defensive lineman out from under the nose of the in-state schools and pretty much every other power program in the country. He had a final three of Penn State, Florida, and Oklahoma, but this came down to OU vs the Gators.
Venables and Bates have a long relationship with LeBlanc and if they were still in Clemson, Derrick LeBlanc and OU would absolutely not even be a discussion we were having at this point.
Over the last 9 months, LeBlanc has taken multiple extended unofficial visits to Norman and it was imperative that the Sooners close on him as it would send a huge message, not only to other programs but to other recruits. The message is clear…Brent Venables may have left Clemson, but he has not left the scene and he plans on building elite defenses in Norman, Oklahoma.
The addition of LeBlanc not only gives the Sooners a big win on the trail, but it also gives them a bonafide blue-chip player at a position of need.
Leblanc is a guy who could play multiple roles along the line during his time in Norman and while he probably spends most of his time as a 3, he is a guy who can slide inside or out depending on the situation. He has a great first step and is athletic enough to beat most of the offensive linemen who will be tasked with trying to block him.
LeBlanc is the first interior defensive lineman of the 'CHO23N class and he is the 18th member in the class.
This is a massive, massive pick up for Oklahoma…I cannot stress that enough.