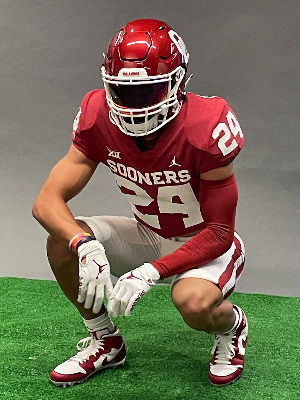 Boom News! | '23 DB Jacobe Johnson Commits to Oklahoma!
Posted on: August 13, 2022
Some things are just meant to be and this is one of them.
The Sooners picked up a big-time commit from in-state priority defensive back target Jacobe Johnson (6'3 183) out of Mustang, OK.
Johnson is an elite athlete who holds more than a dozen offers from some of the top programs in the country including Alabama, Michigan, LSU, Stanford and Miami.
He was originally offered by the Sooners back in April of 2020 under the former staff and when Brent Venables and staff came in, they wasted no time in making him a priority.
Johnson has made a ton of visits to Norman and also made official visits to Alabama, Michigan, and Stanford.
Sooners corner coach Jay Valai views Johnson as a prototypical corner back as he has plenty of speed to go along with great size and length.
This is a really nice pickup for OU and I love Johnson's ceiling in the defensive backfield.
For those keeping score, he was one of the two locks Rufus Alexander tweeted out from the Party at the Palace. Colton Vasek was the third of the locks that came out and the first lock Rufus tweeted out is unaccounted for as of yet.
Johnson is the 20th verbal pledge in the 'CHO23N' class!