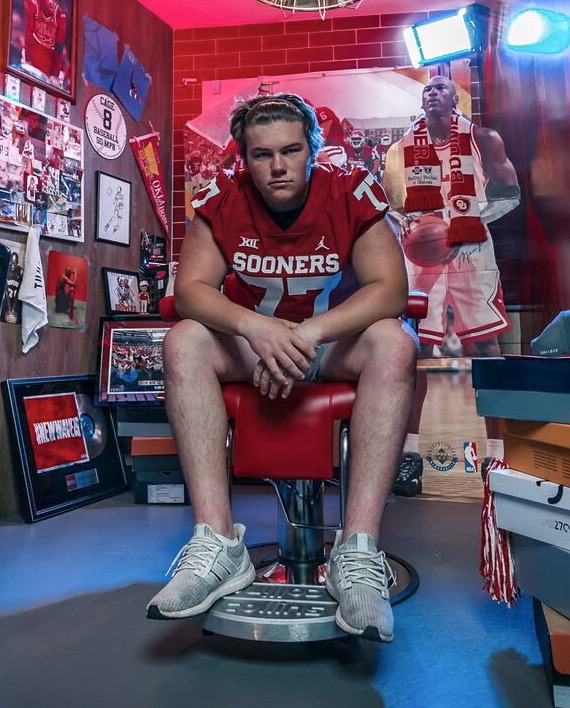 BOOM News! | 2020 OL Nate Anderson Commits To OU
Posted on: May 6, 2019
The Sooners picked up a much-needed commit from a very good 2020 offensive lineman as Nate Anderson, out of Frisco, Texas, made his verbal pledge to Bill Bedenbaugh and Lincoln Riley.
Anderson, who was offered on Saturday while on an unofficial visit, saw all he needed to see and heard what he needed to hear to know that he wanted to play for Coach B and Coach Riley at Oklahoma.
Our JY had this to say about Anderson…
Nate is a guy who's grown a lot in the last year. 6'5" 270 now vs 6'4" 245 last year. I expect him to continue to grow and develop adding more weight and possibly more length.
He is aggressive and active. He's violent with his hands and plays offensive tackle with a defensive player's mentality.
Every play is a buffet for him. After he gets one pancake, he goes looking for a second and sometimes a third. He never seems content knocking one guy down, and looks disappointed when the whistle stops the play.
He has a natural feel for pulling on the counter play and squaring up linebackers. Since that's a staple in Riley's offense he'll do well there. He is very good in the screen game and has amazing feet.
In my opinion, the only reason he isn't ranked higher by some services is that he's still growing. He's not yet a 300 pounder but will be. Really huge get for Bedenbaugh. Love this kids nastiness.
Anderson is the first offensive lineman to commit to the Sooners in the 2020 class and he is a 4* in the composite rankings. He wasted no time in making his decision. This is welcomed addition for OU as it came together so quickly and it could trigger additional commits along the offensive line going forward.
He holds over 20 offers including offers from USC, Missouri, Arkansas, TCU, and Florida State.